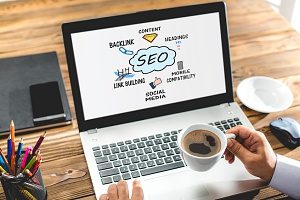 Acquiring backlinks for your dental practice website is an important yet difficult process. Backlinks are references to your site pages from other domains, which requires trust from the sites that choose to link to you. Though it may seem obvious enough, you need to have strong website content that is worth linking to in order to produce quality backlinks. In addition, some sites may only link to your website in return for a reciprocal link (a link from your website back to theirs). Learn more about backlinks and how to create a strong backlink profile for your dental practice website.
Three Types Of Backlink Acquisition
Backlinks can be acquired in three ways: naturally, through outreach or through self-creation. Each of these link building processes brings content from your website to other places, spreading awareness about your practice and improving your site's rankings in search engine results pages (SERPs). When combined, they can provide you with a strong link building foundation that will help people find your site more frequently.
Natural Backlinks
Links to your dental practice website can appear naturally on other websites with little effort. A blogger, medical directory, news article, or other publication may find your practice's website and choose to include a link to your page within their own content. This process is aided by the creation of good website content, which encourages individuals to trust your site as a reputable source of information they feel confident about including in their own work. In addition, basic marketing techniques – such as sharing posts regularly on social media – can draw attention to your content that may lead to future backlink opportunities.

An example of a natural backlink is shown in Figure 1.1 where the SEO Tribunal linked to the 321 Web Marketing blog, What Is SEO Management, within their content.
Backlinks Through Outreach
One way to draw attention to your content is by targeted outreach, which involves researching online publications and other websites that may post a link to your site when asked. These could be bloggers discussing the latest trends in health and wellness, other professionals in the medical field, etc. When reaching out to a potential publisher, it is important to note how posting the link would be beneficial to them. Highlighting the mutual benefit, such as the opportunity to showcase a local business on Small Business Day or educate their readers with helpful content, increases the likelihood that they will post the link. In addition, offer the possibility of adding a reciprocal link to their website in your future (or existing) content.
Self-Created Backlinks
The other type of backlinks you can acquire for your practice is through self-created links. These may be created through submitting press releases on various sites, inputting your company information into directories or paid listings, and other sources that allow people to post their own content, including social media sites. It is also possible to post links into comment sections of sites or in online forums; however, these links sometimes appear as spam, so it is important to only post them when they are relevant to the topic being discussed.
For example: posting the link in a comment with little or no context can be seen as disruptive, while thoughtfully explaining how the page is relevant to a post or discussion can be more beneficial to readers as well as your dental practice.

Figure 1.2 shows self-created backlinks acquired for 321 Web Marketing through a pr website.
Backlink Acquisition Methods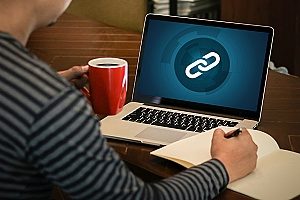 Backlinks are an essential part of a search engine optimization (SEO) strategy. The number of backlinks a website has can indicate the popularity of that site, and search engines are more likely to show that link in the SERPs for certain search queries. Search engines also value the relevance of your site compared to the site on which a link is found. For example, a link coming from a medical magazine's website will carry more weight than one coming from a comment on a clothing website. Here are some strategies that can help you produce high quality backlinks to your dental practice website:
Submit Company Press Releases
Press releases are essential to your practice; they inform readers of any new upcoming specials, changes to your company, etc. Likewise, they are imperative to SEO as they can be submitted to multiple PR websites. Though it may charge a small fee, press release submissions create instant backlinks that can also be syndicated through sister PR websites, producing several more backlinks than anticipated. This way, you can be guaranteed to receive good, quality backlinks without spending too much time or effort.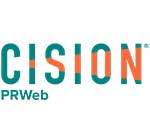 PR Web is a great Press Release syndication website to share news about your practice!

Write Guest Posts For Other Sites
A simple way to develop quality outreach backlinks is to contribute guest blogs or articles for relevant websites. By publishing content to the websites of other industry leaders, you are not only creating the opportunity for a strong backlink; you are also exposing your brand to a new set of people who may find your site's information useful. In addition, you are providing relevant content for the site you are creating a backlink on, thus benefiting both parties. Posting to the site of other local medical professionals can also create a referral system between you and the professional, which can potentially increase your number of patients in addition to theirs.
List Your Practice in Online Directories
One of the easiest ways to build links back to your website is to get listed in directories. These sites typically achieve high rankings and traffic, and your site can use those benefits to its advantage. Finding the directories best-suited to the dental industry will provide you with the highest SEO rankings. Consider sites like your local chamber of commerce, the Better Business Bureau, and medical directories that might provide an ideal home for your links.
Ask Patients to Review Your Practice Online
In addition to posting to directories, you may also be able to ask patients to leave reviews for your practice on Yelp, Google, and their own websites, including a link to your site in the process. Consider offering people a discount or free added service in exchange for a review, and circulate those reviews on social media or in the testimonials section of your website for maximum viewership when they are published.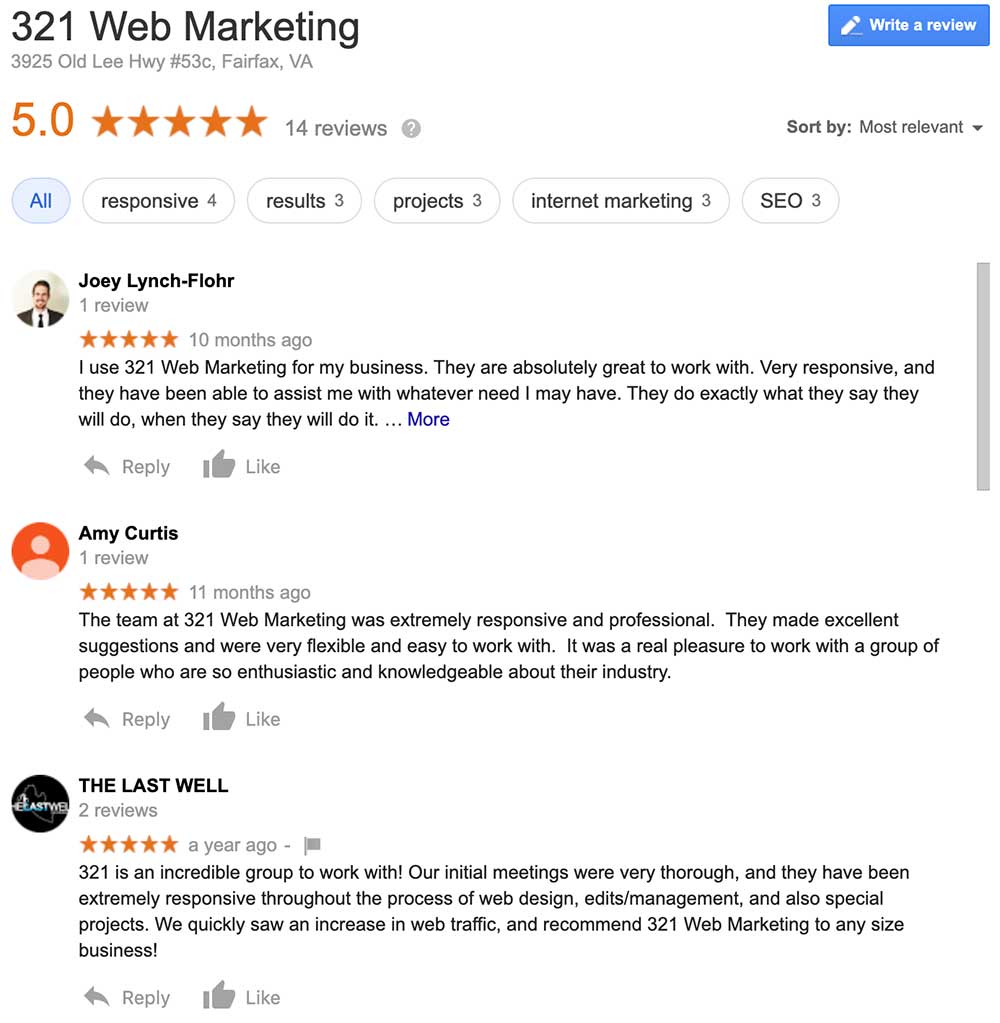 Figure 2.1 shows a few Google reviews for 321 Web Marketing. Encouraging clients and customers to leave reviews for your practice will increase the likelihood of others to check out your practice!
Speak to a Dental Marketing Agency For More Information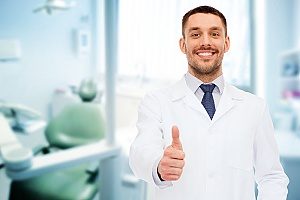 Link building can be very challenging, especially when running a dental practice. That is why 321 Web Marketing can help create a quality backlink profile for your practice. Our team of skilled digital marketers has years of experience conducting outreach campaigns, creating press releases, and performing other methods of acquiring backlinks.
In addition, 321 Web Marketing can produce quality dental content for your site so that you only have to worry about doing what you do best – meeting the demands of patients. For more information about getting backlinks to your dental practice website, or to schedule an SEO consultation, contact 321 Web Marketing today.
Updated on April 28th, 2020