The healthcare industry is constantly changing, making it important for organizations to keep pace to maintain success. A large part of any business's operations, including healthcare organizations, includes marketing. Healthcare marketing requires a combination of strategic outreach and open communications to help attract consumers, assist them with their healthcare journey and keep them engaged. Hospice marketing, in particular, can be challenging as the industry is competitive and needs to be approached with careful consideration and a solid plan of attack.
6 Ways to Improve Hospice Marketing in 2020
If you are a hospice company looking to maintain success or up your marketing game in 2020, consider implementing these effective tips for hospice marketing.
1. Creating & Updating Your GBM (Google My Business) Account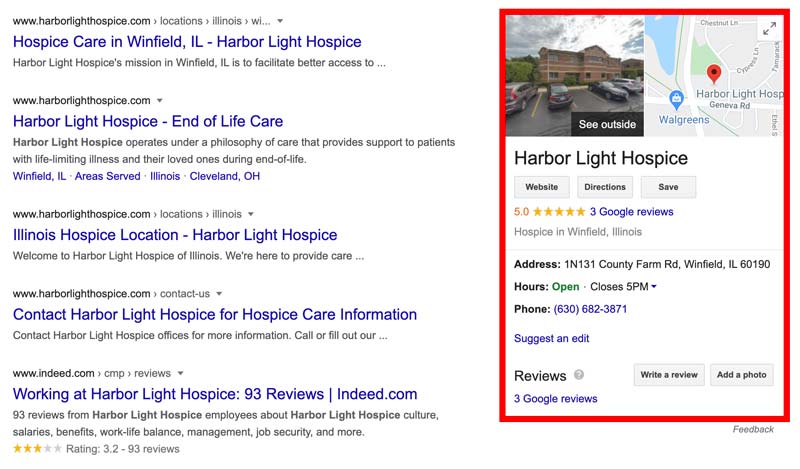 Getting people in your local area to contact your business is essential for continued growth. Google My Business (GMB) is a critical component of local search and SEO that helps people in your area find your website when performing a local search. Start by setting up a new Google account or access your existing Google My Business account if you already have one. From there, you can enter your business name, location, service areas, business category, phone number and website URL. To manage your listing, you will also need to verify that you are the owner which can be achieved through postcard, phone or email methods.
Figure 1.1 shows a well-optimized Google My Business account for one of our clients. The data from GMB is shown in the box outlined in red. Learn more about how to optimize Google My Business.
2. Hospice Keyword Research
When people search for a business, they type words into the search engine associated with the services they are looking for. For example, some of the most popular search keywords related to "hospice" include hospice care, home hospice, hospice jobs and palliative care. If you use these keywords in your website content, web users will be directed to your website and websites like yours when these keywords are searched. Keyword research directly impacts all other SEO tasks you perform, so it is important to choose the right keywords in your website.
3. Continuous Content Generation
Your website needs content that will attract and convert. However, these days quality beats quantity. Your content should answer a question or provide informative information that helps a reader in some way. For example, you may create a blog post that provides families with tips on how to cope with their loved one's chronic condition. Content has been found to bring three times the number of leads that traditional marketing delivers and it costs considerably less. However, content generation involves many components with one of the most important being SEO research. While your content will help keep a reader engaged, it is the keywords that attract them in the first place by directing them to your page after performing a search.
View our guide on how to create a content marketing strategy.
4. Citation Consistency Online
One of the most important elements of driving search engine results is consistent local citations. Found in directories and databases, citations are listings that include a business name, address, phone number and website. This is commonly referred to as a NAP (name, address, and phone number). When a NAP is crawled by search engines, it helps your website appear higher in the search engine results. When your citations are not consistent, they could lead potential customers to inaccurate information, such as an incorrect phone number. Be sure to regularly review your citations and swiftly update them if any essential business information is changed.
5. Sharing Content Across Social Media Platforms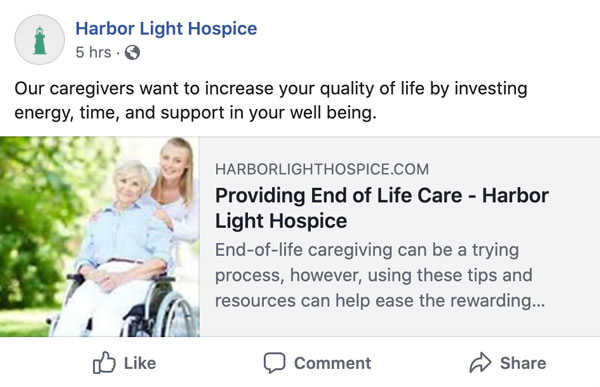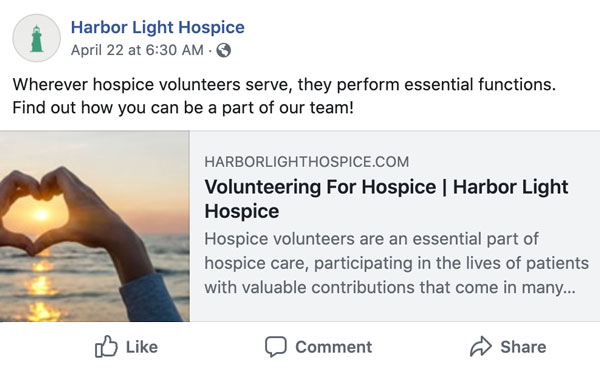 Figures 1.2, 1.3 and 1.4 show Facebook posts from one of our clients.
Social media has made it easy to reach your target audience and get your brand out there. Today, there are numerous platforms to choose from including Twitter, Instagram, Facebook and LinkedIn. These social media platforms are the perfect place to share content and communicate with consumers. If the content you share is considered valuable, then other people will share it, helping to increase traffic to your website and ultimately lead to conversions.
6. Hiring a Hospice Marketing Agency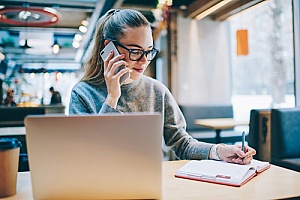 If you are contemplating hiring a hospice marketing agency, know that this decision can be well worth the investment. By hiring a seasoned hospice marketing agency, you get a lot more than just marketing expertise. You gain access to an entire team of professionals including social media professionals, web design experts, search engine optimization professionals and graphic designers. A reputable hospice marketing agency can provide a wide range of services for your business, such as content marketing, social media marketing, email marketing, website design and help with SEO.
Speak to an Experienced Hospice Marketing Agency
If you are looking for the best ways to boost your leads and sales in 2020, consider hiring a hospice marketing agency. The right agency can save you time, help you drive more leads to your website and improve your marketing spend return. The team of SEO and marketing professionals at 321 Web Marketing have the expertise and skill needed to assist all types of businesses in the healthcare industry, including those involved in hospice. For more tips for hospice marketing in 2020 or to schedule an appointment with a web marketing professional, reach out to 321 Web Marketing today.