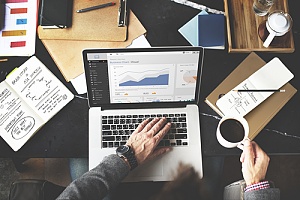 Without the capital of larger companies and corporations, small businesses must depend on effective marketing strategies to keep them afloat. Yet, even today, many small businesses are spending their marketing dollars on billboards and magazine ads as opposed to digital marketing. Digital marketing has the potential to help small businesses grow and thrive, yet many small organizations–even those with their own marketing departments–struggle to implement these effective solutions. Perhaps this is why a recent report published by Econsultancy revealed that only about 22 percent of businesses are actually satisfied with their conversion rates.
Effective Digital Marketing Tips
There are many factors that can cause this, such as not knowing your audience, acquiring the wrong type of traffic, or lacking a clear conversion tunnel. When digital marketing is done right, these tactics can be cost-effective and profitable. Is your small business (or marketing team) stuck on implementing digital marketing? Consider these 20 digital marketing tips for small businesses and get started today!
Website Design
Design a mobile-first website design. Nearly 80 percent of internet usage is expected to have been mobile in 2018, according to TechJury.
Create an eye-catching logo that conveys professionalism and sells your mission using just words and/or strategic graphics.
Use infographics to help market your small business. People are able to process images must faster than text.
Always include a clear call to action (CTA) at the end of every post that will make your customers want to take action.
Develop a clean, professional design that is easy to navigate and contains all relevant content that a person may be searching for.
Paid Search Advertising

Have defined conversion goals in mind, such as completing lead capture forms, receiving phone calls, gaining newsletter subscribers, or completing an online purchase.
Set up a pay-per-click (PPC) ad campaign and create ads to receive the highest click volume.
Track your PPC campaign over time and continue to optimize it to improve its performance.
Take the time to create compelling ad copy and calls-to-action (CTA's) that will instantly grab the attention of readers and encourage people to click.
Ensure that your landing pages are engaging and highly relevant to the ad copy that is delivered to the visitor. Avoid sending visitors to general pages as this will typically result in low conversion rates.

Search Engine Optimization

Keep your search engine optimization (SEO) up-to-date as search engine algorithms are constantly changing and evolving.
If you are trying to target local customers, be sure to claim your listings on local directories, such as 'Bing Places for Business' and 'Google My Business.'
Instead of blasting your social media followers with promotional content, engage with your audience to build brand loyalty and trust.
Know your competition, what they are doing well, and how they structure their site to target valuable keywords.
Produce regular content for your blog tailored to your target audience. Consistency is key so be sure to create a schedule with at least one weekly or monthly update.

Social Media

Study your target audience through Facebook ads. Once you know who you are targeting, try different combinations of headlines, images, body copy, and calls to action to find what works best for your audience.
Use social proof with an e-commerce website and take advantage of free original content.
Leverage native video content on Instagram with the use of Instagram Stories which appears at the top of the feed.

Quality beats quantity when it comes to social media, so publish content that is valuable. Remember, quality content is content that is helpful, entertaining, and relevant to your target audience.
Take advantage of social media management tools that can help you be more productive by scheduling posts in advance, posting across multiple platforms, and tracking and measuring your results.

Contact A Full Service Web Marketing Agency
According to a report published by the International Telecommunication Union, internet users increased from 738 million in 2000 to more than 3.2 billion in 2015. With so many people online, there is no denying that digital marketing is crucial to reaching a large audience. In fact, digital marketing services now allow you to reach more people than traditional advertising methods alone ever could. However, that does not mean that implementing these digital marketing strategies is easy. In fact, it can be really challenging.
If you are not sure where you should begin or do not have the resources necessary to conduct internal digital marketing efforts, seek help from the professionals. 321 Marketing is a full-service web marketing agency that specializes in local SEO, website design, and inbound marketing. When you work with a digital marketing agency, you are working directly with staff who are devoted to the growth and success of your small business. For more information about digital marketing tips for small businesses or to obtain digital marketing services for your company, contact the experts at 321 Web Marketing today.