Local SEO, or search engine optimization, is an effective way to tell your community about your business. To implement it, an insurance marketing agency will use keywords that are used in web searches about insurance in your area throughout your site, helping it rank higher in search results for those terms. The agency may also have your insurance business listed on various online directories and place localized content on your website. Using local SEO can help make your site more visible, particularly to potential clients in your city, as well as position your agency as an industry leader within that area.
Whether your insurance agency covers multiple cities or just one, it's likely that a large number of new clients are closer than you think. Here are six key ways to make your local SEO strategy a success.
Content Marketing
Using content marketing is the cornerstone of any SEO plan. An insurance marketing agency will conduct research to determine what search terms people use when they are looking for information about insurance. Then, content using these keywords can be created. By matching your content to keywords that potential clients use to seek information, your website page will rank higher in search engine results pages, which helps generate traffic. Ranking higher in search results also helps people view your site as a credible, trustworthy one. In addition, creating content that informs people about the topics in which they have demonstrated an interest positions your insurance agency as a knowledgeable one that is up to date on the latest news in the insurance industry and able to provide top-notch service to its clients.
Online Citations
Your insurance agency's name, address, and phone number — known as an online citation or NAP — are all over the web, whether someone from your organization puts that information there or now. Your NAP appears in online directories, reviews, articles, and more. Having accurate information about your business throughout the web can help your site appear higher in search results, because search engines will consider multiple instances of the same information occurring to be correct and accurate information. In addition, it can help customers reach your insurance agency more easily, promoting trust and potentially increasing your client base. It is therefore important to ensure that your online citations are accurate and up to date as part of your local SEO strategy.
Managing Reviews
Online reviews on sites like Yelp and Google can be a source of stress for many business owners. However, there's good reason to face that fear. Having a substantial amount of real reviews encourages search engines to view your site — and business — as a reputable one. Search engines know that thousands of five-star reviews only are likely not real, so there's no reason to worry if you have some negative reviews in the mix. Encouraging clients to leave reviews regardless of their experience can help boost your rankings, as search engines will assume that your agency is in fact a real business because of the number of people sharing their experiences as a client. By responding to those reviews, you can show customers that your agency cares about their needs and is an engaged part of the community, curbing the impact of any negative reviews.
Title and Meta Description Tags
When your website appears in the search results of a query, users will see the title of the page and a description of the page below. Creating titles and meta descriptions that accurately reflect the content of each page can help boost the page's search result rank. They can also increase traffic to your website by providing web users with an accurate expectation of the type of information they can expect to find on the page once they click on it. To increase the likelihood of catching the attention of local customers, include the name of the area you serve in the title or meta description. Titles and meta descriptions are the first impression potential clients see of your business, and having elements that are descriptive and keyword-rich presents your insurance agency in the best light.
Mobile Compatibility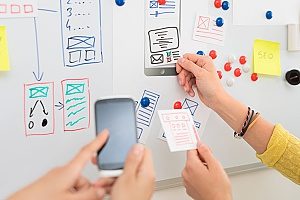 Think of how much time you spend looking up information on your phone. Your potential customers are likely spending just as much time consulting Google, pulling up web pages, and reading on their own phones. They are unlikely to trust a business with an outdated, non-responsive website, as it may be perceived as belonging to a business that is unaware of how to effectively operate in the modern world. Having a website that is easy to navigate not only helps it be ranked more highly, it encourages customers to spend more time on your website and learning about the services you can provide to your local clients. Mobile websites are therefore a key way to ensure that your message reaches the surrounding community.
Measurable Goals
A local SEO strategy is only as good as its results. It's important to set measurable goals and track your insurance marketing plan's progress. For example, you may want to measure the increase in website traffic, effectiveness of various keywords, or number of new clients signed since your marketing campaign began. Thankfully, digital marketing provides businesses with a wealth of information, from how many people have clicked on a link to how many have simply seen it on a page of search results. Using a wide range of relevant metrics to evaluate your marketing plan will help your insurance marketing agency determine the best ways to improve its marketing efforts and continue to maximize your website's reach.
Working with an Insurance Marketing Agency
Speak to a professional insurance marketing agency for more information and to schedule a free consultation for your insurance marketing campaign. 321 Web Marketing is a Northern Virginia-based agency that has extensive experience in helping insurance agencies and other businesses create effective SEO campaigns. The agency can also assist with other forms of digital marketing, such as email newsletters and social media marketing. 321 Web Marketing can work with your existing marketing agency or develop a new insurance marketing plan from scratch to help your agency reach its goals.