It's no secret that the best way to grow your insurance business is to tell other people about it. Insurance marketing involves a range of techniques, from email newsletters and SEO websites to content generation and social media marketing. All of these methods are proven to increase leads, revenue, and brand awareness, among other major benefits. Here's a look at how 321 Web Marketing, an insurance marketing agency, provided two of its clients with a significant return on their investments and helped the companies grow.
Benefits of Insurance Marketing
Insurance marketing has several important benefits. It can promote brand awareness and loyalty, which helps attract new clients and encourage them to view your site as a credible one. It can also increase traffic to your website through SEO and higher rankings in search engines. Content generation can not only provide your business with the perfect way to use SEO keywords, it also be an excellent way to demonstrate your expertise in the insurance industry and show readers that your agency will be able to confidently handle their insurance needs. In addition, digital marketing is typically less expensive than traditional forms of marketing. It is also more effective.
While it is difficult to collect data about newspaper, radio, and television ads, it's much easier to collect a wide range of data — such as the demographics of your viewers, how long they spend on your website, and what search terms they use to find that website — when using digital marketing. This data is an invaluable resource that can help you refine your messaging and display your ads to the group of people most likely to purchase services from your agency.
Client #1 in Fairfax, VA
Start of Contract in July 2016



The first of 321 Web Marketing's successful campaigns is for a client based in Fairfax, VA. The client has been working with the agency for just over two years. Within that span of time, the client's users per month has skyrocketed from 1,002 users to 148,411 as of August 2018. The number of keywords used has also grown, from 1,426 at the beginning to 9,166. Increases in keywords are important because it improves the likelihood that web users will find the client's website, giving them — and the search engines — higher odds that the site will be included in search results.
Data as of August 2018



The client's referrals have also increased. These referrals are critical in insurance marketing because they build a network of trust among the client's website and other sites that a potential client already finds credible, providing a strong recommendation and encouraging customer conversion. Referring domains for this client began at 86 just over two years ago and have since increased to 211. Referring pages, meanwhile, have seen even stronger growth, from 350 to 1,097 in two years.
Client #2 in Los Angeles, CA
Start of Contract in March 2018



321 Web Marketing's next client has been with the agency for just five months. However, it has experienced significant growth within this time period. The client's users per month have improved dramatically, from 27 to 1,314. Its keyword usage has also risen from 89 to 254. These increases are thanks in part to extensive keyword researching, which helps an insurance marketing agency determine the popularity of various search terms before including them in a client's SEO-friendly web design. Choosing keywords that are just the right balance of popular and specific to a client's niche services or target demographic can provide the client with targeted users that are more interested in the client's services than other users.
Data as of August 2018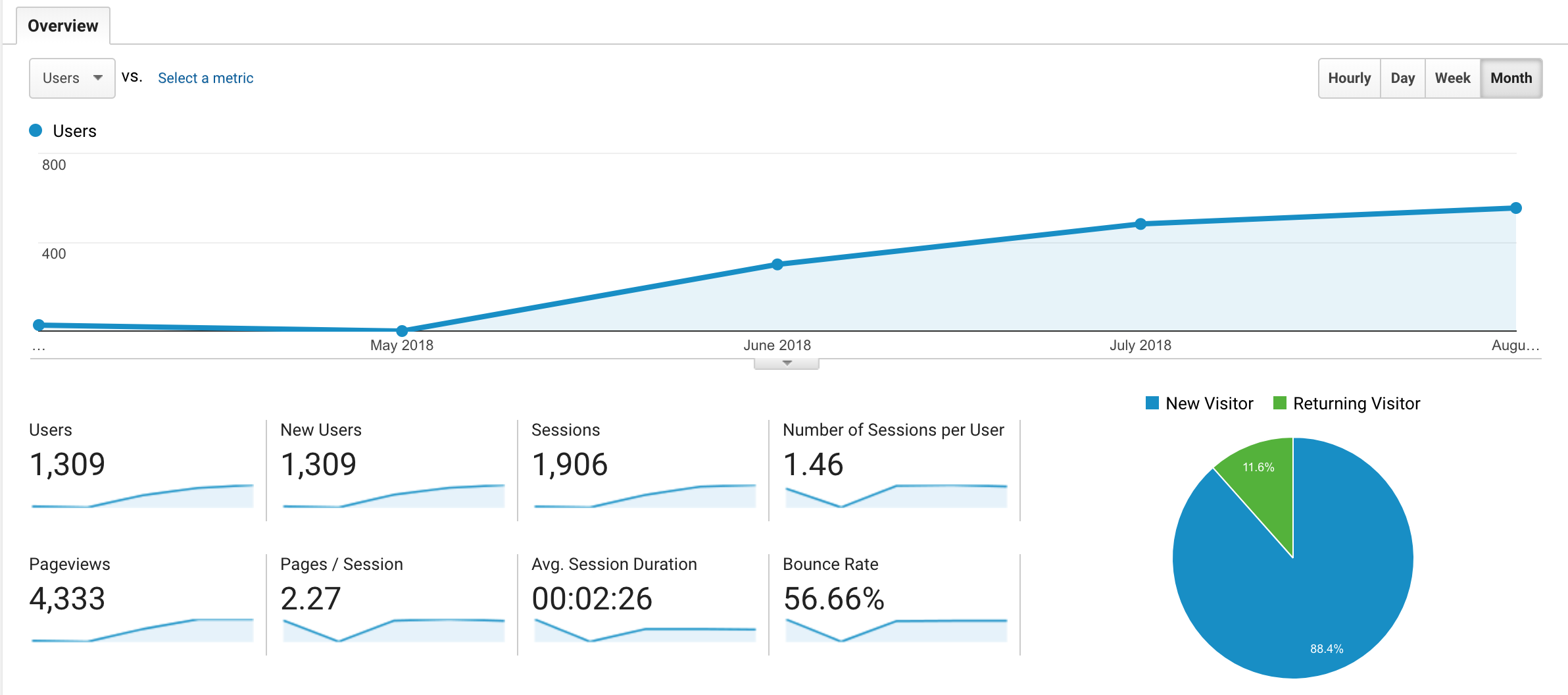 Like the first client, referrals have increased steadily for this client. It began with 10 referring domains, which has risen to 75 within just five months. Referring pages, meanwhile, are up from 12 pages at the beginning of the campaign to 211 today. These referrals will continue growing as 321 Web Marketing generates more content for the client, promotes them on social media, and continues to focus on promoting brand familiarity and loyalty. These methods can all help other sites feel comfortable referencing and recommending the client's brand, as it will appear to be a trustworthy, reliable, and professional source of information.
Working With an Insurance Marketing Agency
Speak to 321 Web Marketing for more information and to schedule a free consultation. The agency's customized plans are developed after extensively researching each client's competition, goals, target audience, and more. 321 Web Marketing monitors the progress of each marketing campaign after it is launched, using data to make any changes necessary to ensure the plan's success. Its team of marketers can work with insurance agencies of any size, whether they have a marketing team in place already or not, and can also help agencies all over the country. 321 Web Marketing aims to provide its clients with a steady stream of qualified leads within six months of a campaign's launch.