The goal of marketing is always simple: to inform consumers about the services a business provides and encourage purchases as a result of this awareness. It's no different when it comes to law firm marketing. There are several steps your law firm can take to explain your services to the people who would find them most useful, such as creating a clean website, optimizing your web pages, writing informative content, and implementing an organic SEO strategy. These strategies are indispensable, and a law firm marketing agency plays the biggest role in making sure they are successful. A law firm marketing agency can use those techniques to help your law firm gain visibility online to promote public awareness, gain clients, and establish your firm within the industry.
Website Design
Having a website that is easy to navigate can encourage site visitors to take their time exploring, reading, and learning about your law firm. Your website should have a responsive design, meaning that it looks just as good on a laptop screen as it does on a mobile device, since many people view websites while on the go. A responsive design makes it easier for people to view the information on your site and ensures that the site looks polished no matter how it is accessed, preventing potential clients from leaving feeling frustrated over the lack of modern features on your site before they can get the information they need. Organized menus, clear navigation links, and an uncluttered design are also important because they demonstrate that your firm is modern and trustworthy enough to understand the high standards that any professional organization should set for themselves. Using calls to action, such as asking potential clients to call your law firm for a consultation or sign up for a monthly email newsletter can also help gain visibility and clients. A well-designed website with these features provides your law firm with a strong foundation on which to build a marketing plan. It ultimately establishes your site visitors' trust and loyalty to your firm by providing them with a pleasant experience while engaging with your site.
Creating Content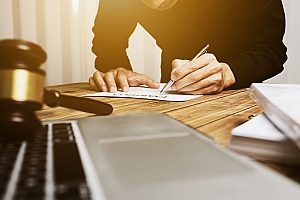 Filling your website with educational and relevant information is an excellent way to increase visibility and traffic over time. Providing clients with informative blog posts and other content positions you as an industry leader that is current with the latest trends, news, and best practices within the legal industry. This content can take the form of graphics explaining the steps taken when litigating a case, posts that analyze new laws, or a page featuring answers to frequently-asked questions. Populating your website with quality content makes your law firm more visible in several ways.
First, it shows that your law firm's members are experts within the industry, and people who trust your knowledge and find you credible are more likely to turn to your firm when they are in need of legal services. They may even recommend the firm to a friend who also needs legal help, and recommendations from a trusted friend can carry more weight than a testimonial from a stranger online. In addition, content allows you to insert SEO-friendly keywords in strategic places throughout your website, increasing the likelihood that it will appear higher in search results when people look for those keywords.
Organic SEO
Search engine optimization, or SEO, can provide a major visibility boost. A law firm marketing agency can research commonly-searched keywords, then insert those keywords into the content on your website. Using keywords that are searched for often and relevant to your firm's area of expertise throughout the site, including in headers, blog posts, and even URLs, can help search engines locate the page when users search for particular terms. This allows your site to appear higher in search results, and many web users report that they consider results on the first page to be the most relevant and trustworthy. In fact, many people do not click past the first page of results, and you could be missing out on traffic by neglecting to select keywords that improve your site's ranking. In addition, organic SEO shows your content to people who are already searching for it. This provides your firm with more qualified leads who are more likely to click on your page and reach out for more information than if you were to spend your resources on developing a more broadly-targeted campaign, such as a television or newspaper ad. Organic SEO is generally cost-effective and has a high return on investment, making it worth the effort of researching and creating quality content.
Optimizing Pages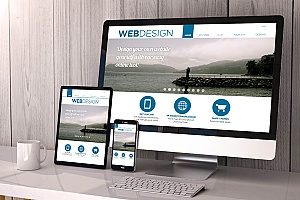 Creating optimized website pages goes beyond using SEO, responsive design, and educational content, and the extra steps are ones worth taking. Title tags, which appear as headlines for your pages in search engine results, and meta descriptions, which create the descriptive text underneath, tell both search engines and site users what content they can expect to find on the page. This helps your site rank higher and makes it easy for visitors to find the information they're seeking. Optimization can also include fixing broken links that lead to blank pages in order to create the smoothest navigation possible on your website and making content easily shareable via social media by including social share icons.
Even images can be optimized by adding accurate titles, captions, descriptions, and alt-tags featuring your keywords. These factors all help your website rank higher and get traffic.
Working With a Law Firm Marketing Agency
Get in touch with a law firm marketing agency to get more information and a free law firm marketing consultation. 321 Web Marketing provides clients with strategies that can help them increase visibility, client lists, and revenue. The agency uses a variety of techniques, including content marketing, SEO keywords, and website design to develop a customized marketing plan for each client. 321 Web Marketing can also work with law firms of any size throughout the country and can create a marketing plan from scratch or collaborate with your existing marketing department to produce a campaign.