Outreach marketing is a technique that involves using a variety of channels to make connections with your patients. But then, isn't all marketing outreach marketing? Not quite. While all marketing techniques are designed to get your message in front of potential patients, outreach marketing tries to make more direct, individual connections in an effort to build trust and gain visibility within your area. Outreach marketing can involve email marketing, social media marketing, and other traditional digital marketing tactics that, when used together, can create a powerful network of ways for your dental practice to connect with each and every person who comes across your content. Here are several outreach marketing strategies to consider when developing your dental practice's marketing plan.
Social Media Marketing
Posting your website content on social media is a good way to get the attention of potential patients, but interacting with other users is even better. Provide incentives for people to click or comment on your links and comments. For example, if a user has mentioned that their braces are hurting, you may provide them with a link that contains a blog post about how to ease that pain. You may also ask them questions about their experience in the comments. In both examples, you can show that the dentists at your practice care about the patient's needs and are willing to help them find the answers they need to maintain their dental health. These responses also create real connections with people, and they are likely to remember the interaction when they decide to find a dentist. People are also likely to remember your practice if they consistently see its brand while they are using social media, meaning that all those comments and posts may be reaching people who are simply reading your content instead of interacting with it as well.
Email Marketing
Email offers nearly endless possibilities for outreach marketing. A general email newsletter sent out each month keeps your practice fresh in people's minds, making them more likely to remember your practice and schedule an appointment. When they visit your office, encourage patients to sign up for the monthly newsletter and keep track of each patient's unique needs and interests. This will allow you to segment your patient list into distinct groups and provide a more personalized newsletter experience for each one. For example, you may choose to send different newsletters to parents of children who may need braces and elderly people who are using dentures. This personalized experience gives your patients only the most relevant information for their own health, showing that your practice not only pays attention to their needs, but values their time as well. Provide links back to your website in each newsletter so that patients can continue doing their own research on your site if they would like.
Local SEO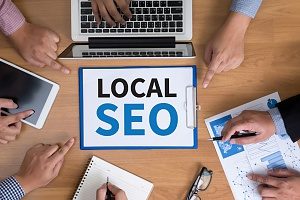 Search engine optimization, or SEO, involves finding out which keywords people in your area use when they are looking for dental services online and incorporating those keywords into the content on your website. Doing so helps search engines find and display your content when people search for the matching keywords and also helps your dental practice demonstrate its expertise on topics that people in your area will find relevant and interesting.
To build a local audience, be sure to include the name of your city or geographic area in your website content, including the title and meta description tags that appear as previews when links to your pages are displayed in search results. These tags are the first impression that people see when they look at a page of search results, and clearly indicating the areas you serve in those tags increases the likelihood that they will click on those links. Building a local audience is crucial for a dental practice, and search engine optimization is one of the most cost-effective ways to reach that goal.
Getting Feedback
Asking patients to leave reviews about their experiences at your dental practice is another form of outreach marketing. Not only do the reviews help you understand the strengths and areas of improvement for your dental practice, they allow patients to help you spread the word about your practice and attract new patients. Practices with a good mix of both positive and negative reviews on places like Yelp and Google tend to rank higher in search results, because search engines trust that businesses with a significant number of honest reviews are legitimate ones. Take the time to respond to those reviews to show patients that your practice cares about their needs and is committed to being an engaged member of your local community.
Connecting with Clients
After you've used these strategies, it's likely that your practice will be well on its way to making genuine connections with patients. They will feel as though your practice is the most trustworthy, reputable, and knowledgeable in the area, and they are likely to continue being patients for a long time. People like this are also likely to recommend your dental practice to the rest of the people in their network. A recommendation from a trusted friend or family member can be a valuable one, as people are more likely to trust information that comes from their friends than they are an advertisement or article they read online. Encourage your patients to refer your practice to their network, and see how your own can grow as a result.
Professional Assistance for Outreach Marketing
How do you begin an outreach marketing campaign? By reaching out to a professional dental marketing agency for help implementing a plan, of course. 321 Web Marketing understands that making connections with your patients and potential new patients is a critical way to gain trust, a good reputation, and of course, a sustainable patient list. The Northern Virginia-based agency works with dental practices of all sizes to conduct industry research and develop a custom marketing plan based on each client's environment and needs. 321 Web Marketing monitors the progress of each campaign, adjusting its strategies as necessary in order to provide a steady stream of qualified leads within six months of launching the campaign.