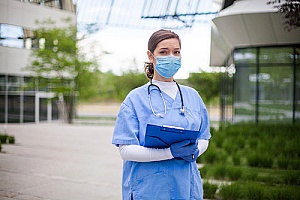 The team at 321 Web Marketing has a long history of creating and administering successful search engine optimization (SEO) campaigns for healthcare organizations across the United States. Since 2013, our experienced digital marketers have performed extensive research across several types of industries that comprise healthcare, including medical, dental, vision, addiction recovery, hospice, and more. Our ability to generate meaningful content that draws the attention of customers makes us the perfect candidate for your healthcare marketing needs.
With this case study, you will receive an in-depth look into how 321 Web Marketing has boosted the traffic and leads for one of our healthcare clients. Out of respect for our client and their confidentiality, we will refer to this particular organization as "Healthcare Provider" when discussing their marketing campaign.
Healthcare Provider History & Pain Points
In January 2020, Healthcare Provider reached out to 321 Web Marketing to see how we could help increase their organic traffic on Google and get more patients through their doors. Healthcare Provider had been operating for quite a while before but was only getting new patients through referrals in their competitive region and market. Thus, there were two major pain points they needed to address with 321:
No New Patients From Outside Of Their Referral System
No Useful Information Or Engagement On Their Website
As a Northern Virginia digital marketing agency, we share residency with some of the top healthcare providers in the nation. However, we often notice a disconnect between these providers and SEO marketing as they often trust their referral networks. While referrals may keep a healthcare organization in business, they are certainly not ideal solutions to growing the practice and driving more tangible results.
Goals Of The Healthcare Marketing Campaign
After reviewing their pain points and existing website, 321 Web Marketing immediately saw the need for outsourced digital marketing. Our CEO and Director of Digital Marketing collaborated directly with Healthcare Provider to identify goals for their brand new campaign:
Increase Lead Generation
Improve Website Engagement And User Expeience
Develop Informative, Keyword-Rich Content
Our primary goal for Healthcare Provider was to supplement their well-established referral system with marketing efforts to help them discover clients that would have otherwise never heard of their practice.
Healthcare Marketing Strategy
When developing Healthcare Provider's marketing strategy, we identified the strong need to focus our marketing efforts locally. This was due primarily because the majority of business for healthcare organizations come only from their city or county and its surrounding areas. While opening our SEO efforts to a larger audience could potentially generate more website traffic, it would not produce many leads or new patients for our client. Therefore, the hypothesis we created for this campaign was based on targeting local clients and their goals for lead generation.
Strategy Hypothesis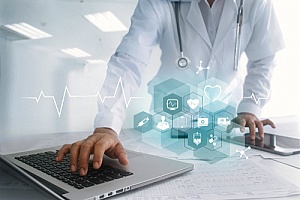 There was very minimal competition in Healthcare Provider's region, which was a blessing in disguise. While it may have seemed like the research would be difficult for 321 Web Marketing, our team was able to analyze data from similar healthcare organizations in different locations. This helped us not only to understand the healthcare industry and market a lot better but also gave us more insight on how to develop a winning campaign based on two unique factors.
Factor #1
Most of the information on the internet regarding this field within the healthcare industry was quite dry and lacking user engagement. In some cases, even having too much technical or "textbook-like" information may be overwhelming or disengaging for individuals that come across the content. By developing concise but captivating website content, the user can quickly gain the resources they need to proceed with the next steps.
Factor #2
A majority of website designs for the organizations in this specific field were outdated and appeared to have several broken links. This is not only detrimental from a consumer perspective but also to search engines as they often penalize sites that are not functioning well. With a well-organized and maintained website, potential patients will have an easier time navigating the site and discovering the information they seek before scheduling an initial appointment.
Hypothesis Implementation
Before publishing the website, we worked diligently to ensure it contained useful and SEO-friendly information on all types of procedures and care offered by Healthcare Provider. The content was written in the form of "service pages," which are pages that discuss a particular service provided by an organization in detail. Similar to pages that display a specific product, they allow for users to maker an informed decision before reaching out to a particular provider. Through our research, we made sure that the copy was clear and informative while eliminating jargon to help individuals best understand the services that Healthcare Provider offers.
Results Of The Strategy
As of December 2020, the new website has been live for just under 10 months and has already returned significant SEO results for Healthcare Provider. After launching a website with a library of content and a modern yet minimalistic design, Healthcare Provider has received over 700 qualified leads through the website (out of the 2,500+ leads that were marked as quotable or not quotable, and out of the 7,500+ leads that have not been marked). The following data shows how our SEO efforts have supported this colossal rise in lead generation.
Immediate Boost In Keyword Rankings
When beginning their campaign in March 2020, Healthcare Provider quickly noticed that 321 Web Marketing's plan was tried and true. Their website immediately began ranking for keywords in Google, meaning that Google was displaying their website in results for 'keywords' or popular search queries performed by users. Due to the significant amount of trust Google had placed in Healthcare Provider's website content, their web pages began gaining exposure through search terms that were relevant to the services they provide.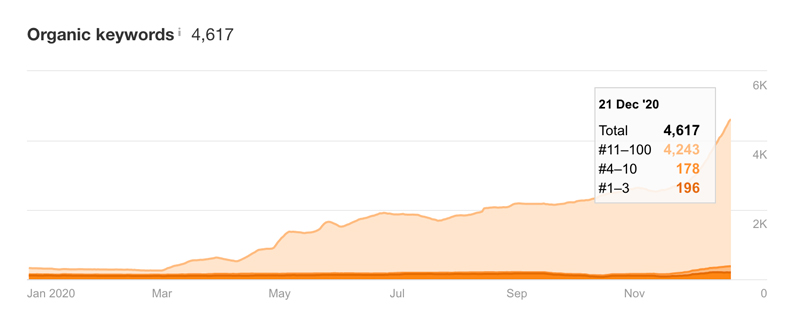 Figure 1.1
Organic Keywords
(March 2020)
#11-100:456
#4-10: 49
#1-3: 103
Organic Keywords
(November 2020)
#11-100: 2,637
#4-10: 102
#1-3: 125
Figure 1.1 shows the number of organic keywords that Healthcare Provider is ranking for in Google. This data provided by Ahrefs breaks down how many keywords Healthcare Provider is ranking for in positions 1 through 3, 4 through 10, and 11 through 100. The keywords that are displayed in positions 1 through 10 mean the page is ranking on the first page of Google. For more information on how to read and interpret this data, visit the documentation on how to read Ahrefs SEO metrics.
Steady Increase In Organic Website Traffic
As a direct result of Healthcare Provider's rise in keyword rankings, their website has experienced a steady flow of incoming traffic through Google and other search engines. Some of Healthcare Provider's web pages have even outranked popular websites such as Mayo Clinic and Planned Parenthood due to the quality and length of content. To provide context for the organic traffic data displayed below, the total number of website users for Healthcare Provider's site averaged around 150 per month before 321 Web Marketing kicked off their healthcare marketing campaign.
Figure 1.2

Figure 1.3

Figure 1.4
Figures 1.2, 1.3 and 1.4 show the organic website traffic data, including the number of new users, total users and sessions, over 3 three-month periods. Figure 1.2 shows the data for March through May 2020, while Figures 1.3 and 1.4 show the data for June through August 2020 and September through November 2020, respectively. For more information on how to read and interpret this data, visit the documentation on how to read Google Analytics audience reports.
Significant Rise In Brand Recognition, Trust And Loyalty
Before working with 321 Web Marketing, most of the Google search traffic that Healthcare Provider received came from queries such as "Doctor Name, MD" or "Doctor Type near me." Now, there is a substantial amount of searches for their practice and doctors due to users who are returning to their website after searching for services they offer with no prior knowledge of the organization or its brand. The rise in brand recognition can be directly attributed to Healthcare Provider's increase in organic website traffic.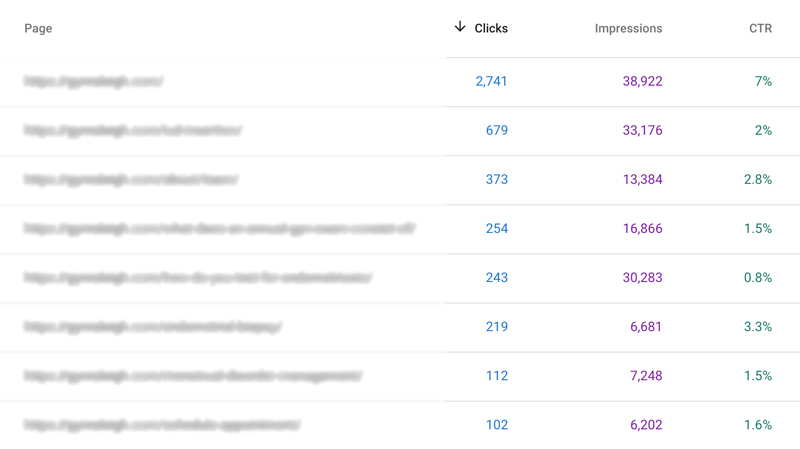 Figure 1.5
Direct Google Searches
(Jan – Mar 2020)
152
Direct Google Searches
(Sep – Nov 2020)
1,603
Figure 1.5 shows the number of clicks and impressions, as well as the click-through rate over a 3-month period for Healthcare Provider's top 8 pages people visit first upon discovery of the website in Google. The page at the top of the list is their homepage, meaning users are most likely searching for the brand as opposed to just the services they offer. The high click-through rate means that they are not only viewing the home page, but also visiting other pages within the site instead of looking for a different provider's website. For more information on how to read and interpret this data, visit the documentation on how to read Google Search Console reports.
Exponential Growth Of Unique, Quotable Leads
A lead is any interaction with a business initiated by a consumer through a phone call, web form or other method of direct or indirect communication. Whereas, a quotable lead is considered any lead that can potentially win business for the client. The data seen below highlights Healthcare Provider's unique, quotable leads from May to November. Due to an increase in brand recognition, trust and loyalty, Healthcare Provider has been able to convert many website users into established patients.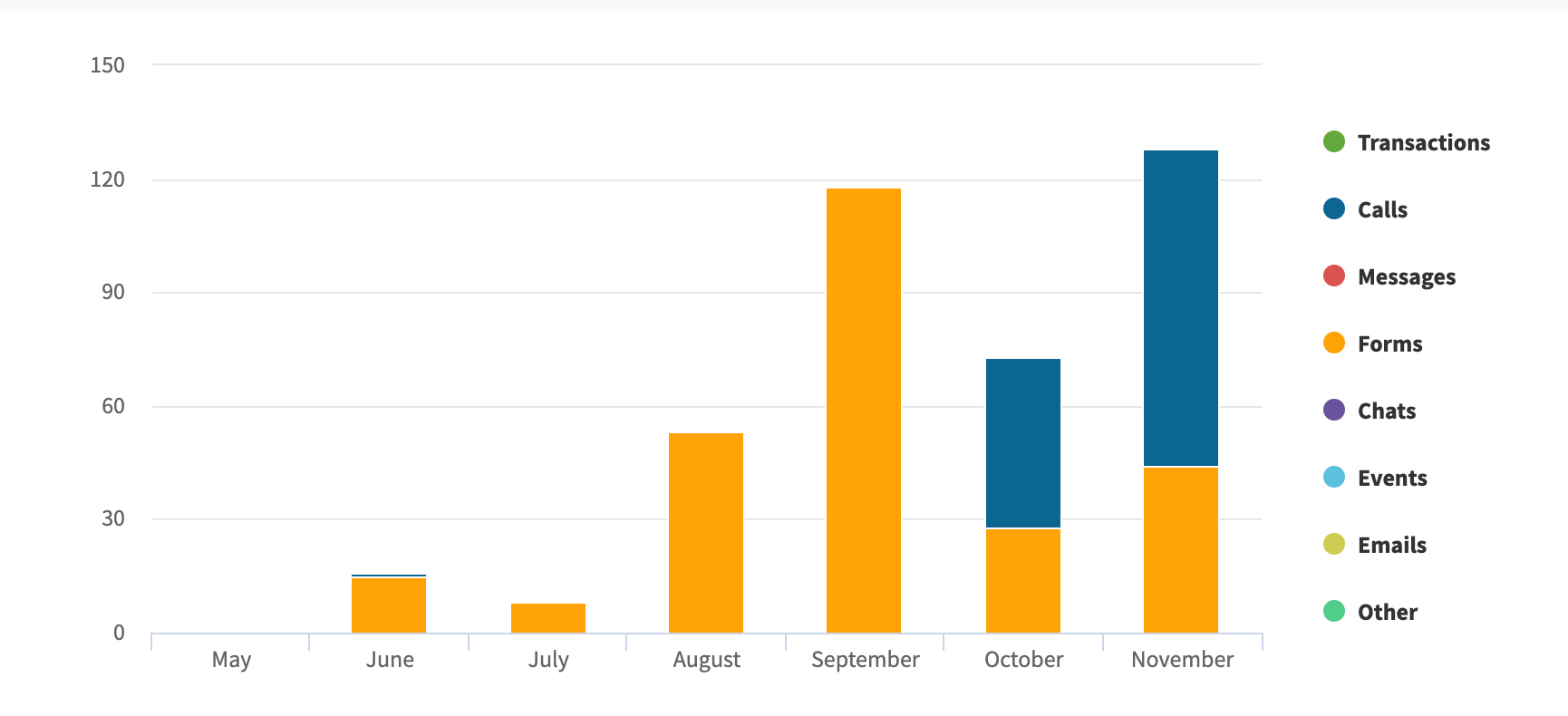 Figure 1.6
Figure 1.6 shows the number of leads received by Healthcare Provider that has been marked as both unique and quotable. While Heathcare Provider has a significant amount of repeat (but quotable) leads from returning patients, we wanted to showcase our ability to continuously capture highly qualified leads, regardless of how much the practice has grown. The chart displayed is from 321 Web Marketing's own lead tracking system that can be accessed by our clients at any time.
Results Summarized
For a complete and organized summary of the results from our healthcare marketing campaign, we have provided a table below which outlines the results after the 1st, 5th and 9th months of our relationship with Healthcare Provider. Feel free to click on the question mark icons found next to the key performance indicators (KPI) to better understand the data that is being displayed.
| KPIs | Month 1 | Month 5 | Month 9 |
| --- | --- | --- | --- |
| Total Keyword Rankings | 620 | 1,828 | 2,864 |
| Keywords On 1st Page | 152 | 191 | 227 |
| Monthly Traffic Value | $949 | $1,427 | $3,590 |
| Total Monthly Users | 1,011 | 1,842 | 2,630 |
| New Monthly Users | 992 | 1,745 | 2,508 |
| Monthly Clicks | 473 | 1,180 | 2,000 |
| Monthly Impressions | 11,500 | 33,100 | 81,700 |
| Monthly Qualified Leads | 0 | 9 | 270 |
Speak With Our Healthcare Marketing Specialists
The team at 321 Web Marketing has extensive experience working with multiple specialists within the healthcare industry and has produced winning campaigns for each one. Why not sign your organization up for similar results? We understand what it takes to get your practice to the next level, regardless of the healthcare field you operate in. Start your healthcare marketing campaign with our team of experts today!