Contractors require a constant flow of clients to keep their companies running, but often lack the time needed to market their services to attract new business. Without devoting the appropriate time needed for a successful marketing campaign, contractors can be put at a disadvantage and fall behind their competitors. We have years of experience implementing and maintaining successful contractor marketing campaigns for our clients in the contractor industry.
At 321 Web Marketing, we develop a customized digital marketing campaign specifically tailored to the contractor industry and your company's unique marketing goals to showcase your quality and professionalism online and maximize your revenue stream. With best SEO practices in mind, we develop an optimized website for your company that will attract potential clients with striking design and gain the attention of search engines to achieve higher rankings.
Free Contractor Marketing Consultation
Reach out to our experts to see how we can grow your organization in the contractor industry today!
Schedule Meeting
Benefits of Contractor Marketing
Increase Brand Awareness
By increasing brand awareness, your company is viewed as more established, you distinguish yourself from the competition, and users are more likely to acquire services with someone they've grown to trust. As the awareness of your brand increases, the reach of your audience does as well. Spreading awareness of your brand and the services you provide, is a pivotal step in the growth of your company.
More Qualified Leads
Obtaining more qualified leads means a greater chance of increasing your revenue. Rather than focusing on the volume of leads your website receives each month, we strive to capture the leads with the greatest chance of converting. By identifying your target audience, we are able to capture the attention of users who are interested in your products or services.
Higher Search Rankings
The best method in achieving higher rankings on search results for keywords related to your industry is content marketing. Generating informational and quality content containing industry specific keywords, benefits both you and the searcher. The more relevant and useful the content is, the more inclined Google is to rank your website higher among search results.
Proven Contractor Marketing Success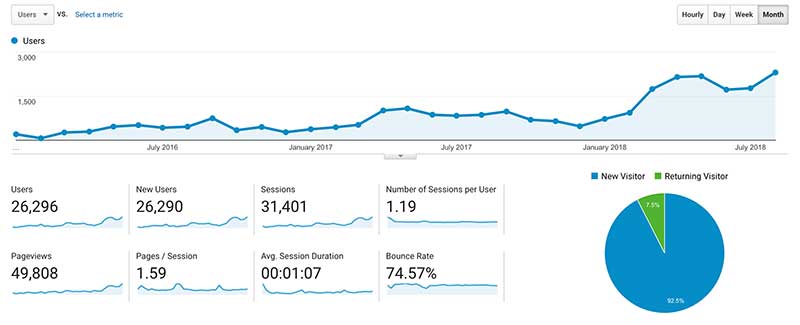 Contract Start Date
January 1st, 2016
Number of Months Shown
31
Services Marketed
Fill Dirt Delivery, Bathroom Remodeling, Pool Removal
Growth of Monthly Users
+2,098