Google's algorithms are an ever-evolving machine, constantly shifting to meet the needs and demands of users. Content creators have long adapted to these changes, and in the world of SEO, the acronym E-A-T became synonymous with creating trustworthy content. Standing for Expertise, Authoritativeness, and Trustworthiness, E-A-T has been the North Star for many writers, bloggers, and businesses trying to gain visibility in Google's search results.
However, in the whirlwind year of 2022, Google shook the foundation again by introducing another E into the mix. The term now? Double-E-A-T or E-E-A-T, with the new 'E' shining a spotlight on 'Experience'. Emphasizing experience, Google scrutinizes the writer's direct encounters and personal journey when assessing content related to the topic.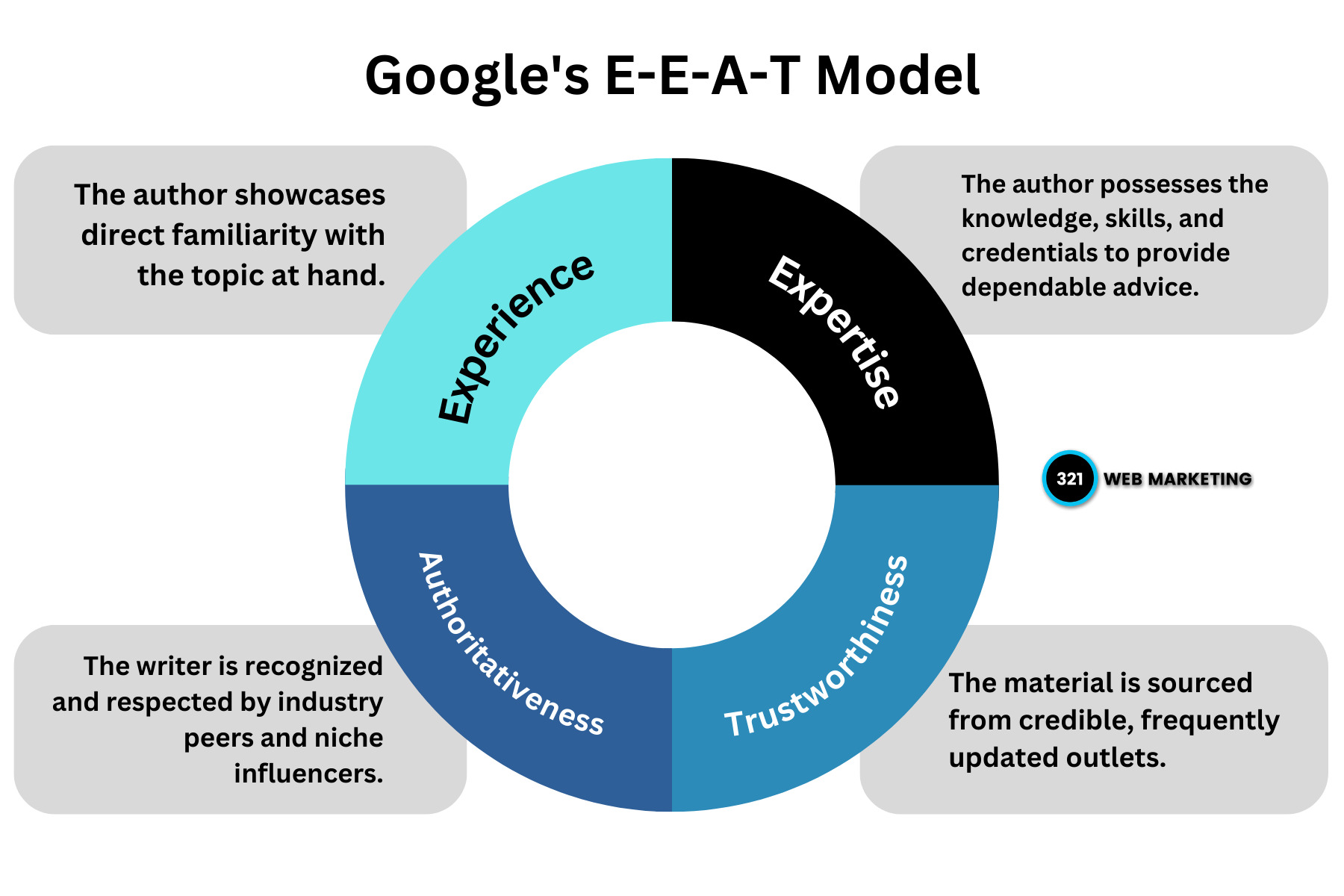 Why The Shift Towards Experience?
Announced in December 2022, this announcement from Google can be seen as a response to the release of ChatGPT on November 30, 2022. Given that AI can now produce content that's near-indistinguishable from human-written articles, Google's pivot towards prioritizing Experience makes sense. The platform, it seems, wants to ensure that the content available on its search results comes from sources with genuine experience and authority.
Implications for SEO and Business Strategies
For businesses and SEO professionals, the emergence of Double-E-A-T denotes a profound shift in strategy. It is no longer just about content quality – now, there's a pressing need to ensure the credibility of your brand both at an individual and organizational level. Here are some actionable tips that our team is using to improve SEO for businesses:
About Page Significance: If you haven't updated your 'About Us' page in a while, now might be the time. Google will be looking for detailed histories, team member profiles, achievements, and other indicators of credibility and experience.
Authorship Matters: Anonymous blog posts may no longer cut it. An author's credentials and background can play an important role in ranking. Ensure every piece of content has an associated author with a detailed bio, ideally linked to their professional profiles like LinkedIn.
Directory Presence: It's time to get listed, if you haven't already. Directories that align with website authors and your business can give you added credibility. Ensure they're filled with up-to-date information, high-quality images, and if possible, customer reviews.
Engaging, Authoritative Content: Social media presence is invaluable. Putting out content that garners engagement, shares, and conversation can be indicative of its authority and credibility.
At 321 Web Marketing, we've been proactive in integrating these strategies since July. The result? Improved local rankings and increased visibility to potential local clients.
In Conclusion
The digital landscape is always in flux. With Google's new emphasis on 'Experience', businesses have an excellent opportunity to bolster their online credibility. Adapt, evolve, and ensure that your content not only speaks of quality but also the depth of experience behind it.