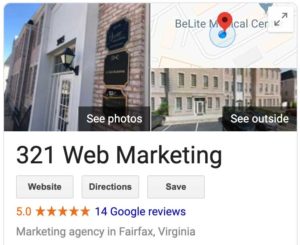 Having a fully-optimized Google My Business (GMB) listing is key for local SEO success. By establishing a listing for your business on Google, you can put your company in front of people who are searching for products and services you offer.
Google My Business is free, easy to use, and helps businesses better control their online presence across Google, including Maps and Search. When you create a listing for your business, a Google Maps location is generated that allows consumers to easily locate your local business by performing a basic Google search.
Creating A Google My Business Account
While it takes just a few moments to create a Google My Business account, you do not want to rush through the process. This article will help you understand how to optimize Google My Business to really leverage a location-based strategy and help gain local exposure for your brand.
Does A Google My Business Account Exist?
Before creating a new Google My Business account, perform a search to see if a GMB listing already exists for your business. If so, you will simply need to claim it. Once claimed, you can review and modify any information on the page to ensure that it is up to date and accurate.

Make sure all boxes are filled in, especially important details like business name, address, and phone number. Also choose a business category that best describes your business. This will make it easy for people to find you.
Enhancing Service-Area Business Details
To add to or change the service-area details for your business, simply sign into your account and select "card view." If your business delivers to local consumers, you will need to make the necessary modifications to show this. Click on "Manage Location" and choose Info from the menu. Next, click the "Address" section and select "Yes" where it asks if you deliver goods or services to customers.
You can then set up your service area by entering the cities or zip codes that your business services. If you have a brick-and-mortar business that serves customers, also select the box that states that your business location is staffed and is open to customers during published business hours.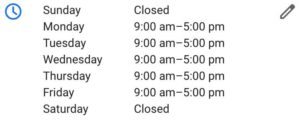 Verifying Your GMB Listing
After submitting your service area business details, you will need to verify your listing. Verifying your listing is a step towards claiming ownership of the business online and can increase the performance of your listing. One of the easiest ways to verify your GMB listing is through mail. Verification details are mailed to the business address you submitted. Note that your business details will not be displayed until you are verified.

Optimizing Your Google My Business Account
To fully optimize your Google My Business listing, take advantage of the various tools and resources available to you. There are several things you can do to boost optimization:
Provide complete data about your business. Your business is more likely to show up higher in the search engine result pages (SERPs) if your business listing is more detailed.
Include relevant keywords. Similar to traditional SEO, local SEO can be achieved by adding keywords and phrases that are related to your business and location.
Update operating hours for your business. Customers want to know when you are open and when you are not. Be sure to keep your hours of operation updated, including during holidays.
Add photos that accurately portray your business. This can result in more click-throughs. For example, if you are a bakery business, upload photos of your best cakes and baked goods.
Respond appropriately to customer reviews. Through your GMB listing, customers have the opportunity to leave feedback. This feedback can help increase your visibility in SERPs and provide users with helpful information about your business from fellow consumers.
Monitoring Your GMB Listing
With advancements in technology, it has never been easier to keep tabs on your listing. GMB is equipped with analytical data that can tell you how customers are finding your listing, where they find you, and what actions they are taking, such as making phone calls or looking at photos.
Analytical data provides businesses with valuable insight through reports that detail the number of direct, discovery, and total searches. You can also find out where people are finding your business, such as through Search or Maps.


Google also provides other details about your customers, such as when they visit your website, call you, or view your photos. Knowing how your customers interact with your business can be useful as you grow your company.
Getting Help With Your Local SEO
It is important to understand that optimizing your Google My Business account alone may not get you the results you are looking for. To achieve a spot in the first page of SERPs in Google, your business needs to participate in all areas of SEO.