To find your website through a regular online search engine, a user must input a certain search term for your website to come up in the results. Fortunately, Google's free webmaster tools have made it easy to improve website performance by detecting problems that could prevent your website from being indexed in the organic search results.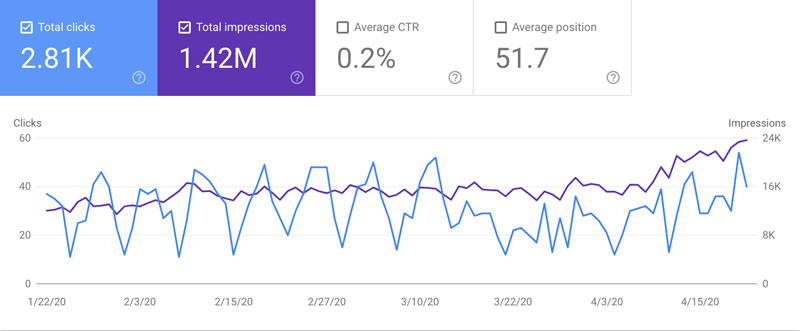 Google Search Console (GSC) is one such webmaster tool that can help you maintain your website's organic search presence. What is Google Search Console exactly? It is a free tool that webmasters can use to manage and monitor their websites via an official portal that is full of helpful tools and informative statistics. As seen in Figure 1.1, GSC provides many useful site metrics such as clicks, impressions, average click through rate, and average impressions. However, these are only a small sample of the many useful data this hidden gem can provide.
How to Set Up a Site in Google Search Console
Before you can start using Google Search Console, there are a series of steps that you must go through to establish your website. These include:
1. Adding & Verifying
To add your website to GSC, sign in to your Google account using your business account and sign into Google Search Console. Click on "Add a property" and choose "Website" from the drop-down menu. You will then need to enter the URL of your website as it appears in the browser bar.
Next, click "Continue" and choose a way to verify that you own the website. This may include uploading an HTML file or tag to your site files, Google Analytics tracking code, domain name provider or Google Tag Manager container snippet. For websites that support both http:// and https://, you will need to add both domains as separate sites.
Step 1 – Open Property List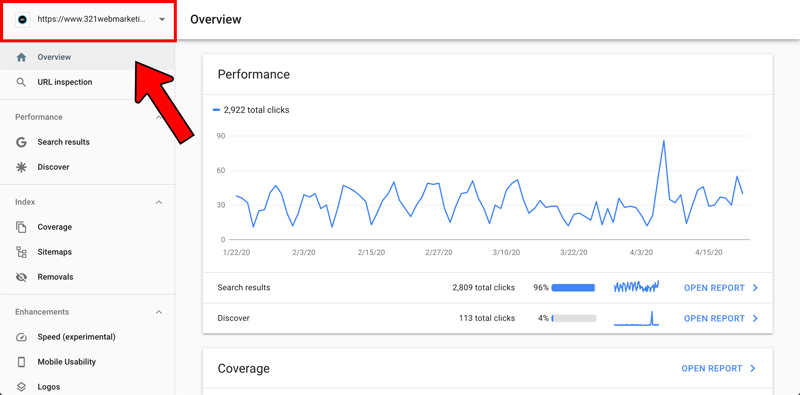 Step 2 – Click Add Property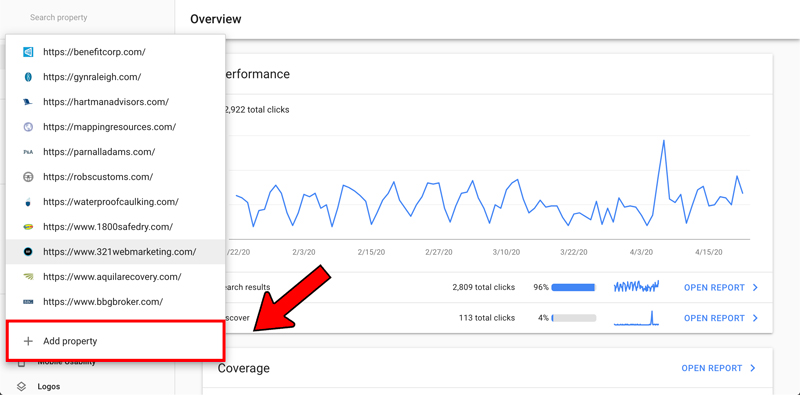 Step 3 – Enter URL Prefix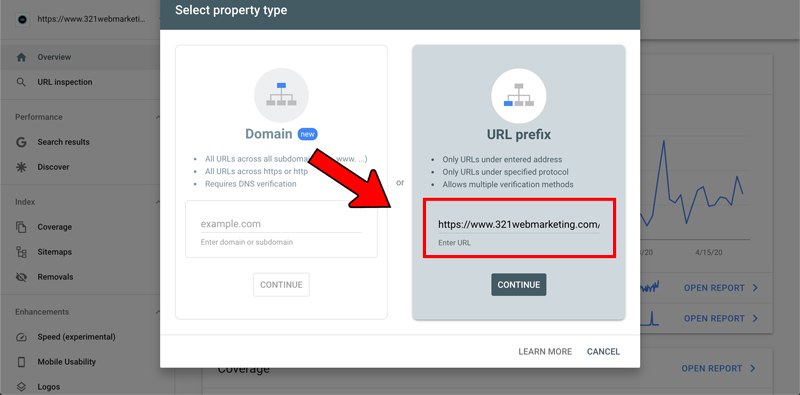 Step 4 – Verify Site Ownership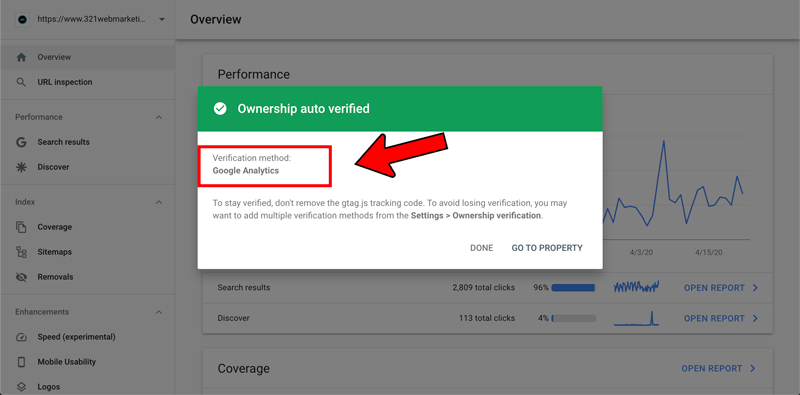 Once you have added your website to GSC, Google will automatically start tracking data. However, you will need to verify your website using one of the previously mentioned methods if you wish to receive confidential information about your website's performance.
2. Adding a Sitemap to GSC
While a sitemap is not necessary for your website to show up in the Google search results, some webmasters choose to add a sitemap to GSC as a way to improve crawlability. There are certain situations when adding a sitemap to GSC can be advantageous, such as when you build a very large website with a lot of pages, when there is a lot of "isolated" pages, when your website is new or when it uses rich media content or tends to show up in Google News.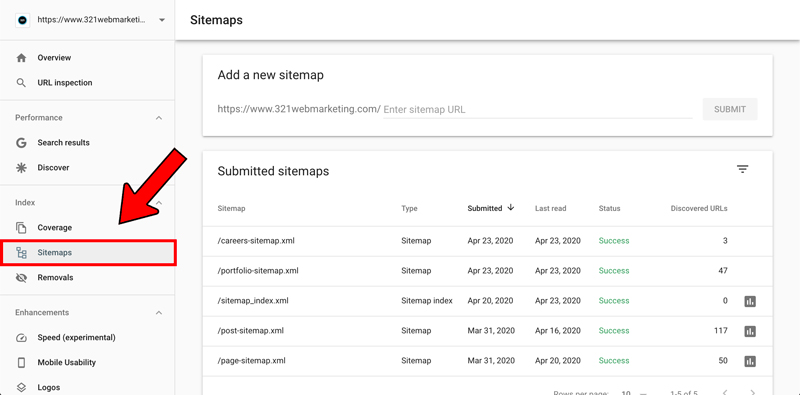 Figure 2.1 shows how you can navigate to the sitemap submission section in Google Search Console, as well as the interface that appears when you do so. 321 Web Marketing uploaded our sitemap index, as well as the individual sitemaps found in the index as a best practice.
3. Useful Tools in Google Search Console
Google Search Console offers webmasters numerous metrics and valuable insights that can be useful when establishing or growing a website. Some of the most popular tools in GSC include the following:
Performance Report – This interactive tool identifies queries, countries, pages, dates, devices, search appearance and more from organic Google searches.
Search Term Queries – With search term queries, you can see what keywords people are using to find your website.
CTR by Keyword – This tool allows you to see what keywords are driving traffic and which are creating impressions but few visitors.
Impressions by Keyword – Use Impressions by Keyword to look at keywords that have a lot of impressions and are sitting on page two or three.
Keyword Position – Look at what position your keywords are ranking to determine how best to boost these words to the top positions.
4. Checking Your Robots.txt File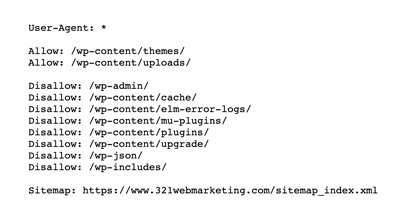 Google Search Console offers a convenient Submit function of the robots.txt Tester tool that allows webmasters to easily encourage Google to crawl and index new or updated robots.txt files. You can make changes to your robots.txt file by clicking on "Submit" in the bottom-right corner of the robots.txt editor which opens up a Submit dialog.
You can then download your edited code from the Tester page and upload your new file to the root of your domain. From there, you can ensure the file is uploaded by going to your site and adding "/robots.txt" after the domain.
Figure 4.1 shows an example of a well-optimized robots.txt file. You can view our successfully uploaded robots.txt file live on our site by clicking the link provided.
5. Getting Updates Indexed by Google Manually
If you are trying to speed things along, you may want to get updates on your website indexed by Google manually. There are several ways you can do this, such as using GSC's Fetch as Google feature which allows you to input a URL for Google to "fetch." Also take the time to add internal links that search engines will crawl from page to page. Sharing your page on high traffic sites and social media can also speed up the indexing process.
6. Checking Website Crawl Errors
Google Search Console allows webmasters to easily check website crawl errors from within the portal. The fastest way to access this information is from the dashboard which gives you a preview of your website and management tools like Search Analytics, Sitemaps and Crawl Errors. You may notice different types of errors, such as site errors and URL errors.
Reach Out to a Professional Digital Marketing Agency
Google Search Console has made it easy to measure your website's traffic and overall performance. For more information about Google Search Console or for assistance with website design, search engine optimization (SEO) or other website services, reach out to the experts at 321 Web Marketing.