Email marketing has changed considerably in the last decade. As identity theft and phishing scams have become more prevalent, most consumers are now wary when receiving unsolicited emails. Direct sales messages sent to consumers often end up in the trash or marked as spam without ever being opened. So, what does it take to achieve effective email marketing in 2020?
5 Ways To Achieve Effective Email Marketing Results
Today there are many unique email marketing tactics that have been proven effective in building customer relationships and generating leads and sales. Here are 5 ways to effectively use email marketing.
Send Tailored Content To Different Demographics
One of the biggest mistakes a business can make is sending out the same generic sales email to everyone. Go to your email and look through your spam. You will probably find quite a few emails about products or services that you would never need or purchase. This is what happens when a business fails to target its audience. In 2020, it is more important than ever to connect with consumers on a deeper level.
This means understanding their interests and needs. Start by segmenting your readers based on age, gender, location and similar aspects. You can then create unique emails for each group which can help achieve greater email relevance and boost open rates.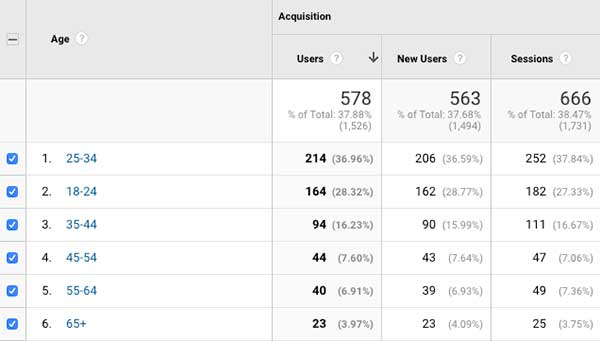 321 Tip
To accurately target your primary demographics, you will need to do some data digging in Google Analytics. Login to your Google Analytics account and on the left, select the dropdown titled "Audience". Within this dropdown you will see additional dropdowns such as "Demographics", "Interests" & "Geo". By examining and filtering your traffic through Google Analytics, you will be able to properly identify your target demographic and start your custom email marketing campaign! Figure 1.1 shows a breakdown of 321 Web Marketing's visitors by age.
Is Your Content Worthy Of Stopping A Scroll?
With so much information on the internet these days, consumers do not stick around to read mediocre content. If you fail to engage your reader within the first couple of sentences, you will likely lose their business. Due to high competition, it is critical to make your content fun, informative and worthy of a read. This may mean adding witty headlines and appealing images.
You also want to get straight to the point and never engage in clickbait. You can; however, create a sense of urgency to grab the attention of your customers.
For example, the headline of your email may read "HURRY! Only ONE DAY Left to Get 50% Off…"
State CTA's With Purpose
One of the most important aspects of any good sales email is the call-to-action (CTA). It is easy to overlook your CTA but the result of doing so is usually a low click-through rate. Your CTA should be clear, concise and straightforward. Start by deciding what your goal is for the email. Do you want them to 'Like' your business's Facebook page? Or maybe you want them to visit your online store or sign up for your newsletter?
Regardless of your intent, you will want to encourage the reader to click on your link to the destination of your choice. You can sweeten the pot by offering the reader something of value for free or at a discount, such as a free e-book or store promo code.

Figure 1.2 shows our CTA encouraging visitors to sign up for our newsletter with direct messaging and an area for users to fill in their email address.
Quality Over Quantity
You send your target audience a dozen emails a day but if they are poor quality, you are likely not going to get any sales. In addition, many consumers will consider too many emails from a single company a nuisance and may unsubscribe to your email list. When it comes to sales emails, quality always beats quantity.
Instead of sending a lot of emails, take the time to craft personalized, data-driven emails that are more likely to grab the attention of your readers. Quality email creation will put your brand in a more positive light and is more likely to lead to leads and sales.

The data gathered through MailChimp shown in Figure 1.3 shows how a well crafted email can lead to a strong response among recipients.
Focus On Engagement Of Community
The internet is no longer just a wealth of information. It is also a place where people can go to meet new friends, share advice and participate in group chats. To keep pace with an ever-changing web platform, it is necessary to go above and beyond to mold your business to modern communication practices. You do not always need to hide behind your business.
Do not be afraid to share some of your personal life with your audience to create a community of people that like and respect your brand. Maybe share a picture of your workspace or provide an update of something new that you have been working on and will be implementing in the near future.
Consult With The Email Marketing Professionals Today
While many marketers are moving away from email marketing, it is just as effective today as it was ten years ago (and also come with some hidden benefits). However, you have to do it right to get real results. In 2020, it is important to move away from uninspired, generic emails and towards more personalized and targeted emails that provide value.
Need help getting started? Rely on 321 Web Marketing. Our effective email marketing automation services are designed to help you reach your target audience, boost brand awareness and achieve measurable success. Contact us today to schedule a free consultation with a 321 consultant.