With the cannabis industry booming, competition is becoming stiffer and business owners must find new ways to reach their target audience. Establishing an SEO strategy is an effective way for cannabis dispensaries to gain the visibility they need to attract customers both online and locally.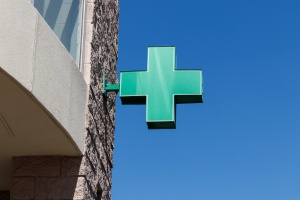 Cannabis dispensaries are at a slight disadvantage when it comes to marketing as many traditional marketing options are not yet open to the industry. Fortunately, a comprehensive SEO strategy can help these up-and-coming businesses drive traffic to their website and increase revenue.
Before developing an SEO strategy, it is important to fully understand what SEO is and how businesses in the cannabis industry can leverage this digital marketing tool.
What Is SEO And How Does It Work?
Search engine optimization (SEO) refers to the method of improving the quality and quantity of website traffic through non-paid or "organic" search engine results. SEO is not just about search engines but is also about understanding what people are searching for online. Businesses can use SEO to create content that satisfies their audience's intent and delivers it in a way that search engine crawlers can find and understand.
Online search engines like Google and Bing are constantly scouring the internet for content to ensure that searchers have access to the most relevant content that matches their query. Search engines discover and catalog all types of content, from web pages and PDFs to videos and images. Today, the search engine results pages (SERPs) contain a combination of both paid ads from businesses and non-paid organic results.
Optimizing Content For Search Engines
Optimized content creation is key to effectively rank a website in search engines. Ideally, cannabis dispensaries should post new and useful content on a regular basis to keep people returning to the website and to increase brand visibility over time. When creating content for a cannabis dispensary, include the following aspects to boost SEO.
1. Page Title
The page title is often the first thing that people see when they land on a website. It is also one of the biggest factors considered for ranking in search engines. A page title should be easy to understand by both humans and search engines. It should also contain a major keyword that is relevant to the content on the page.
2. Meta Description
In addition to a well-optimized page title, it is important to have a detailed meta description. Meta information enables webmasters to briefly explain the content on the page. When a user searches on a search engine, the meta description appears just below the page title and the URL in the search results. Although Google will take a featured snippet from the page, it is better to write a custom meta description so that the proper keywords can be implemented for improved SEO.

Figure 2.3
Great meta descriptions help convince web users to click on the link and go to the dispensary's website. Meta descriptions can be especially useful for cannabis dispensaries as these descriptions let potential customers know exactly what products the retail store offers.
Figure 2.3 shows an example of a meta description for Pure Oasis, one of 321 Web Marketing's clients. It is short and brief, while incompassing the target keywords to tell potential readers exactly what the blog is about.
3. Headers
Many businesses overlook the importance of headers on a webpage which can be a costly mistake. Google bots can have difficulty understanding a page when headers are not used correctly, especially H1 tags. Search engine crawlers typically read the page title or H1 tag first when crawling a webpage to determine the page's ranking position. When multiple H1 tags are used, it can create confusion about the relevancy of a page.
Content should also contain H2 subheaders to make it easier for both bots and humans to understand the content and to break it down into sections that are more digestible. Supporting page headers, such as H3, H4 and H5, should also appear in content when needed to break up large chunks of texts.
4. Outbound Links
Outbound or 'external' links are when a webmaster includes a link to an external website on a blog page or website. This is the opposite of a backlink in which another website has a link to the business's website. Outbound links play an important role in optimizing a cannabis dispensary's website as these links help build authority by increasing relevance in the search engines.
Creating A SEO Strategy For A Dispensary
According to the North American Cannabis Market report, the industry was valued at $13.21 billion in 2018 and is expected to reach $36.7 billion by 2025. The cannabis industry is becoming more competitive and businesses must build a business plan that includes a digital marketing strategy. SEO has been proven to be a highly effective marketing tool that can lead to a strong online presence and help cannabis dispensaries establish themselves as industry leaders.
When creating an SEO strategy for a cannabis dispensary, there are certain aspects to keep in mind.
Leverage Social Media
From Facebook and Instagram to Twitter and TikTok, today's social media platforms are booming with activity. According to a Digital 2021 Global Statshot Report, the number of social media users has increased by an average of 1.4 million each day over the last year. This equates to approximately 16.4 new users each second. Developing a social media strategy on various networks can help cannabis dispensaries better engage with their audience and encourage visitors to click a link back to their website.
Write Quality Content
In a competitive industry like cannabis, it is not enough to just create a list of products and post them on a website. Businesses must continue to write original and quality content to keep readers coming back. Search engines also tend to reward websites that publish in-depth, well-written content on a regular basis. Consider adding educational or informative articles on the website that will intrigue readers and show up in the search results. Excellent content is often shared on social media which can boost brand awareness and website traffic.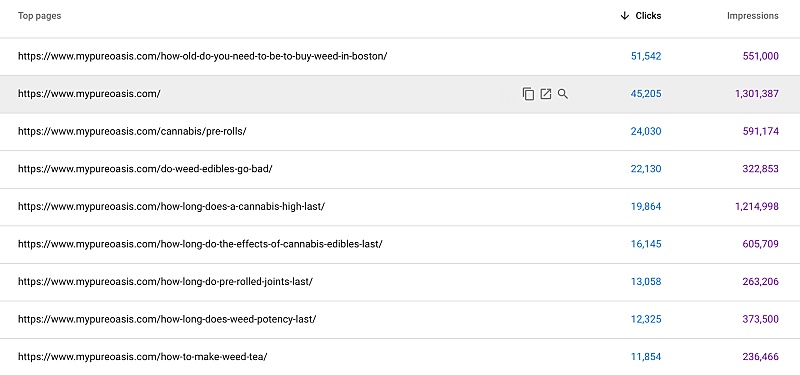 Figure 3.2 demonstrates some of the top-performing pages for one of 321 Web Marketing's dispensary clients. We can see that producing quality content can bring potential customers to the website through the content alone.
Build Backlinks
One of the biggest mistakes that businesses make when optimizing their website relates to backlinks. Purchasing backlinks can certainly increase the number of backlinks to a website but quantity does not equate to quality. In fact, buying backlinks can actually hurt the performance of a website as search engines tend to find these links "spammy." Instead, businesses should take the time to reach out to authoritative websites in the industry and gain backlinks the right way, such as by discussing a link trade or by submitting a blog post.
Optimize For Voice Search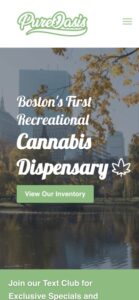 Figure 3.5
Voice search is quickly gaining popularity as more consumers use this technology to search for products or services they need. According to Gartner, 32 percent of consumers reported that they desire hands-free technology that would allow them to multi-task. When developing an SEO strategy, consider optimizing for voice search by including text in a way that mimics real human speech.
Be Mobile-Friendly
In today's digital age, having a website design that is mobile-friendly is not only recommended but essential. According to statements from Google, more than 50 percent of search queries across the world come from mobile devices. In November 2016, Google also released a Mobile-first index update which uses the mobile version of any website as the primary index. As part of a solid SEO strategy, take action to create a mobile-friendly version of the dispensary's website.

Figure 3.5 shows Pure Oasis's site through mobile view, which has been programmed to keep a similar design as the desktop site. It is important to have a mobile-friendly website so no design elements are cut off.
Figure 3.6 proves that mobile design is just as important, if not more, for your dispensary. Traffic from mobile is increasing nationwide, and implementing a mobile design properly is critical to acquiring the traffic.
List On Google My Business
Google My Business (GMB) is a free and simple tool that enables businesses to easily manage their online presence across Google platforms, including Search and Maps. This useful marketing tool makes it easy for consumers to find information about a business, including its address, phone number, website link, hours of operation and other contact information. Consider creating or updating a Google My Business page which can greatly increase foot traffic to the dispensary.
Benefits Of Implementing A SEO Strategy
SEO provides businesses with countless benefits that help them achieve their goals, such as generating leads and closing sales. One of the biggest advantages of implementing a great SEO strategy is higher-quality traffic.
Search engine optimization is customer-centric and hyper-targeted, allowing search engines to deliver the dispensary's web pages to a relevant audience via search queries from potential customers. Return on investment (ROI) is another benefit that businesses can enjoy when they implement SEO. An optimized website is more likely to increase revenue.
Establishing an SEO strategy for a cannabis dispensary can also improve trust and credibility. When a website ranks on the first page of Google, the site looks more trustworthy in the eyes of consumers. According to imFORZA, 75 percent of users never scroll past the first page of the search results.
Another benefit of implementing an SEO strategy is round-the-clock promotion. Unlike paid advertising in which an ad is placed online for a specified period of time, organic traffic results provide ongoing results. Rankings that are achieved through SEO help promote the website 24/7 which allows businesses to see results faster.
SEO is not just beneficial to businesses but also to customers. User experience is a key component of SEO and a major ranking factor. Visitors that click onto a website and are met with a poor user experience are likely to leave within seconds. SEO helps ensure that users are given relevant content that is likely to answer their search query.
Speak With A Web Marketing Agency
High-quality SEO strategies can have long-term beneficial results for cannabis dispensaries. Working with an experienced web marketing agency like 321 Web Marketing of Northern Virginia can help growing cannabis dispensaries reach their market through services like content marketing, lead tracking, SEO marketing and website design. For more information or to speak with a web marketing professional, contact 321 Web Marketing.
Related Articles: