Did you know? The first thing many consumers often look for when deciding to navigate a business's website is the design and layout of the website. Not having an easy accessible website could be the deciding factor for a customer to go with your business or another. A professionally designed website can influence consumer behavior greatly, and it is imperative to have an aesthetically pleasing design. 321 Web Marketing, a Northern Virginia web design firm, has extensive knowledge and expertise on how to create a website that leaves an impression on your users, and that will ultimately gain and keep customers for life.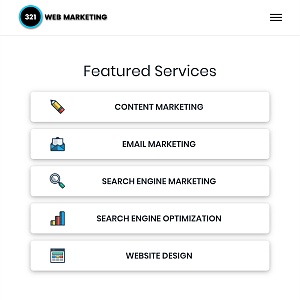 Tysons Corner, VA Web Design Benefits
Websites are the new storefront in today's always-on digital world. If you are a business in Tysons Corner, VA area you need a website that adapts to the competitive nature of the area that already has so many successful businesses. With a professionally customized web design, we will ensure that your brand is not overshadowed by your national or local competitors, and that your customers readily turn to your business to transact with. In addition to these benefits, our professional web design and development services will give your website the following advantages:
Increased Online Visibility and Brand Awareness

Websites that rank high on Google or Bing search pages all implement the best website design and search engine optimization (SEO) strategies. That is why 321 Web Marketing's team of web designers will assist you every step of the way until your business' website is ranking higher than it was before. This means we will supply you service pages and blogs that allow your website to be quickly discovered. We pair pages with user-focused navigation and organized URL structures that will ensure customers will easily engage with your business functions as quickly as possible.
Enhanced Business Conversions
321 Web Marketing's web design team is very conversion-focused. We want your business to reach optimal sales every month. This is why we stress the importance of using calls to action (CTAs) on your web design. Having clear buttons or links that direct users to the next steps of the sales process is important to maintain the profitability of your business. CTAs are a perfect solution that allow users to request a consultation, buy your products, or read more about the services you offer at your Tysons Corner, VA organization.
A Website That Demonstrates Your Professionalism & Values
Upon opening a website, potential customers automatically judge your website layout. This stresses the importance of a web design that contains advanced page layouts, menus, and sidebars that will position your company as an industry leader. Having a website with quality craftsmanship that makes your products or services look professional will increase your customer base. We will help you ensure that your Tysons Corner, VA website looks professional and aligns with your brands' unique style, tone and aesthetic.
Learn More About Tysons Corner, VA Web Design
Here at 321 Web Marketing, we will do our absolute best to tailor a beautiful and usable website that aligns with your needs and keeps your business at the top. In today's day and age, a custom website that uniquely reflects your brand is essential, and we will do our part to ensure that you have one that you absolutely admire.
Interested in acquiring any of the aforementioned Tysons Corner, VA web design benefits? Consult with our web development and digital marketing experts by contacting us at (703) 810-7557.
Schedule a Consultation With 321 Web Marketing
---
More Web Design Info