There are still quite a few attorneys who continue to market their legal services through traditional marketing methods, such as television or newspaper ads. However, many are unaware of the incredible results law firm marketing can provide for their firm. Through search engine optimization (SEO), law firms to be can easily found online by users seeking legal services they offer. SEO for attorneys is an essential component of digital marketing as it helps increase a firm's organic ranking in search engine results pages (SERPs).
Compared to other forms of marketing, such as paid advertising, SEO provides a steady increase in leads over time compared to a short increase over a few weeks, and is much more cost effective.
The Most Important Benefits Of SEO For Attorneys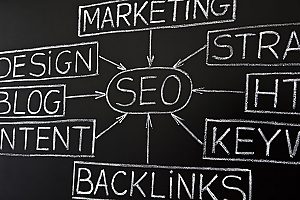 While paid advertising in search engines can quickly provide a burst of visitors to your website, it costs money every time someone clicks on the ad. In addition, many individuals are less likely to click on ads, as they can be seen as less trustworthy to users. That is why SEO is imperative to law firms, as it provides more of a return on investment over the long-term.
Likewise, pages that are at the top of SERPs due to the strategic execution of SEO instead of spending money will remain at the top longer, increasing the likelihood of individuals to visit your firm's site.
Below are the top five benefits of SEO for attorneys.
1. Publish Outstanding Legal Content
Arguably the most important benefit of SEO for attorneys is the ability to publish relevant legal content, which allows your firm to become easily discoverable within search results. Researching, writing and posting content to your website informs both individuals and search engines that your site contains useful information that is relevant to what users are searching for.
Potential clients are most likely to click on law firms that appear at the top of SERPs; by optimizing your content, search engines are more likely to display your page near the top. In addition, publishing recent case studies to your website can increase the likelihood that individuals will find your firm to be trustworthy and up to date with changes in the legal industry.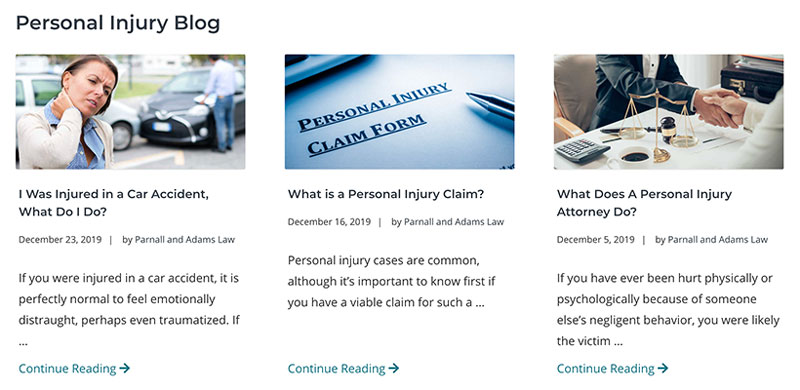 Figure 1.1 is an example of a legal blog from one of 321 Web Marketing's clients. By utilizing keyword that are relevant to their target audience, they can expect to receive more qualified leads for the areas of concentration they are admitted to practice in.
2. Increase The Online Visibility & Brand Awareness Of Your Firm
Since SEO is a long running process, you may be wondering how to increase the visibility of your content right after it is published without paying extra money on search engine advertisements. Posting your content to social media allows your content to receive an initial spike in viewership while SEO simultaneously works to increase its ranks in SERPs. It also enables individuals to share your legal content with family and friends who may need your legal expertise.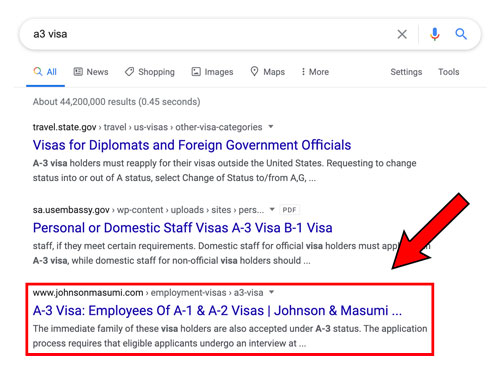 Figure 2.1
Promoting your content across social media can expand the awareness of your brand across individuals who may otherwise have not discovered your practice. In addition, by publishing links from your own website to external websites (the social media platforms), you are creating a 'backlink' to your site, which directly impacts SEO.
Figure 2.1 is an example of SERP data for one of 321 Web Marketing's immigration law clients. Our client currently sits at the top of the results page for A3 visa (as of May 5, 2020), just underneath two dot gov websites – Bureau of Consular Affairs and U.S. Embassy & Consulates in Saudi Arabia. This proves how powerful SEO can be when performing a law firm marketing campaign.
3. Improve The Design & Functionality Of Your Website
The design and functionality of your law firm's website can dictate whether a potential client decides to trust your brand. Believe it or not, your law firm website acts as a first impression to visitors who have never discovered your practice before. Having a strong website design which is easy to navigate can benefit both SEO and user experience.
Websites that cannot provide quick access to information, whether due to long load times or menus that are not easy to navigate, are given lower ranks in SERPs, and in some cases, temporarily removed from them. By optimizing your website for both desktop and mobile users, your site will most likely be clicked on by web users as opposed to ones that cannot give them the information they seek in a reasonable amount of time.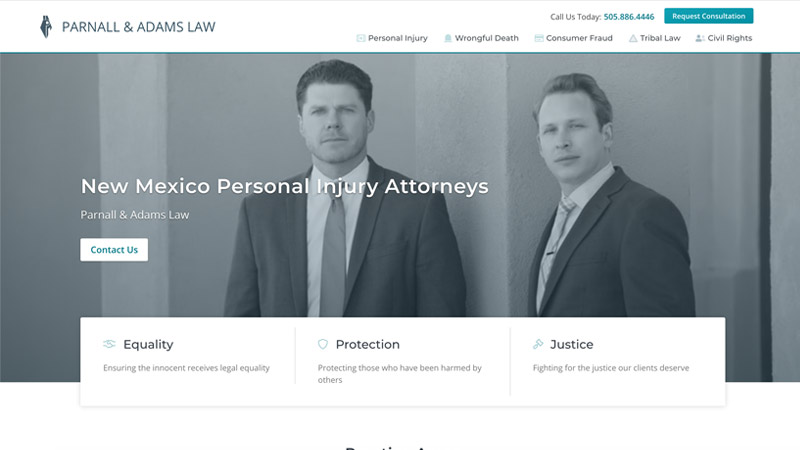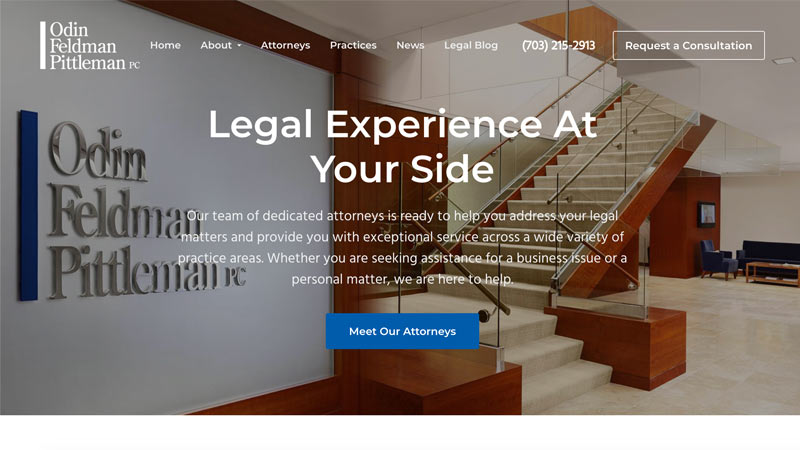 Figure 3.1 shows the home page for Parnall & Adams Law and Figure 3.2 shows the home page for OFP Law.
4. Establish Firm Credibility Through Online Reviews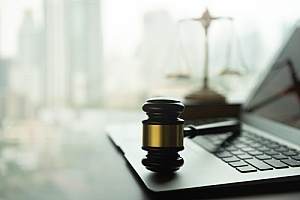 Online reviews are critical to the SEO of a firm's website. Most search engines, especially Google, have built-in review systems that allow previous clients to offer their input about your firm. This is crucial to your law firm as it shows potential customers that others are trusting of your legal services and that they would recommend others to the firm.
Even negative reviews with quick responses by you (as the main attorney of the practice) can show that you provide good legal assistance and care about the opinions and matters of your clients. You can also publish featured testimonials to your site, allowing new visitors to read a previous client's perspective on their experience with your firm.
5. Convert More Qualified Leads In Your Admitted Practice Areas
Implementing SEO on your website is proven to attract potential leads to your site. However, simply exposing them to the information is not enough to convert them into clients. Including good calls to action (CTAs) on the site, such as "Request Legal Assistance," can encourage readers to take the next step required to sign up for your services. Likewise, adding CTA paragraphs at the end of your articles or case studies can offer the reader the option of signing up for a free consultation.
Providing a phone number and a button in the top right corner of your site can also provide the reader with options to reach out to your firm with any questions they may ask. Your website serves as the gateway to converting individuals who are in need of your legal advice into valued clients. Therefore, it is imperative that your website's design and content include actionable items that can be clicked on in order for visitors to take the next step into acquiring your legal services.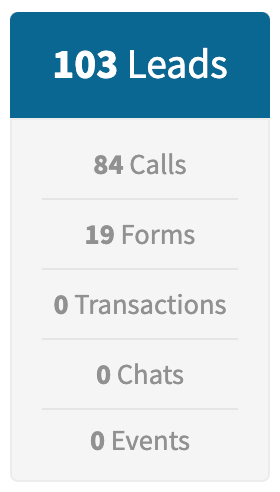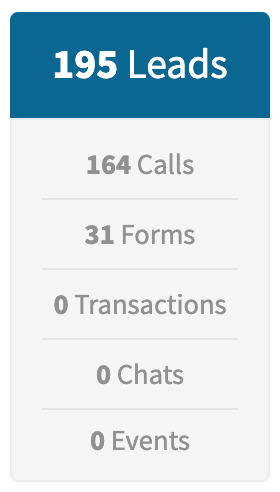 Figures 5.1 and 5.2 show the number of organic leads obtained by one of our clients. Figure 5.1 contains the number of leads from the first month of their contract with 321 Web Marketing, and Figure 5.2 displays the number of leads they received during the 12th month of their law firm marketing campaign.
Speak To A Law Firm Marketing Agency About SEO For Attorneys
Though it may seem easy to perform SEO for your law firm, it is especially difficult without proper tools and research. On top of running a practice, you may not find the time to implement SEO strategies on your own.
Fortunately, our law firm marketing experts can serve as your outsourced marketing team to create an SEO campaign for your firm with reasonable, measurable goals. In addition, we can work with your current internal marketing team to establish a digital marketing plan that best suits your firm's needs. For more information about SEO for attorneys, or to schedule a law firm marketing consultation, contact 321 Web Marketing today.
Schedule A Law Firm Marketing Consultation
Related Articles:
Updated: July 31st, 2020