Local search engine optimization (local SEO) allows businesses to generate a large amount of online attention when people search for topics related to a particular business. Similarly to other businesses, law firms face certain challenges that can make it difficult to attract new clients. With local SEO, law firms can leverage the power of local search to draw in targeted clients who live in or around their local area.
What Does Local SEO Mean?
Local SEO refers to the process of optimizing a business's online presence to attract clients from relevant local searches. With local SEO, a business will generally promote their products or services to local prospects or consumers. Various information is gathered to support local search, such as social profile pages, content, citations and links. There are countless strategies available to businesses interested in increasing their local SEO efforts, such as claiming a business listing or taking the necessary steps to have a franchise location appear in a local Google search.
Why Should Law Firms Perform Local SEO?
Four out of five consumers perform local searches on search engines to try and find the right business that meets their needs, according to Google My Business by Laura Maya. Local SEO can help law firms optimize their business so that they are able to rank higher in the search engine results pages (SERPs). Any business that serves a geographical area or has a physical location can benefit from using local SEO.
There are many benefits that law firms can enjoy by working with a law firm marketing agency on their local SEO strategy, such as the following:
Rank for More Local Centric Keywords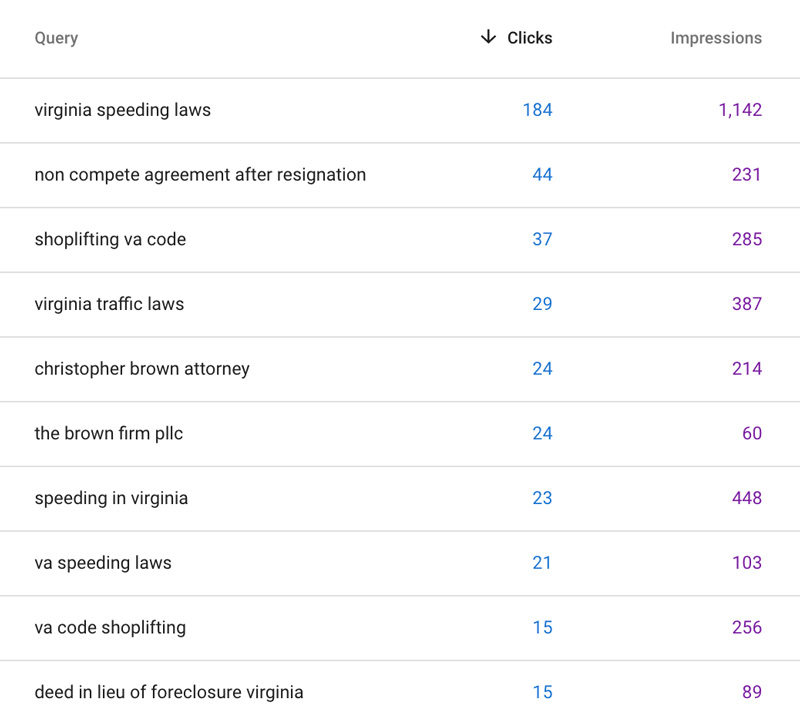 While many businesses are already familiar with SEO, local SEO requires a more targeted approach. For example, instead of ranking for the keyword [law firm], a law firm in the Big Apple may attempt to rank for searches like [New York City law firm] or [best law firm in New York City]. When performing keyword research for local searches, it is important not to restrict your business to just the brick-and-mortar location. Law firms can also expand their search to nearby locations or more broad destinations. However, businesses should not stray too far from their actual location as this can be confusing to web users searching for a local business.
Figure 1.1 shows an example of local SEO that we have performed for our client, The Brown Firm PLLC. They have received numerous website visitors (and qualified leads) due to our local SEO efforts for Virginia traffic & criminal defense attorney services.
Increase Local Client Base
Local SEO activities, such as citation building, can help build a business's online visibility. With greater online visibility for a targeted geographical area, law firms can expect to receive more foot traffic, more phone calls and emails, and more sales overall. Local SEO is an effective way for businesses to increase their local client base by making their business known for the services they offer in a particular city or region. Local SEO can also aid in reputation management by encouraging people to build trust in the business which can further increase traffic and generate more leads.
Improve Law Firms Reputation
Local SEO can also be useful for improving a business's reputation. Local search is a competitive field and getting a law firm posted at the top of the list can be challenging. By paying attention to Google's factors for local ranking, law firms can rank higher on the SERPs, which will make their business appear more trustworthy in the eyes of searchers. There are also other ways to improve a firm's reputation and overall credibility, such as by adding complete and accurate details of the business and highlighting any relevant data, such as a contact number, opening hours and website address.
Appear in Google's Map Pack in SERPs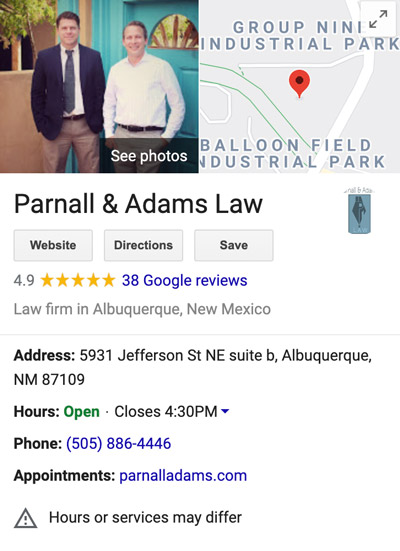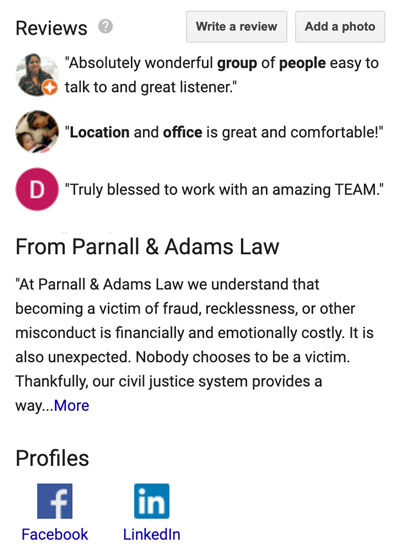 When a user searches for a local service online, the search engine automatically shows a map along with the organic search results. Google's Map Packs appear in nearly 30 percent of all first-page search engine results pages. Many types of businesses are impacted by the Local Pack, including law firms. As the Local Finder often provides searchers with all of the information they need, many web users will not scroll any further to find information about a business. For this reason, it is important to appear in Google's Map Pack in the SERPs. All of the information in the Local Pack is taken from Google My Business, which is why law firms should optimize their Google My Business account.
As seen in Figures 2.1 and 2.2, 321 Web Marketing optimizes Google My Business accounts for our clients as thoroughly as possible. Parnall & Adams Law now enjoys the ability to be easily seen in Google Maps and other Google services by individuals in Albuquerque, NM and its surrounding areas. The figures shown can be found on the right side of the Google SERP on desktop (or at the top of the page on mobile) when searching for "Parnall and Adams Law."
Speak to the Law Firm Marketing Agency
For many small businesses, local SEO is crucial for ranking high in the organic, non-paid search results. With local SEO, law firms can attract people in their surrounding area who may be interested in acquiring legal services. With the help of an experienced law firm marketing agency, law firms can take the necessary measures to target relevant local keywords and develop a SEO strategy that helps boost their page rankings. For more information about the benefits of local SEO for law firms or to acquire digital marketing assistance from an experienced marketing team, contact the professionals at 321 Web Marketing.