Insurance agencies are often looking for ways to improve their online presence and reach a wider audience. While there are numerous ways to achieve this, many insurance agencies have found great success with Google My Business (GMB). Google My Business can help make your business more visible online and improve your SEO efforts. It can also provide potential consumers with the information they need about your business to initiate contact. The importance of Google My Business for insurance agencies cannot be understated.
Why Google My Business Is Important
Google My Business is a free tool offered by Google that allows businesses in all industries the opportunity to manage how their business appears on Google Search and Maps. This innovative platform allows consumers to search for businesses and services near them. GMB is essentially a combination of an online directory listing and a social media profile. Business owners can create a GMB listing and then claim ownership of it which allows them to populate the listing with essential information like location, hours and photos.
Top 5 Reasons Insurance Agencies Should Use GMB
There are many reasons why insurance agencies should take the time to create a comprehensive GMB listing. In a crowded online marketplace, a GMB listing acts as a virtual billboard that puts your business on display for the world to see. Both existing and prospective customers will be able to find you quickly and easily, increasing the odds of a sale.
Here is a look at the importance of Google My Business and why insurance agencies should consider creating or claiming a GMB listing.
1. Enhances Local SEO Efforts
The great thing about Google My Business is that it can be optimized for SEO. Through search engine optimization, you can earn a higher ranking for local searches in the area which can give your business a competitive edge. SEO, along with a strong link building strategy, can help your business get spotted on Google and increase your insurance agency's overall visibility. It is important to understand the benefits of performing local SEO for insurance agencies.
Figure 1.1 shows search results for California entertainment insurance. With the help of 321 Web Marketing's Insurance Marketing services and Google My Business, MFE Insurance ranks #1.
2. Lets Google Know What Your Site is About
A business name alone does not always tell Google everything it needs to know about your business. When Google is unable to gather enough information about your business, the search engine cannot properly categorize your business and may recommend your insurance agency to the wrong audience. Google My Business can be useful for telling the search engine exactly what your website is all about, the type of business that you offer, where your business is located and other key information that can help Google connect your site with the right audience.
3. Provides Information About Your Location, Hours & Service
Google My Business includes a variety of information about your business that consumers can use to learn more about the services you offer. GMB is quick and easy to set up and can include a range of information, such as the location of your business, your work hours, a phone number where customers can reach you, what services you offer, photos of your business and similar details.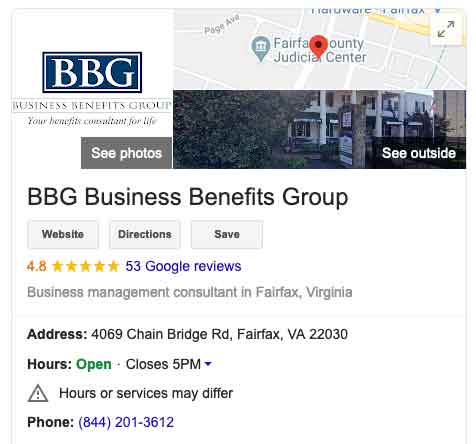 Location, hours and service information for the Business Benefits Group on their Google My Business profile shown in Figure 1.2.
4. Ability to Create Posts that Appear on Your GMB Listing
Business posts can be published by insurance agencies who want to provide additional information, updates or news about their businesses. By publishing posts on a regular basis on your GMB listing, you get the chance to directly communicate with your local customers, promote sales, events and other specials and improve overall customer experience. You can also add photos and videos to your posts to enhance the content.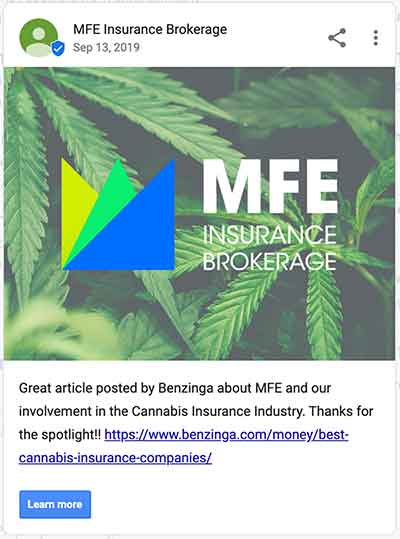 By creating posts on Google My Business, your insurance agency can highlight news or a new service/product, as shown in Figure 1.3.
5. Responding to Client Reviews & Feedback in Real Time
Business owners can choose to respond to client reviews left on their GMB listing. While these reviews are often positive in nature, you may come across the occasional bad review. It is important to respond to client reviews as you receive them to show that you are interested in engaging with your customers and improving your business. Feedback is always presented in real time which allows businesses the chance to really communicate with consumers.
Importance of Hiring an Insurance Marketing Agency
It is understandable that many insurance agencies do not have the time or knowledge base needed to properly market their business. Fortunately, insurance marketing agencies are available to help these businesses succeed. Insurance marketing agencies can assist with a wide range of functions, from creating a great Google My Business page to optimizing your website for SEO and the search engines.
Speak to the Professional Insurance Marketing Agency
Google My Business is a great platform for insurance agencies looking to grow their audience online. A comprehensive GMB listing has the potential to bring in new customers and make your name more recognizable in your local area. To learn more about the importance of Google My Business or for assistance with marketing your insurance agency, reach out to the insurance marketing experts at 321 Web Marketing.
Additional Reading: