The insurance industry relies heavily on marketing to grow. Today there are many easy and affordable ways for smaller businesses, such as local insurance agencies, to market their services in ways that get results. Technology has given businesses the opportunity to reach a larger audience through a variety of online platforms. From keyword research and content generation to link-building and social media sharing, there are endless ways to reach out to consumers. By implementing some of the following insurance marketing ideas, you can continue to grow your business's client base and overall online visibility.
7 Ways Insurance Agencies Can Grow Their Client Base
Do you need new insurance marketing ideas for your business? In decades past, businesses relied primarily on traditional marketing strategies like print publications, cold calls, direct mail, meetings, trade shows and offline networking. However, the internet has allowed businesses in the insurance agencies the chance to reach new and existing customers through highly-effective methods like social media, blogs, search, online advertisements and email.
Here is a look at the top 7 insurance marketing ideas that insurance agencies can use to grow their client base and achieve higher visibility online.
1. Keyword Research & Content Generation
The right keywords can go a long way towards helping you reach your target audience. Through keyword research, you can target your message to certain groups and better stand out in the insurance industry. Keyword research is essentially the process of finding and analyzing search terms that people actually enter into search engines. Once you have chosen your keywords, you can insert them into your content to draw in new consumers who may be interested in your services.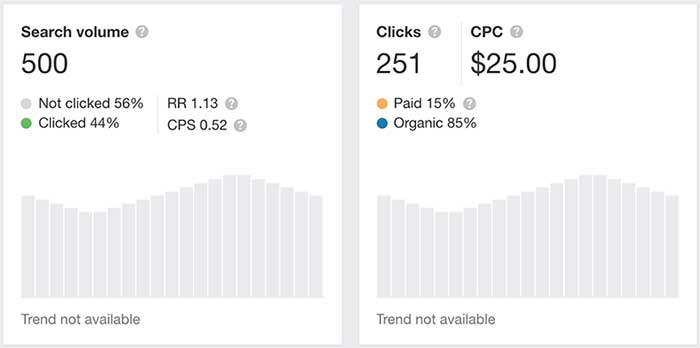 Finding keywords that are actual questions users search for is a great way to rank for the parent keyword the question is relating to. The keyword data shown in Figure 1.1, is for the keyword "What Is Errors & Omissions Insurance". Writing a piece of content focusing on answering this question would help rank for "Errors & Omissions Insurance" and would answer the searchers question, thereby building trust with the searcher in your agency.
2. Monthly Newsletters with Email Marketing
If you have yet to establish a newsletter for your website, get started. Creating a monthly newsletter as part of your email marketing strategy can help keep your target audience engaged by reminding them of the services you have to offer. Sending too many newsletters can appear like spam, but a once-a-month email is just enough to pique the interest of your recipients. Email marketing remains a highly effective marketing technique as long as you pay attention to KPIs like open rate, spam rate, unsubscribe rate, bounce rate and email deliverability rate.
3. Performing Local SEO
Through local SEO, insurance agencies can rank locally in Google and other local search engines. Local SEO is the process of optimizing your business's online presence to attract customers through relevant local searches. As the name suggests, this technique focuses on smaller geographical areas, such as the town or city in which the business is located. There are three primary elements when it comes to ranking locally: relevance, proximity and prominence.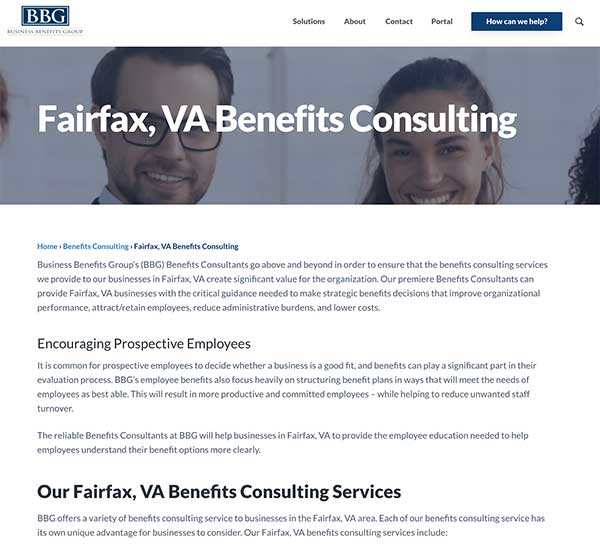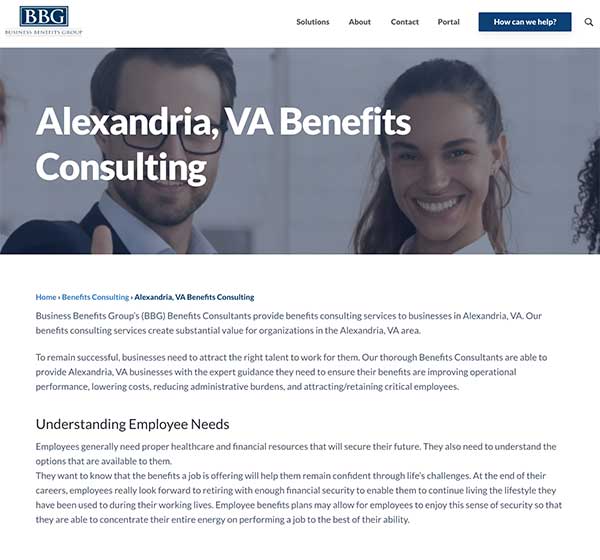 There are many techniques that can be used to boost local SEO, one of those techniques is the generation of geo service pages. Geo service pages are similar to regular service pages, except the content is tied to a specific area. Figure 1.2 & Figure 1.3 show 2 examples of BBG's geo service pages for benefits consulting, in which the service is discussed as it relates to the area the service is being rendered.
Learn more about the benefits of local SEO for insurance agencies.
4. Lead Tracking Systems
Lead tracking involves determining the source of leads and actively monitoring where leads currently are within the sales and marketing funnel. A lead tracking system can help businesses more easily target qualified potential leads. From there, the marketing team can pass on these leads to their sales department and sales agents can attempt to close sales.

Every 321 Web Marketing insurance marketing campaign includes access to our custom lead tracking system. Through our lead tracking system, our clients are able to view their leads and the source of those leads. Figure 1.4 show the monthly leads and their sources for one of our insurance clients.
5. Sharing Content & Boosting Posts on Facebook
Social media is an excellent marketing tool that allows businesses to connect with people from their local area. When you publish great content on social media platforms like Facebook, you can expect people to share it with their friends. This is how you can build brand visibility. Facebook also allows businesses to boost their posts which means they will be seen by more people.
6. Link-building through Insurance Forums
Creating content that people are searching for is just the first step. To outrank your competition, you must also develop a strong link-building strategy. Ideally, you want to earn links from authoritative websites that people visit and trust. Google has confirmed that quality content and links are two of the most important ranking factors for SEO. Make it a priority to build authoritative inbound and internal links.
A strong insurance forum we recommend to begin link-building through is Insurance Forums. Not only does it have one of the most active communities among insurance forums, but the website also has a strong backlink portfolio as shown in Figure 1.5.
7. Hiring an Insurance Marketing Agency
If you are struggling with your marketing campaign, it is time to call in the professionals. A reputable insurance marketing agency can help get your insurance business off the ground by providing essential services like content marketing, email marketing, SEO and social media marketing. An insurance marketing agency will take over the marketing for your insurance business to allow you to focus on other core business functions.
Learn More About Insurance Marketing Today!
While you may have a lot of ideas on how you want to market your insurance business, it is not always easy to execute these ideas properly. Insurance marketing can be challenging and requires the expertise of an experienced marketing team. For more information about implementing these insurance marketing ideas or to inquire about marketing services, reach out to the insurance marketing professionals at 321 Web Marketing.
Additional Resources: