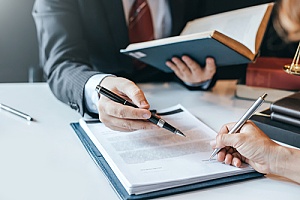 Having a precise plan of attack is essential when marketing a law firm. Effective law firm marketing tactics can transform social media platforms, websites and blogs into money-making endeavors by attracting new clients. How a law firm is promoted will generally depend on their unique goals. Once goals have been defined, a law firm can develop a targeted legal marketing plan within a chosen budget and timeline. Goals should also be tied to specific metrics to enable law firms to easily track their progress.
Steps To Create A Successful Law Firm Marketing Plan
The size of the law firm or services provided should not limit a marketing plan. For any firm to thrive in this day and age, a solid marketing plan is essential. A proper marketing plan can help establish a firm as an authority in the industry, grow their online presence and help generate sales.
The main steps to creating a successful law firm marketing plan include the following:
1. Determine Your Target Audience
The first step of creating a law firm marketing plan involves determining the target audience. In other words, consider who the firm is trying to reach through its marketing efforts. In the marketing plan, include specific demographics and outline the ideal consumer. It is important for firms to understand their customer base, what potential clients value and what they are worried about that led them to acquiring legal services. With this information, law firms become better equipped to personalize their marketing messaging to their target audience.
2. Conduct Market Research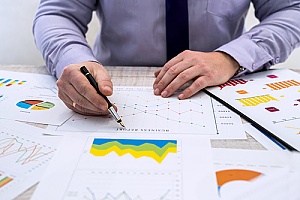 Market research can transform the effectiveness of a marketing plan. By conducting goal-oriented market research, law firms can work towards achieving high value initiatives that can help them remain ahead of the competition. There are several areas of market research that should be analyzed.
First, brand awareness is useful for measuring consumer awareness about a particular legal service. This can help law firms better determine their position in the marketplace. Market research should also involve surveying customers to determine how and why they chose the firm instead of a competitor. Market research may also include measuring customer satisfaction. With the collected results, law firm can find ways to increase customer loyalty and retention.
3. Establish Important KPIs
Measuring progress after initiating a new marketing plan is crucial to see what works and what elements need to be adjusted. Key performance indicators, or KPIs, are commonly used to measure progress. KPIs are metrics that deal with money, customers, clients, leads, content, conversions, social media and various other topics.
Every law firm is unique, and therefore their KPIs should be too. When choosing law firm KPIs, a firm should consider what important metrics should be monitored currently, what metrics should be measured at each stage of the funnel and how it may be necessary to change KPIs over time as the firm's book of clients matures.
4. Perform Keyword Research
Keyword research is the process of choosing and analyzing search terms or phrases that people enter into search engines. Keywords are commonly used by law firms to achieve search engine optimization (SEO) or to improve their overall marketing strategy. Through keyword research, a law firm can gain valuable insight into the queries that their target audience is actually searching in the search engines.

Performing keyword research generally starts with making a list of relevant topics based on the firm. It is also important to consider how user intent affects keyword research. A web page should address the problem that a searcher intended to solve and inputting relevant keywords can help searchers find this information more easily.
Figure 4.1 shows the keyword report for the keyword "traffic attorney" provided by Ahrefs keyword research tool. It is searched 2700 times per month in the United States and is a relatively easy keyword to rank for, meaning this keyword should be utilized in your marketing plan if your firm offers traffic defense services.
5. Create A Content Marketing Strategy
Content marketing involves the creation and sharing of online content, such as blogs, videos and social media posts. While material shared through a content marketing strategy may not explicitly promote a brand, it is intended to stimulate interest in a firm's legal services.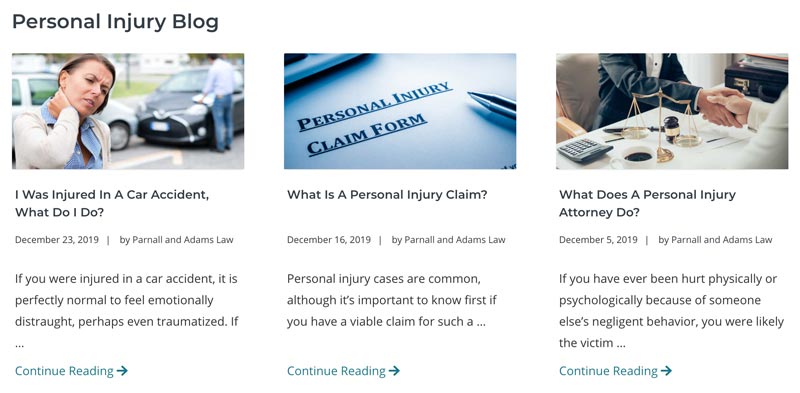 When creating a content marketing strategy, consider looking at past top-performing content and low-performing content to see which topics are most popular. Also consider the frequency of prior content publishing and what keywords ranked best. The better that a firm understands their past and current performance, the more informed they will be when creating a new content marketing strategy.
Figure 5.1 shows an ideal content marketing strategy developed by 321 Web Marketing for Parnall & Adams Law. We highlighted their most important services by developing content and optimizing it for search engines through SEO.
6. Hire An Experienced Law Firm Marketing Agency
While the importance of creating a marketing plan for a law firm is undeniable, it can be difficult to get started. That is why many law firms rely on a marketing agency to assist with the process. An experienced law firm marketing agency can help a firm through each of the above-mentioned steps while also providing advice along the way.
Reach Out To 321 Web Marketing For A Consultation
Want to create a successful law firm marketing campaign but not sure where to begin? Fortunately, the digital marketing experts at 321 Web Marketing have several years of experience working with several different law firms. Regardless of your firm's size, legal services offered and book of clients, our team will work to more than double your revenue. Reach out to the experienced law firm marketing professionals at 321 Web Marketing to get started with your unique plan today.
Schedule A Law Firm Marketing Consultation


Related Articles: