Opening a dispensary involves a series of steps, such as creating a business plan, obtaining a license, securing financing and choosing the right location for the retail shop. Marketing is also an essential task for new business owners to promote the brand and draw in customers. However, there is a common misconception that marketing does not begin until after a business has opened its doors. Working on marketing strategies like search engine optimization (SEO) before opening a dispensary enables businesses to explore potential competitors, perform essential market research and gain a competitive edge.
Learn more about SEO and why a business owner should begin optimizing their online presence before opening their dispensaries.
Why Dispensaries Need SEO
Search engine optimization refers to the practice of increasing the quantity and quality of website traffic through non-paid or "organic" search engine results. SEO is highly dependent on knowing what people are searching for online and providing the answers they seek. Optimized content should be written in a way that enables search crawlers to find and understand it. If the content is considered valuable, search engines may place the website near the top of the search engine result pages (SERPs).
When a web user types a query into a search engine, the search engine looks through its index pages and returns the most relevant results. This is achieved through an algorithm that looks at factors like the words in the query, the useability and relevance of the pages, location, settings and the expertise of any sources provided. SEO can be a highly effective marketing tool when businesses are able to demonstrate that their content is the best result for a given query.

Figure 2.1
Dispensaries rely heavily on local SEO to attract customers in a particular city or region. Local SEO is similar to regular SEO in that it affects the visibility of a web page or website in a search engine's unpaid results. However, it is different in that it focuses on physical locations. Any business that has a brick-and-mortar shop requires local SEO to optimize their placement in the local search results. Once optimized, people searching for a dispensary will be able to find a local business simply by typing in a query such as "dispensaries in Phoenix Arizona."
Figure 2.1 displays an image pulled from Google when the words "dispensary in Boston" are searched. The snippet displays the business information for one of 321 Web Marketing's clients, Pure Oasis
Reasons To Start Working On SEO
There is plenty of misinformation out there about SEO and how best to optimize a business using these tactics. One of the most common misconceptions involves waiting until a business is up and running before starting any SEO efforts. Although a lack of SEO will not necessarily prevent a business from opening, it can cause them to fall behind in their marketing strategy, potentially resulting in lost revenue. Businesses are extremely busy after their initial launch and many do not have time to devote to SEO. Starting this process prior to opening a dispensary can give these businesses a vital head start.
Create Awareness
Business owners preparing to open a dispensary should first work on their website. Setting up a new website is important before a launch to get customers acquainted with the business and create excitement in the community. It is also important to optimize a business website before opening to allow ample time for Google and other search engines to rank the new domain. It can take weeks or even months for Google to index a new website and during this time, potential customers may be missing out on the chance to shop the dispensary.

Figure 4.1 highlights the number of users visiting Pure Oasis's website from February 2021 to April 2021. It shows the recurring users that have visited the site before, as well as the number of new users that are visiting the site for the first time.
Save Time & Money
Starting SEO before opening a business can also save time and money in the long run. It becomes much more difficult to optimize a website after launch as website designers and developers must work on the site without interfering with the customer experience. Pre-launch optimization enables designers and developers to work on the site without these limitations and gradually work toward ranking the website for relevant topics and keywords. This helps new dispensaries see online results faster.
Build A Brand
Startups must work hard to develop a strong brand that will be recognizable and gain attention. SEO is one of the best ways to build a brand on a budget. Search engine optimization uses strategic keywords and key phrases to bring people to a website organically while building trust and legitimacy. Building an SEO-friendly website early on makes it easier for search engine crawlers and potential customers to find the site and learn about the business and the products it offers.
Improve User Experience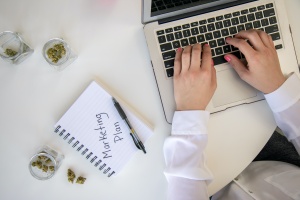 First impressions are everything, especially when it comes to new businesses. Customers and prospects that run into difficulties when searching a website or locating a phone number online will likely turn to a competitor. The use of strategic SEO helps businesses create a better user experience for customers which directly impacts the business's long-term success. SEO makes it easier for customers to type in a query and receive the information they are looking for, whether it is a list of available products, a map to the store or a list of reviews from past customers.
Increase Engagement
Local SEO focuses on specific cities, towns, regions and sometimes even states. Dispensaries in certain areas are able to optimize their brand's website using SEO to achieve increased traffic, conversions and overall better engagement. Customers often perform research prior to making a purchase. Various SEO tactics can be used to show potential customers why the particular dispensary is the best choice which directly and positively affects the buying cycle.
Cut Marketing Costs
The U.S. Small Business Administration (SBA) recommends that businesses spend at least 7 to 8 percent of their gross revenue for advertising and marketing purposes. Startups usually have a small budget and there is often little wiggle room for extra expenses. Using SEO for marketing is an excellent way for businesses to save money as SEO is a relatively cheap strategy that can have a terrific payoff. Any money saved using SEO can then be put towards other endeavors to grow the business.
Achieve Long-Term Results
What makes SEO different from other marketing techniques is its longevity. Paid-per-click advertising and similar strategies are excellent options for short-term growth and visibility. However, once a business stops paying for these advertising methods, their traffic tends to decrease back to their original levels. SEO is considered a long-term marketing strategy and can be effective for many years. When businesses entrust an experienced online marketing company to assist with their SEO efforts, they stand to become a top contender in the industry.

Figure 10.1 shows the organic traffic results that have been achieved over time through SEO efforts. These numbers constantly went up through the year displayed (June 2020 – May 2021) and are show signs of increasing further.
Enjoy A Continuous ROI
SEO is not only effective at building customer trust and credibility, but it can also help convert prospects into leads. Eventually, leads may turn into paying customers. A business's website acts as a salesperson and needs to be effective at attracting prospects and promoting products. Without the use of SEO, it can be difficult to get people to visit the website at all. Even with a small budget, dispensaries that use SEO can often achieve a satisfactory return on their investment in a small amount of time. Over time, a credible business can enjoy climbing sales and become well-known in their community.
Better Understand Customers
New dispensaries can get to know their customer base even before they open their doors. Creating social media pages and an optimized website is an excellent way to develop a loyal following and show what the business has to offer. Start by performing some basic market research to determine the industry's target demographic, including the age, gender and location of prospects. Social media enables business owners to speak directly with customers about their wants and needs so that the business can adjust to align with these needs.
How Dispensaries Can Get Started with SEO
When starting with SEO, there are some principles that dispensaries should follow to ensure that their name tops the search engines. Remember that although a business should use strategic keywords and key phrases as part of their SEO strategy, web pages are ultimately designed for people and not search engines. Content should read naturally and not be stuffed with too many keywords. Businesses should also avoid tricks that claim to improve search engine rankings. This includes black hat techniques that can get a website banned from the search engines altogether.
When using SEO, there are certain tactics that businesses should avoid. First, do not use automatically generated content as it can be difficult for the average person to read and often contains unnatural sentences. Also, avoid participating in link schemes or cloaking techniques that show search engine crawlers different content than visitors. When creating optimized content, use original content that is not copied from another source on the web. Do not insert hidden links or texts and avoid the use of doorway pages.
Although many customers rely on a business's website for content, this is not the only place where business information can be found. New businesses should also optimize a Google My Business listing to drive local customers to the business. Google has strict guidelines that detail how these pages should be created and managed for the best results possible. A GMB listing should include the business's physical address, phone number, website link, store hours and other information that will help customers find or contact the dispensary.
Speak With A SEO Marketing Expert Today
Search engine optimization can be a highly effective marketing tool but it can also be complex. Working with an experienced SEO marketing company can help businesses get started with their SEO plan before their dispensary even opens. Contact the SEO experts at 321 Web Marketing to get started.
Related Articles: