Cannabis is one of the fastest-growing industries in the United States. According to Business Wire Inc., the market is projected to reach $30 billion by 2025. However, with rapid growth comes the need to market products and services effectively.
Local SEO is a tried-and-true method of gaining greater visibility in search engines. Any business that has a physical location or serves a specific geographic area can benefit from local SEO. It is also a lucrative long-term investment for dispensaries that want to enhance their reputation and promote their brand in a particular area.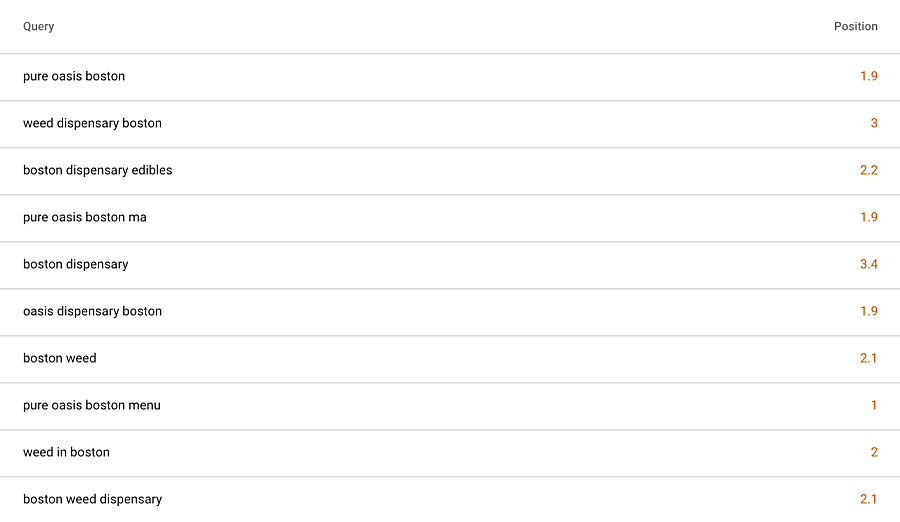 Figure 1.1 shows the current keyword containing local locations for one of 321 Web Marketing's client, Pure Oasis. They are located in Boston and, through working with us, are now ranking in top 3 positions for all the keywords above on Google.
The Basics Of Local SEO For Dispensaries
Customers in need of a product or service often turn to search engines to quickly find what they need. When a location is added to the query, the search engine will pull up local results. For example, a search for "coffee in San Diego" would pull up an extensive list of cafes and coffee shops located in and around the San Diego area.
Local search engine optimization requires a targeted and strategic approach that differs from general SEO practices. Brick-and-mortar dispensaries that want to stand out against competitors must ensure that search engines are pointing potential customers in their direction.
What Is Local SEO?
Local SEO refers to a series of techniques that a business can use to rank in local searches and reach a target audience. It is essentially a variation of general SEO and is aimed at brick-and-mortar businesses. Local SEO promotes a business's visibility on location-based search by improving local search rankings. Searches with certain geo qualifiers, such as state, city, zip code or service areas, are considered essential components of local SEO. Search engines can also pick up the geo-location of 'near me' searches which delivers web searchers with search results for their particular area.
How Does Local SEO Work?
When a dispensary optimizes for local search, they are essentially letting the search engine know that their business is located in a certain area and wants to be found by customers in that region. Local search engine optimization involves more than just optimizing a business website. A comprehensive local SEO strategy relies on a set of unique ranking signals, such as NAP citations, Google Maps star rating, keywords used in online reviews, keywords used in a Google My Business profile, number of "check-ins" at the business location and the location of the person performing the search.
Local SEO Tips & Techniques
Local SEO provides countless benefits to growing businesses. It can bring in more foot traffic to brick-and-mortar locations, build trust and credibility among customers, attract more targeted traffic and boost online visibility. Dispensaries can use a variety of tips and techniques to advance their local SEO efforts and increase their bottom line.
Optimize For Google My Business
Google My Business (GMB) is a popular business listing platform created by Google to help business owners manage how they appear on Google Maps and in the search results. This free and easy-to-use tool enables dispensaries to manage their online presence in one convenient location and makes it simple for businesses to acquire relevant traffic, gain recognition and help local customers find products and services they need nearby. If there is already a GMB listing created for the dispensary, the business owner simply needs to claim it. If not, a listing can be created from scratch and optimized with relevant business information, customer reviews and Google Posts.
When creating a Google My Business account, input as much information as possible to help potential customers learn everything they can about the dispensary. This includes the full business name, the address of the physical store, the exact location on a map, the business category, a phone number and a website URL.
Provide business hours to let customers know when the dispensary is open and add additional categories relevant to the business, if applicable. It can also be helpful to upload photos of the business, including pictures of the storefront and the interior.
Confirm NAP Consistency
NAP is an acronym that stands for Name, Address, Phone Number, and is commonly used by businesses that want to create an online presence. Having a correct and consistent NAP across all online platforms is critical for businesses that want to rank well in the local organic search results. When a business's NAP is consistent, it means that it is listed the same way across the web. This includes the business's website, social media profiles, online directory listings and any other web address that contains data about the business. Having a consistent NAP allows search engines to better understand the business and how users can find it.
There are some do's and don'ts when it comes to using a NAP online. First, a NAP should be added as crawlable HTML text on the business's website. This makes it fast and simple for search engines to find the updated information that customers are looking for when searching for a local business. Do not make the common mistake of putting a NAP in an image. Search engines do not crawl images in the same way as HTML text, resulting in lost potential. Ideally, a NAP should be included in the website's header or footer. Carefully review NAPs to avoid possible misspellings, duplicate listings, and address or phone number discrepancies.
Develop A Mobile-Friendly Website
There are more than 3.5 billion smartphone users worldwide, according to Statista, with mobile web traffic accounting for 52.6 percent of all global web traffic. With so many users relying on mobile search to find businesses in their area, it only makes sense to cater to these web searchers by optimizing the business website for mobile screens.
There are many benefits to going mobile. Mobile websites make it easier for prospective customers to contact the business using clickable buttons like email or phone. Mobile-friendly content is also more shareable, allowing readers to share information about a business with just a click of a button. Google's algorithm also prioritizes mobile websites which means that mobile websites are likely to rank higher in the search engines.

Figure 8.1 shows how many users are using our client's website on which devices as of April 6th 2021. This proves that potential clients and customers are searching on mobile devices, and therefore it is important to ensure your site is well-developed and user-friendly for mobile devices.
When developing a mobile website, there are several things to consider. First, the site should be responsive, meaning it will automatically adapt to the user's screen. Also, consider how the information and layout of the website will look on a smaller scale and simplify each page to make it easy to read and navigate. Avoid flash as it is not only bad for SEO but can also slow down the site's loading time.
Leverage On-Site SEO Tactics
On-site SEO, otherwise known as on-page SEO, involves optimizing elements on a website as opposed to links located on other websites (off-site SEO) to rank higher in the search engines and attract relevant traffic. On-site SEO involves optimizing the HTML source code of a page and its content. Proper on-site SEO has many purposes. It enables search engines to better interpret page content and helps users quickly understand what a particular page is about. On-site SEO is also useful for optimizing a website for local SEO.
Start by creating unique content for every location. For example, if a business serves both Boston and Cambridge, it would want to create two separate pages, each with 100 percent original content. Location pages can help businesses rank in the local organic searches for different local keywords and traffic tends to convert well. It is important to remember that on-site SEO relies less on keyword placement and repetition and more on understanding the target audience and what they are looking for. A business can then create content that fulfills this need. Pages should be user-friendly, in-depth, unique, trustworthy, authoritative and align with the user's search intent.
Engage On Social Media
Approximately 77.6 percent of small businesses report that they use social media to promote their businesses, according to Small Business Trends, with Facebook being the most popular platform for small businesses. Today, businesses can strategically use social media to achieve better rankings and funnel follows directly to their website.
Social media platforms like Twitter, Facebook and Instagram continue to be valuable assets for businesses. These interactive platforms enable businesses to quickly respond and interact with customers who may have complaints that leave a negative impact on the brand. Problems can be resolved quickly to avoid ongoing disputes and the spread of false information.
Social signals are also a major ranking factor as content that gets shared on social media earns more links, thus improving rankings. A business's social profiles also appear in the search results which can lead to more clicks and traffic. Businesses should also consider the impact of online reviews. According to Bright Local, 97 percent of consumers between the ages of 18 and 34 read online reviews about online businesses and are more likely to trust and engage with a recommended business.
Write Geo-Targeted Content
Dispensaries have ample opportunities to create interesting and engaging content that appeals to a large audience. However, it is important to properly optimize website content to ensure that it reaches the right people. Each time a business posts a new page or blog on its website, it should be geo-targeted to a specific location.
There are several areas that businesses should focus on when creating content, including the URL, title tags, meta description, header and the content itself. Perform local keyword research to find relevant keywords that align with what local searchers are looking for online. Written search is the most familiar type of search that businesses can optimize their website for based on keyword research. However, it is not the only type of search to consider. According to Google, up to 20 percent of all Google searches are now done on mobile devices using voice technology. Voice searches tend to be conversational which requires a different approach to local SEO optimization.
Build Inbound Links With Authority
Inbound links are a highly valuable aspect of Google's local search algorithm. Also known as backlinks, inbound links occur when a website links back to the business's website. Search engines view inbound links as an indicator that the business has high-quality content. It is not just about the number of inbound links that a business has, but the quality of these links. Although anyone can use spammy link-building techniques, trustworthy websites have inbound links from authoritative sites. Search engines value the quality of inbound links over the quantity, meaning a few high-quality links are better than dozens of spam links.
There are many ways that dispensaries can build quality inbound links to improve their local SEO optimization. Some businesses choose to form partnerships with authoritative sites or inquire about sponsorships or scholarships. Others use techniques like guest blog posting to acquire a link back to their website.
Encourage Reviews From Customers
Online local business reviews refer to written sentiments from customers posted on a website or platform. Google, Yelp and Facebook are some of the most well-known business review platforms, although there are many more like Bing and Superpages. There are also review platforms that are dedicated to certain geographies or industries, such as Healthgrades or TripAdvisor.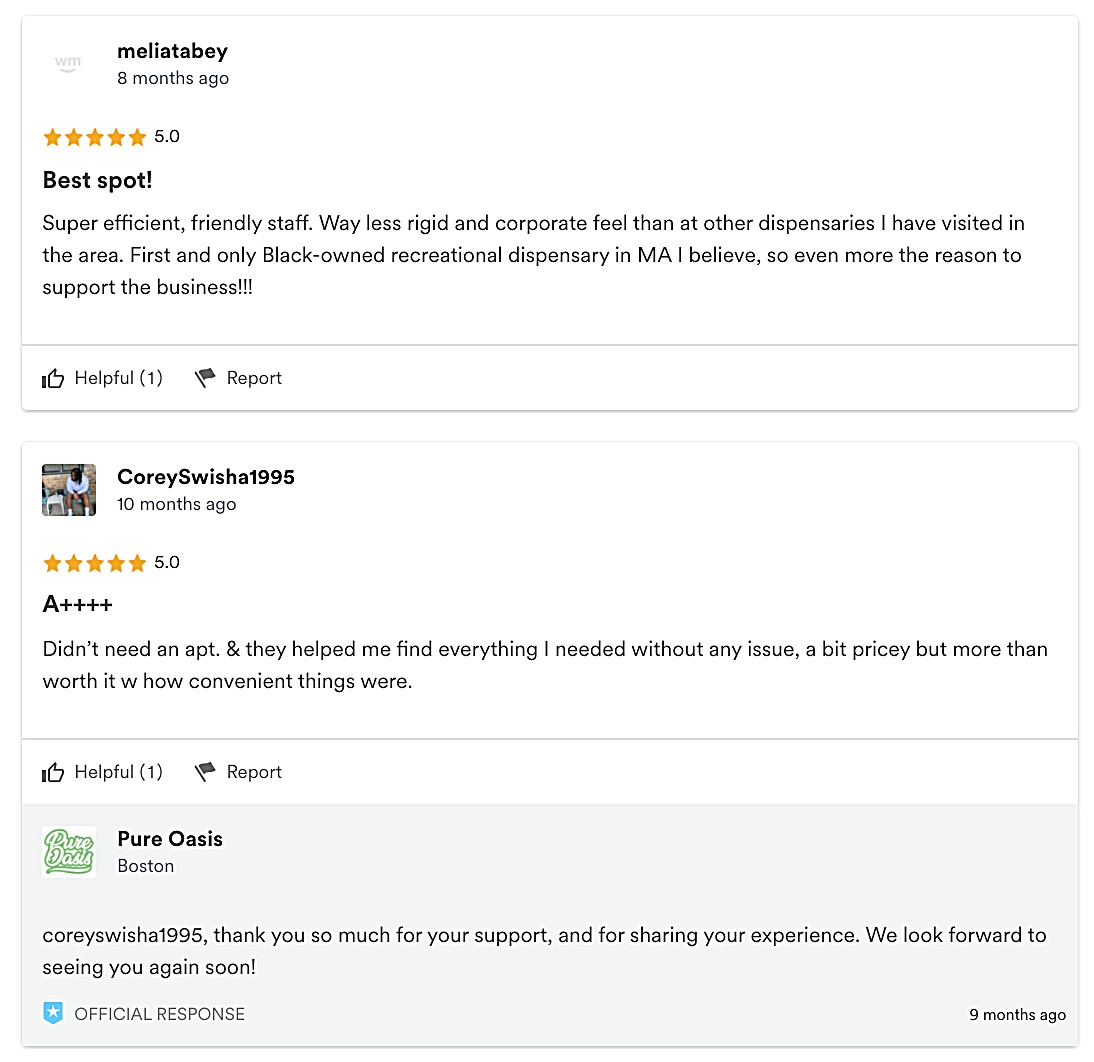 Getting customers to write positive reviews about their experience with a particular business can help improve local SEO. Business reviews can help optimize a business's Google My Business presence, as well as encourage other local customers to make a purchase. There are several techniques that businesses can use to encourage customers to write glowing reviews. First, always ask for a review in person after the closing of a sale. Next, send a post-purchase text or email to customers asking for a review. To avoid reviews from dissatisfied customers, consider screening customers via an internal survey to learn more about their buying experience. Businesses should also respond to existing reviews in a professional way, even if they are negative.
Figure 13.1 is an example of reviews that 321's client was receiving, as well as their action to manage and reply to comments left. Responding to customers is imperative, especially if a negative review is left. If individuals see that the dispensary has acknowledged and clarified a negative review, they will be more likely to have faith their experience will not be the same.
Create Pages On Online Business Directories
Local business directories and listings play a vital role in rankings, reputation and even revenue. Directories like MapQuest, Foursquare and YellowPages can be useful for providing potential customers with information about local businesses, such as business names, addresses and phone numbers. Adding a business to these directories can also help visibility and in turn, boost local SEO efforts.
When creating pages on online business directories, be sure to include accurate and up-to-date information about the business, including the business's full name, address and phone number. Write a thorough description of the business and the products and services offered. It is also important to add a backlink to the business's website to encourage potential customers to click and perform a desired action. It is not necessary to spend hours getting listed on every business directory on the web. Instead, focus only on the major directories that usually come up on the first page of the search engines when making a local search. Creating local business listings can be time-consuming regardless and many businesses choose to automate this process using online solutions that usually require a small investment.
Use Schema's Geographic Makeup
Schema markup refers to a code that a business places on its website to help the search engines return informative results to users. While content on a website gets indexed by search engines and returned to users in search results, schema markup causes some content to get indexed and returned differently. The markup tells the search engines what the content means. Extensive coding skills are not required to use schema markup and most businesses can utilize this technique. When used properly, schema markup can help a website rank better for all types of content.
There is also data markup for various types of data, such as articles, book reviews, movies, TV episodes, events, products, software applications, local businesses and frequently asked questions (FAQ).
Schema markup is particularly useful for local SEO optimization as it tells search engines and users about the business location. However, a business only needs to consider schema if their website pages already rank well and the content is eligible for rich results or if they already have a strong brand presence.
Review Google My Business Insights
Google My Business is more than just a business listing platform. It can also provide businesses with extensive insight that helps them improve their local SEO. Google My Business Insights provides business owners with an easy-to-use dashboard that delivers valuable data.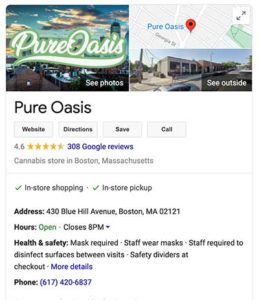 Easily monitor one or multiple business locations with one dashboard. Business owners can see an extensive list of queries that people have used to find the business. In addition to learning how customers search for the business, the data shows where customers view the business, such as a listing on search or a listing on maps. It can even show customer actions, such as visits to the website, phone calls and direction requests. There are some limitations to GMB Insights that can make it difficult to see patterns over time. For example, Insights only provides data for the last 90 days. In addition, businesses that have multiple locations must download the data to determine how each location is performing.
Figure 16.1 demonstrates the information that is shown to clients through Google My Business when searching for your dispensary. It appears on the right side of the search results page when your brand is searched for directly.
Audit Competitors Local SEO
Not sure where to start when attempting to perform local SEO for a dispensary? Start by auditing any competitors in the area, especially if they show up first in the search results for a particular area. Businesses should compare certain data against their own, including the GMB ranking for top keywords, number of links, organic rankings for top keywords, social stats, site speed, and review quality and quantity.
There are numerous tools on the web that can aid businesses in performing competitor audits, such as Google My Business Audit. This user-friendly tool allows businesses to quickly assess the status of their GMB profile and see how it compares to top online competitors.
Respond And Monitor Q&As
Many businesses are unaware of the Google Questions and Answers section on their Google listing. However, failure to respond and monitor this component of a business listing can have negative consequences.
The Q&A section is designed to help answer common questions that customers may have about a particular business and its products or services. The biggest problem with Google Q&As is that anyone with a Google account can answer the questions being asked. In some cases, they answer incorrectly which can create confusion for customers.
For example, if a potential customer asks what time the dispensary closes and a Google user puts 5 PM but the store really closes at 4 PM, that customer could become angry when they show up at 4:30 PM and the store is already closed.
The best thing that businesses can do to rectify this problem is to answer any questions themselves as they appear. This involves continually monitoring the Q&A section and responding promptly to questions. Businesses also want to flag answers that are incorrect or provide bad information. Google will usually remove the information fairly quickly.
Benefits Of Local SEO For Dispensaries
Dispensaries can enjoy many benefits by performing local SEO. Some of the top advantages that both new and established dispensaries can enjoy by implementing a local SEO strategy include:
Greater Online Visibility
Local SEO enables businesses to be found by the right people who are local and interested in the product or service being sold. Greater visibility often equates to more sales and bigger profits.
Increased Web Traffic
Businesses that take advantage of local SEO often experience an uptick in web traffic. Local SEO helps businesses boost their rankings in the search engines and reach more people.
Build Authoritative Links
With local SEO, businesses can stay competitive with other local businesses. Cross-promotions can even lead to referrals and bring in more customers.
Reduce Advertising Costs
Traditional forms of advertising, such as newspaper, radio or television ads, can be costly to produce and publish. Local SEO is a cost-effective marketing strategy that can have excellent results.
Gain Repeat Customers
Local SEO is effective at capturing certain types of shoppers, specifically shoppers that are interested in the product or service being sold. This can lead to an increase in repeat customers.
Boost The Local Economy
Shopping local is important to many residents who want to support small businesses in their area. Buying locally also helps boost the economy. Local SEO can help connect these shoppers with local businesses.
Display Trustworthiness
Customers are more likely to click on and make a purchase from a business that is on the first page of the search results as it appears more trustworthy. Local SEO can help increase a business's rankings.
Learn About Customers
Marketing is an ongoing process that requires businesses to know what their customers want. Local SEO can help businesses learn about their customers so that they can better cater to their needs.
Get Started With Local SEO
Running and marketing a dispensary can be a challenging undertaking, especially for new businesses in the industry. Local SEO has been proven to be an effective strategy for increasing visibility, gaining customers and enhancing a business's online presence.
Northern Virginia's premier web marketing agency, 321 Web Marketing, specializes in local SEO and has helped countless businesses in their online marketing efforts. To learn more about how to perform local SEO for dispensaries or to schedule a free consultation with a local SEO marketing professional, reach out to the experts at 321 Web Marketing today.
Related Articles: