Unlike most industries, the insurance industry has the unique advantage of having certain products and services in which the general population is required to obtain. However, while insurance organizations may have the advantage of being able to offer products that are considered a necessity, they also face a unique disadvantage of having to compete within a highly competitive and oversaturated marketplace.
In order for insurance agencies and brokerages to sustain growth and differentiate themselves from the competition, they must continuously innovate and remain in front of target audiences.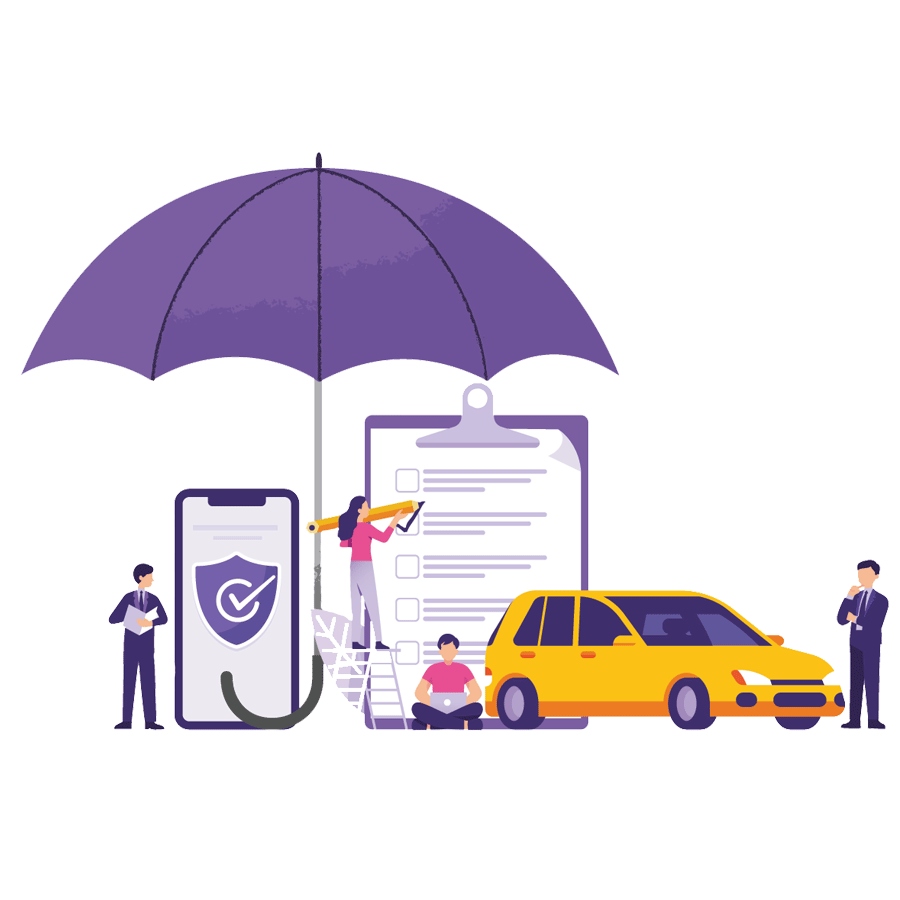 Local SEO For Insurance Agencies & Brokerages
Capture Leads Right In Your Own Backyard
Oftentimes insurance organizations are under the impression that in order to be successful and experience continuous growth, they must be able to reach target audiences on a national scale. While some organizations may find success targeting clients nationally, there are plenty of highly qualified leads seeking insurance providers and brokers within their immediate area.
Continuously Target New Locations
A local SEO campaign is able to produce location-specific leads consistently, enabling insurance organizations the ability to continuously target new locations and rank on the front page locally for valuable keywords.
Progressively Build A National Brand
As insurance agencies or brokerages begin to rank among the top positions within Search Engine Results Pages across multiple locations, the ability to rank for the same keywords on a national scale becomes increasingly easier.
Acquire Highly Qualified Leads
Through advanced on-page SEO techniques & custom crafted content marketing strategies, insurance agencies can appear prominently in local search results to highly qualified leads who are actively searching for insurance products in their area.
Compete Against Smaller Organizations
By engaging in a strategic local SEO campaign, insurance agencies are able to not only take on big competitors in the industry, but also provides the ability to rank above smaller insurance organizations with ease.
---
Local Keywords vs National Keywords
*"KD" or keyword difficulty signifies the level of difficulty of ranking within the top ten positions of Google.*"Volume" refers to the average monthly search volume for the given keyword.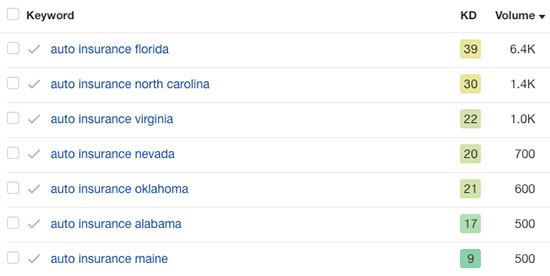 Although the national keyword for "auto insurance" is searched over 400,000 times per month, the keyword difficulty of 90 means that it would take a considerable amount of time to become visible on the front page of Google. Whereas the state specific keywords for "auto insurance" may have lower monthly search volume, they are incredibly easier to rank on the front page for.
By targeting local keywords that are easier to become visible for, insurance agencies are able to not only acquire leads more quickly, but are also able to target multiple locations at once. These charts provide a clear visualization as to why targeting local audiences and keywords can be extremely beneficial for insurance agencies for short-term success, as well as long-term success.
Insurance Pay-Per-Click Advertising
Reach Your Target Audience With Precision
Pay-per-click advertising, or PPC advertising, can be a highly advantageous method of targeting specific audiences and converting leads quickly. Regardless of whether a PPC campaign is run alongside a local SEO campaign or executed by itself, insurance agencies are able to acquire leads which have a high probability of converting and becoming a lifelong client.
---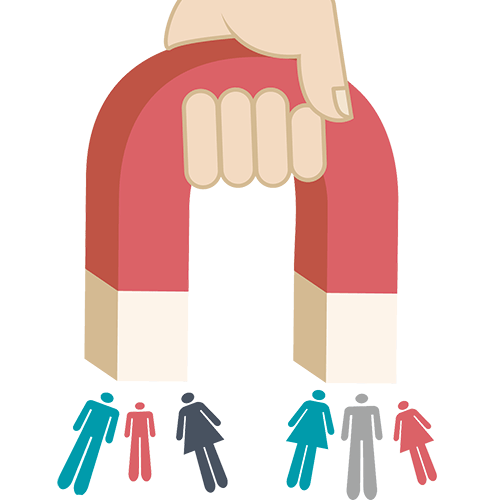 Generate Qualified Leads, Quickly
Unlike search engine optimization, PPC enables organizations with the ability to target and become visible in front of a precise demographic almost immediately. Insurance organizations which utilize 321 Web Marketing's PPC services often find they are presented with qualified leads within the first few weeks of launching a campaign.
Beat Out The Biggest Players In The Industry
Through extensive keyword and market research, our insurance PPC advertisers are able to acquire leads in a more cost-effective and efficient manner than the current giants in the insurance industry.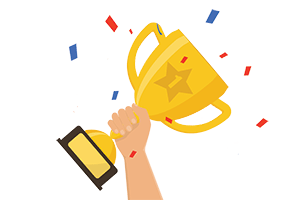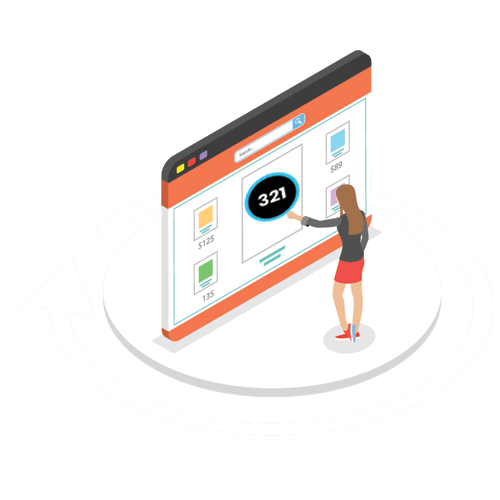 Convert Leads That Got Away
PPC advertising campaigns such as remarketing, provides insurance agencies and brokerages a way to attract previous website visitors back to their website with branded ads which follow the user around ad-enabled websites.
Insurance Marketing Automations
Utilize Your Current Book Of Business & Build Your Brand
Here at 321 Web Marketing, we specialize in providing cutting-edge marketing automation solutions tailored specifically for insurance agencies. In today's fast-paced digital landscape, traditional marketing methods often fall short when it comes to reaching your target audience effectively. Marketing automations offer a game-changing solution, empowering insurance agencies to optimize their marketing efforts, nurture leads, and maximize conversion rates.
---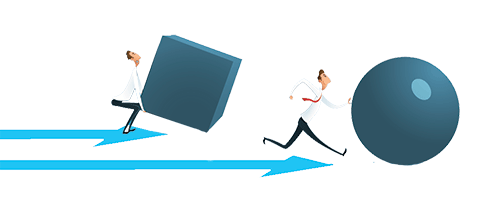 Increased Efficiency & Effectiveness
Marketing automations streamline your processes, eliminating repetitive tasks and freeing up your team's valuable time. With automated workflows, you can focus on what matters most – serving your clients and growing your business.
Personalized Customer Journeys
Effective marketing is all about delivering the right message to the right person at the right time. Marketing automations enable you to create personalized customer journeys based on user behavior, preferences, and specific needs. By segmenting your audience and delivering targeted content, you can build strong relationships and enhance customer satisfaction.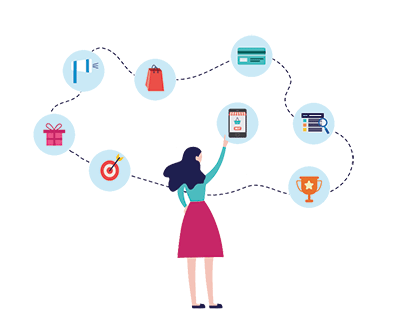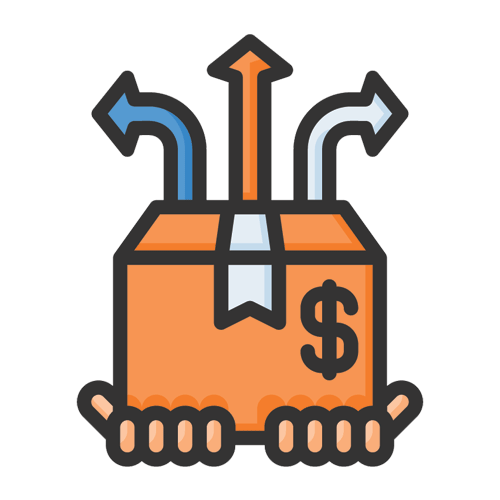 Lead Nurturing & Cross-Selling
With insurance marketing automations, you can nurture leads throughout their journey, providing them with valuable information and staying top of mind. By delivering timely and relevant content, insurance organizations can guide leads through the sales funnel, increasing the chances of conversion and boosting revenue. In addition, email automations can be utilized to routinely send information about additional insurance products to current clients, increasing the value of the existing book of business.
Website Development For Insurance Agencies
Use Your Website As A Sales Tool
Our team of skilled developers and designers combine their expertise with a deep understanding of the insurance industry to create high-performance websites that elevate your brand, engage your audience, and drive growth. Advanced WordPress development offers a wide range of benefits that can transform your online presence.
---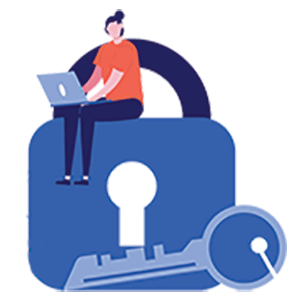 Enhanced Security Protocols
Insurance agencies deal with sensitive customer information, making website security a top priority. With our advanced WordPress development services, we implement additional security measures, such as SSL certificates and advanced user authentication, to protect client data and provide insurance organizations peace of mind.
Scalability & Growth
As insurance agencies and brokerages expand, their website needs to grow with it. Whether it be launching new insurance products or expanding into new markets, our enterprise websites can accommodate the evolving needs and requirements for any insurance organization.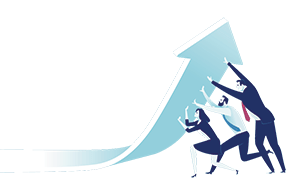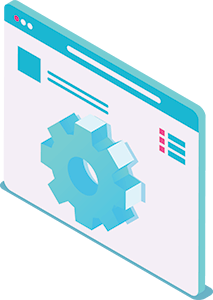 Customization & Flexibility
We are able to fully customize WordPress websites to reflect the unique brand identity and cater to insurance organization's specific needs. Through complex features, custom functionalities, and seamless integrations with third-party tools, our Advanced WordPress websites provide the flexibility to make it happen.