Businesses in the lifestyle industry know that there are two key components required to be successful. Providing consumers easy accessibility to their product or service and being able to entice those consumers for repeat business. The seamless integration of lifestyle marketing services into your business, gives you the ability to showcase your product or service on a large scale, to consumers who otherwise would have never known your business existed. By obtaining keywords relevant to your product or service, the visibility to searchers of what your business offers increases drastically.
We have years of experience with clients in the lifestyle industry, and design websites that drive user engagement and action on CTA's. The content we produce for your product or service will capture the attention of the consumer, encouraging them to read more, leading to increased conversion rates. By combining best SEO practices and consumer needs within the copy on your website, you will start to see an overall increase in website traffic, sales conversions, and higher rankings on search results.
Free Lifestyle Marketing Consultation
Reach out to our experts to see how we can grow your organization in the lifestyle industry today!
Schedule Meeting
Benefits of Lifestyle Marketing
Showcase Your Product Or Service
Obtaining keywords related to your product or service, increases visibility for your business on search result pages. By appearing more frequently, and at higher position rankings, you are exposing your offerings to a larger audience. The more often searchers see your brand, the more likely they are to inquire and potentially convert into qualified leads.
Increase Conversion Rates
The websites we build for the lifestyle industry focus on encouraging user engagement and increasing the conversion of sales. By strategically placing engaging CTA's throughout your website, the volume of leads received will begin to increase exponentially over time.
More Repeat Business
The key to a steady stream of revenue for businesses in the lifestyle industry is being able to draw previous consumers back for additional business. Consumers are more likely to continue purchasing your services or products if their buying experience is an easy and repeatable process. Our website designs are built to be consumer friendly, providing the best user experience possible.
Proven Lifestyle Marketing Success
Contract Start Date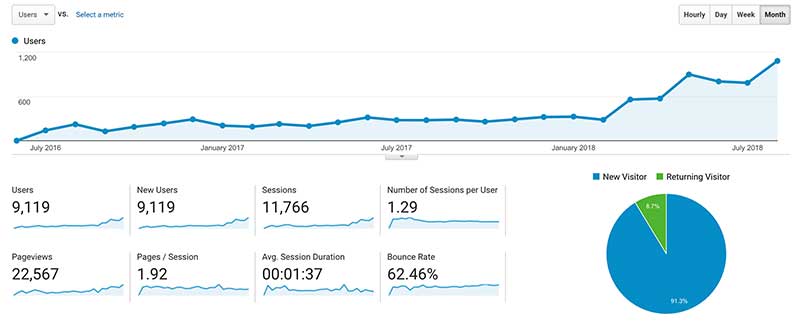 July 1st, 2016
Number of Months Shown
23
Services Marketed
Pet Sitting, Dog Walking, Cat Sitting
Growth of Monthly Users
+941