Search engine optimization (SEO) helps businesses build long-term equity for their brands. Ranking well in the search engines can help elevate a brand's profile by increasing the quality and quantity of website traffic. Of course, there are many search engines in which a business can rank, including popular options like Bing, Yahoo and AOL.
However, Google is the largest of all search engines, accounting for 94 percent of mobile and target searches and 78 percent of desktop searches, according to NetMarketShare. Businesses that set up their business with Google have access to a variety of free tools that can help them rank in the search engine results pages (SERPs). Among these free tools is Google Search Console (GSC).
Search Console is a useful Google tool that can help anyone with a website better understand how they are performing on Google Search and things they can do to boost their ranking and draw in relevant traffic to their websites. Learn more about Google Search Console and how best to leverage this convenient suite of web-based tools.
What Is Google Search Console?
Formerly known as Google Webmaster Tools, Google Search Console is a free platform available for use by anyone with a website. The valuable resource is used by a wide range of professionals aside from webmasters, such as SEOs, business owners, marketing professionals and app developers, just to name a few.
With Google Search Console, users can monitor how Google views their websites and optimize their organic web presence. Google Search Console offers tools and features for the following activities:
Website Health – GSC provides users with an overview of their rates and statistics, as well as possible issues encountered by Google.
Crawling – Search Console can confirm that a website has been located and crawled.
Search, Discover and News – Google offers details about the performance of website pages in each Google product.
Indexing – Users can identify and fix indexing problems and send indexing requests for new or updated content.
URL Inspection – GSC provides details about errors in the code, usability inconsistencies, canonical tags and similar issues.
Organic Traffic – Search Console analyzes Google search traffic data, how frequently the website appears in Google Search and how often users click through on the website for certain search queries.
Backlinks – Google Search Console shows a list of sites that have linked to the user's website.
Mobile Usability – Users can see how mobile-friendly each page of their website is and where improvements can be made.
Sitemaps – Search Console offers information about the status of any submitted sitemaps and possible indexing issues encountered by bots.
Core Web Vitals – Users can gain information on how their pages are performing based on field data from real users.
Rich Results Status – Google provides an analysis of the rich results that Google has crawled and potential issues that were discovered.
Other Tools – Search Console also offers other useful tools and features, including functions relating to security, links, redirects, migrations, manual actions, mobile friendliness, troubleshooting and more.
Google Search Console is designed for use by people with all experience levels and skillsets, from beginners to seasoned professionals. However, simply taking the initial steps to set up Search Console will not improve a brand's SEO or organic traffic. GSC is a toolset, meaning users need to understand how to use Google Search Console to maximize its potential.
How To Set Up Google Search Console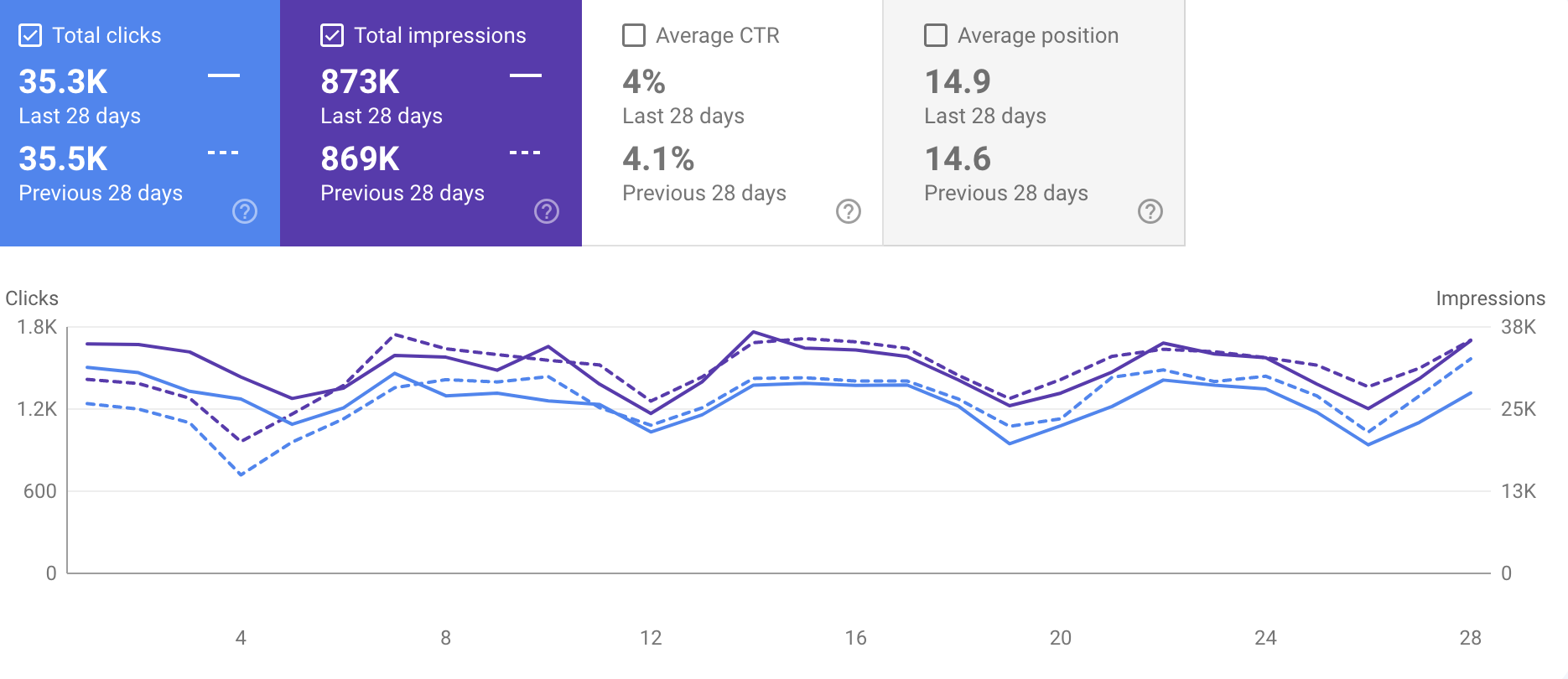 Figure 2.1
Google Search Console is one of the most powerful SEO tools out there and has helped countless web professionals optimize, monitor and maintain their website's organic search presence. While GSC is commonly used to view impressions and clicks, it has much more to offer.
Search Console can be used to find search queries that drive traffic, add sitemaps, see how well pages are ranking, ensure eligibility for rich snippets, monitor core web vitals and show if the website has been hacked. It can also be useful for locating errors that require fixing, identifying backlinks and making a website more mobile-friendly.
Setting up a Google Search Console account is a simple and straightforward process. Here are the basic steps to setting up GSC.
Figure 2.1 displays an example of clicks and impressions data that Google Search Console can provide for your website.
1. Use A Google Account To Sign In To Search Console.
A Google account is needed to sign in to Search Console. Creating a Google account is free and takes just a few minutes to set up. The same login information can be used across all Google products, including Gmail, AdWords and Google Analytics.
2. Enter Either A Website Domain Or A URL Prefix To Add A Property.
Once signed into Google, the user will need to add a property one of two ways – domain or URL prefix. Ideally, Google Search Console should be set up with the "Domain" option as this allows the user to set up the account as a domain-level property, meaning a single property that includes all protocol prefixes and subdomains associated with the domain.
When setting up Google Search Console with a domain-level property, enter the website's root domain into the entry field and click "Continue."
Choosing the "URL-Prefix" to set up a URL prefix property means creating a single property for just one URL prefix on the website. This means that Search Console will be connected to only one version of the site and not the entire site with all of its subdomains and protocols. This can result in inaccurate data.
To set up a URL prefix property on GSC, enter the URL with a prefix in the field and click on "Continue."
3. Verify The Website Based On The Type Of Property.
The final step in setting up a Google Search Console is the verification of the website. There is a different set of verification instructions based on the type of property chosen in the previous step.
Domain Property Verification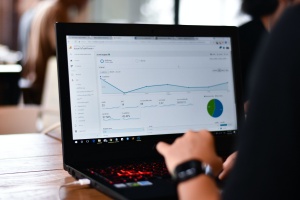 Verifying a domain-level property requires the user to go through their domain name system (DNS) provider. Locate the name of the DNS provider in the dropdown menu or leave the answer as "Any DNS service provider" if the provider's name is unknown.
Next, click on the "Copy" button to copy the TXT record provided by Google. Open the domain registrar's website in a new tab and log into the account. Navigate to the list of owned domains and choose the one that needs to be configured. Select the option to manage the DNS records and go to the Domain Management screen where there will be a list of DNS records.
Click "Add" to create a new record and select "TXT" under Type and the "@" symbol under Host. Paste the TXT record received from Google in the TXT Value field and click "Save." Once the TXT record is added, go back to Google Search Console set up and click "Verify." Note that updating DNS records can take up to 72 hours.
URL-Prefix Property Verification
For those who do not have access to their registrar or would prefer not to alter their DNS records, Google Search Console can be set up using a URL-prefix property. With this option, Google recommends verifying with an HTML file. This method involves uploading an HTML file to the website's root folder.
Download the file provided by Google and access the root directory of the website. Upload the file and return to Search Console and click "Verify." There are also alternative ways to verify a URL prefix property, including via an HTML tag, Google Analytics or Google Tag Manager.
Expert Tips For Using Google Search Console
Google Search Console is a versatile tool that can help boost a website's organic traffic and maintain its overall health. Here is a compilation of tips from authorities across the web on how to best leverage the features and functions available with Google Search Console.
1. Use The URL Inspection Tool To See How Google Views The Website.
One of the most useful tools on Google Search Console is the URL Inspection tool. This innovative tool provides users with information about Google's indexed version of a specific page, such as structured data errors, AMP errors and indexing issues.
With the URL Inspection tool, users can see the most up-to-date status of a URL, inspect a live URL, request indexing for a URL, view a rendered version of a page, view loaded resources and troubleshoot a missing page. After redesigning a webpage or publishing a new blog post, users can submit the URL using the URL Inspection tool as a signal to Google to crawl the page.
The SEO experts at Search Engine Journal recommend using the URL Inspection tool to report indexing issues. Simply click the "Report an Indexing Issue" button located under the URL Inspection Tool articles in the Search Console Help Center.
To use the URL Inspection tool, type the URL in the top search bar of GSC and push "Enter" to submit. This will generate a URL Inspection report that will provide a range of information, such as when Google last crawled the webpage.
URL Inspection tool can also be useful for updating old webpages, introducing a new mobile design, launching a new section of a website, implementing rel=canonical tags, updating robots.txt files and transitioning from HTTP to HTTPS.
2. Discover Ideas For New Website Content By Reviewing Search Results.
Up to 65 percent of marketers struggle with creating engaging, Google-worthy content, according to Small Biz Genius. Quality content can help businesses build a relationship with their audience and create value that draws in readers. Content marketing can also improve conversions, generate leads and establish brand credibility.
When inspiration dwindles, MonsterInsights recommends using Google Search Console to get new content ideas. Look at what pages are ranking on Google to see what type of content performs well in the search engines. Google Search Console's "Search Results" page located under Performance can provide a good indication of what type of content a business's target audience is interested in reading.
This report can also be useful when repurposing existing content on a website. Look at the top-performing pages and consider converting them into different types of content, such as videos, podcasts, infographics or slideshows. Different platforms perform best when the right type of content is posted. For example, infographics do well on Twitter.
3. Identify Potential Technical Errors In The Enhancements Section.
It is not uncommon for a website to have technical errors; however, it is important to resolve them as quickly as possible. When businesses fail to give these types of errors the attention that they deserve, it can lead to the loss of customers and stunted business growth.
Surfside PPC recommends using the Enhancements section of Google Search Console to identify possible technical errors that may be present. The Enhancements section of GSC will show any errors or warnings related to Speed, AMP, Mobile Usability, Breadcrumbs, Products, Logos and Sitelinks Search Box.
If errors are discovered when checking Search Console, try to find and fix these technical SEO issues. The goal is to not have any error codes which can take time and require ongoing maintenance. Keeping a website's SEO error-free can help boost its search engine ranking.
4. Connect Search Console With Google Analytics To Enhance Keyword Usage.
Keywords are important as they tell Google about the content on a particular webpage. A keyword can refer to a word or phrase that a web user types into a search engine to find the information they are looking for. Website owners and marketers often use strategic keywords to optimize their content and improve their chances of appearing at the top of the SERPs.
Previously, keyword data could be found in website stats and analytics reports when signed into a Google Analytics account. However, that information was encrypted by Google in 2013 when they moved to HTTPS. While it is still possible to view search queries in Google Analytics, users will often see 'not provided' keywords, meaning keywords that people use to find the site.
To bypass this issue, WPBeginner recommends connecting Google Search Console with Google Analytics. Keyword data can also be viewed in GSC reports which provides a full view of keywords that the website is ranking for, as well as clicks, average position and impressions. This information can be found under the Performance tab in Search Console.
5. Find The Top-Performing Pages And Add Relevant Internal Links.
A great use of Google Search Console is to leverage top-performing pages. SportsEngine Inc. suggests identifying the 'low-hanging fruit', meaning the pages on the website that receive the most clicks. The goal is to use these pages to direct traffic to other content on the site.
The strategy involves adding relevant internal links to high-interest pages from other pages on the website. While reading a top-performing page, users are encouraged to click on a link that will direct them to another page on the website. While adding internal links, it is important to ensure that it is highly relevant to the readers and builds upon the original page.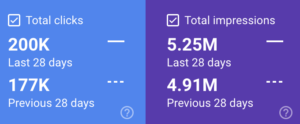 Figure 3.5
To identify 'low-hanging fruit' pages, select all reporting boxes in Google Search Console, including Total Impressions, Total Clicks, Average Position and Average CTR. Sort the generated report by Clicks in decreasing order, then click on the top pages and add internal links.
Figure 3.5 provides an example of clicks and impressions in the last month for one of 321's clients.
6. Analyze Individual URLs To Troubleshoot Problematic Web Pages.
It can be frustrating to spend a significant amount of time creating content, optimizing headlines, structuring data and adding headers, only to find that the web page does not perform as expected. The problem is not always clear and website owners may struggle to determine the cause of the failure.
Google Search Console makes it easy to see why a particular web page may not be doing well. The SEO pros at Substack recommend using GSC to analyze single URLs to see how Google views the page and if there are any issues.
Simply copy and paste the web page URL into the top search bar on the URL inspection dashboard. Google will then render the data and create a report that provides insight as to how the page is performing. Issues can range from not being mobile-friendly to not being properly indexed.
7. Review The Countries Tab To See Which Countries The Website Ranks For.
Most people depend on Google Search Console to see which search queries they rank for and this is a good idea. However, it is also important to see what countries a website ranks in as this can also affect a business's SEO strategy.
Active Digit Solutions recommends using the countries tab on Search Console. Monitoring the countries in the search engine results pages enables website owners to better adjust their future SEO strategies and target countries that they believe will provide the best return on investment.
When a person searches for something online, location is a major factor that is taken into consideration when providing results. There are several ways that Google determines the location of a website, such as a site's country domain, country code, IP address, location details from the website or information from the site's Google My Business (GMB) page.
To remove any potential confusion about which countries to target, tell Google which countries are relevant to the business using Search Console. The Language tab and Country tab can both be useful for establishing geographical preferences.
8. Monitor And Optimize Keywords With A High Click-Through Rate (CTR).
A high CTR tells Google that a webpage is helpful and provides value to people who are searching for that particular keyword or key phrase. In internet marketing, CTR is used as a metric to measure the number of clicks advertisers receive on their ads per the number of impressions.
An excellent tip from Generation Marketing is to use Google Search Console to monitor which keywords deliver the highest click-through rate and to optimize a website around these keywords.
Head over to the Performance section of Search Console and filter the queries by page to see what keywords it currently ranks for and find relevant keywords that rank in positions 8 through 20. Use these keywords in website content and blogs to achieve a boost in rankings.
9. Compare Web Performance To Determine If SEO Strategies Are Effective.
Monitoring website performance over time can help web professionals better gauge their progress and determine if their strategies are working. Summit Home Buyers, LLC. recommends monitoring a website's average position in the SERPs at least once a month to determine whether the business's SEO efforts are effective.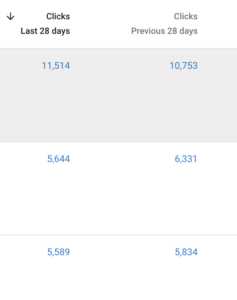 Figure 3.9
If the average position is growing, it means that the SEO efforts are working and if the position is down, it indicates that the SEO strategies need to be reevaluated. Check the number of impressions and clicks on landing pages at least once a week to gain more insight as to the average position during this timeframe.
Continue to compare data over time to determine the overall health of the website and where improvements can be made. The Performance section of Google Search Console can be highly useful to compare performance on a quarterly or yearly basis.
Figure 3.9 demonstrates an example of how you can compare clicks over certain time periods or dates.
10. See What Devices Are Driving The Most Traffic To The Website.
Advancements in technology have allowed people to use all types of devices to search the web, such as smartphones, tablets and desktops. Knowing what types of devices a target audience is using to view a particular website or page can be useful when developing an SEO strategy.
Capital Cooling suggests using Google Search Console to examine the differences between mobile and desktop traffic. Within the performance report is a section called "Devices" that lists different devices and indicates which are driving the most traffic to the website.
According to a Google Analytics Benchmarking study, mobile devices drove 61 percent of visits to U.S. websites in 2020, while desktops were responsible for 35.7 percent of visits. Tablets were responsible for the remaining 3.3 percent of visits. Search Console allows website owners to pull reports that can help them determine if their SEO is effective.
Advantages Of Using Google Search Console
Google Search Console can help boost the success of a business by providing the tools and features necessary to optimize SEO strategies, increase visibility and improve SERP rankings. Here are some of the top benefits of using Google Search Console.
Track the progress of content marketing efforts. Use the Content Keywords report in Google Search Console to track the most commonly found keywords on the website.
Gain insight into SEO performance. See how the website appears in the SERPs, compare traffic over time and identify popular queries that are attracting visitors to the site.
Determine the website's mobile compatibility. Google favors websites that are mobile-friendly and often boosts mobile-optimized sites in the search results. Search Console offers a Mobile Usability Report where website owners can track their mobile capability.
Integrate Search Console with Google Analytics. When Search Console and Google Analytics are integrated, it creates a centralized location for valuable website data and reporting.
Show crawl errors discovered by web crawlers. Google uses crawlers to look at web pages and creates an index that ensures that online searchers receive the most relevant results. Search Console's Crawl Errors page can be useful for showing errors encountered by these crawlers.
Schedule A Consultation With 321 Web Marketing
Google Search Console is a free, user-friendly and convenient tool that has helped countless businesses improve their digital marketing strategies. For more information or to speak with an experienced Virginia SEO marketing company, contact 321 Web Marketing to schedule a consultation.
Related Articles: