Updated: November 2022
---
The ways that people search the internet for information is drastically changing. With the rapid growth of voice search, people can now get directions, ask about the weather and acquire information about a variety of other topics — all without having to type out an inquiry. Voice search is now available on a variety of devices, such as smartphones, tablets and voice assistants like Google Home and Amazon Echo. As the popularity of voice search continues to grow, businesses must find ways to leverage this technology. Voice search optimization services are designed to help businesses rank organically in the voice search results.
Why Acquire Voice Search Optimization Services?
Voice search technology is transforming search engine optimization. Today, many people use voice search, as it is easier and faster than typing. As the technology continues to grow more complex, voice search is able to understand more conversational search phrases to deliver the best results based on the inquiry.
As of 2022, data shows that 40.2% of the population in the United States regularly use voice search features. With so many people using this technology, it only makes sense to optimize your business for voice search. With voice search optimization services, you can work with an experienced digital marketing strategist who will help drive valuable traffic to your website and increase your revenue using voice search SEO techniques.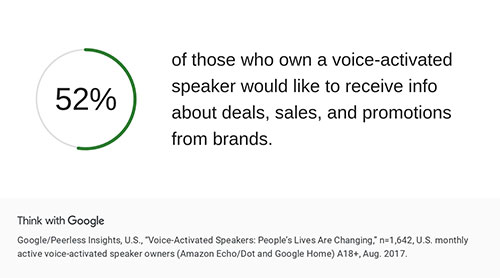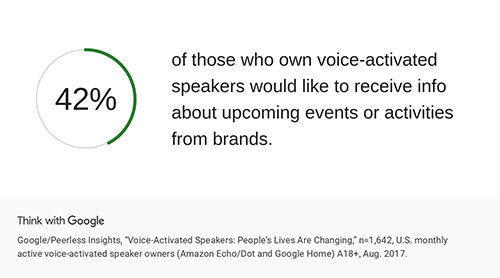 Figures 1.1 & 1.2 provide interesting insight into how users interact with devices that are voice search capable in relation to learning more about brand specific information. Think with Google has a collection of voice search user generated data, ranging from where users keep their devices within their household to the percentage of users who feel comfortable interacting with their voice search capable devices.
Voice Searches Are Growing Every Year
Voice searches are a fairly new concept that have seen major success in recent years. Despite popular belief, voice searches are not just performed on mobile devices like phones and tablets. Today, even PCs are equipped with voice assistants.
There are a number of reasons why voice searches are continuing to climb year after year. One of the biggest reasons is that voice searching is 3.7 times faster than typing. When a person has a question or wants information, they want feedback quickly. Voice search technology can appeal for this reason. Voice search is also more convenient, especially when people are busy or not able to fully use their hands.
Adds Additional Benefit To Local SEO Campaigns
Voice search optimization has the power to take your local SEO campaign to the next level. Many businesses are already aware of search engine optimization (SEO) and how it can help their website rank higher in the search engine result pages (SERPs). While many businesses have found ways to utilize local SEO, few have mastered voice search optimization. As people talk to a voice assistant in a different way than they would type, it is important to optimize for both talk and text. Voice search optimization services are designed to help businesses enhance their local SEO campaign to target voice search customers.


Figure 2.1 & Figure 2.2 shows monthly keyword data for "Air Conditioning Repair Fairfax VA" & "Roofing Repair Fairfax VA", respectively. These are two common variations of voice searches for Fairfax residents searching for these local services. By performing local voice search optimization to target specific services, your company can increase your book of business simply by appearing for voice searches matching these types of keywords.
Ability To Answer Potential Customers Questions Quickly
With traditional web searching, web users are forced to open up a web page, type in their question or inquiry and wait for the results to load. Voice search significantly speeds up the process. Many devices allow for hands-off voice search which means you do not even have to pick up the device to ask a question. Voice search also allows for prompt answers. Once a person asks a question, they will receive an immediate result the majority of the time. There is no waiting for web pages to load and users do not have to scroll through pages of content to find information that answers their query.
Better Voice Search Rankings Equals More Trust With Searchers
When a person uses voice search to get information, they expect the information to be factual and trustworthy. Google's unique algorithm ensures that users are given the best results possible based on the unique query. This means that if a user receives information from your business website, they are more likely to put trust in your business. For this reason, it is important to increase your voice search rankings. When you optimize your website for voice search, you are essentially getting your business in front of more customers. Optimization can also help increase the amount of traffic to your website which can boost your brand's reputation and trustworthiness.
Figure 3.1
The gif in Figure 3.1 is a screen capture showing a voice search for "Insurance Digital Marketing" displaying the top search results, including 321 Web Marketing as the 1st organic search result for "Insurance Digital Marketing".
Consult With Voice Search Optimization Specialists
If your current digital marketing strategy does not yet include voice search optimization, then you are missing out on a major sector of customers. Voice search trends have risen significantly in recent years and whether or not you decide to get on board with this "trend" will have a noticeable influence on your business. Voice search optimization services can help businesses improve their voice search rankings online by using targeted strategies like natural language and long-tail keywords. Want to learn more about the benefits of voice search optimization services? Schedule a meeting with the digital marketing specialists at 321 Web Marketing.