Google Discover offers users a query-less discovery of engaging content that fits their unique interests and preferences. It learns what users like and suggests new content based on past search activity and interactions with the Google Discover app.
Some users may be familiar with Discover's previous name – Google Feed. Once the feature reached 800 million active users per month, the quality was upgraded and a new name was awarded, Discover. Of course, the rebrand is not the only thing that Google has changed since the new name and look was officially announced in 2018.
Learn more about Google Discover and how it impacts search engine optimization (SEO).
What Is Google Discover?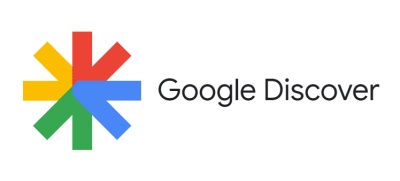 Google Discover is a feed curated by Google to deliver articles and videos on mobile devices. The content delivered to users is personalized through searches and related stories. Users also have the opportunity to further customize what they see on their feed by following topics that interest them. Results in the Discover app change on a regular basis based on newly published content and user interests.
For content creators, Google Discover can be a highly powerful driver of traffic to websites. Google Discover feeds typically contain a mix of news articles and evergreen content. There is a major emphasis on visuals, such as photography and videos. Prior to the Google Discover rebrand, the app had a more text-based layout that consisted mostly of headlines, meta descriptions and the occasional photo.
Accessing Google Discover is simple. The Google app is installed by default on nearly every Android and iPhone device. If the app is not present, it can be installed for free from Google Play or the App Store. After installing, sign in to the app with a Google account. Open the Google App and below the search bar will be a list of Google cards on the 'Discover' tab for those with Android or 'Home' for those with iOS devices.
How Does Google Discover Work?
When Google revealed its intent to rebrand the feature formally known as Google Feed, it reported it would make this transition in a three-tiered shift. One of these shifts involved moving from queries to providing a query-less way to obtain relevant information. While Google Discover functions similarly to Google Feed, some significant updates have been made since its implementation.
Differences Between Google Discover & Google Feed
First, it is important to understand that the way Google provides content has remained relatively the same. The search engine continues to display content based on the user's personal search history, as well as some Google Al. With Google Discover, a user will encounter more relevant content the more that they interact with the app. Some of the main differences between Google Discover and Google Feed include:
Name – As previously mentioned, Google Discover received a new name during the revamp. Google has reported that the new name better reflects its mission to deliver fresh and engaging content to users.
UI/UX Updates – The redesign also featured a whole new look that is more visually appealing. Users may notice new topic headers and a Discover icon. Once the user clicks on the header, they have the option to Follow the interest.
Featured Content Types – Google is continuing to add new content to its Discover page all the time. Google Feed mostly featured news-related content. However, Google has now incorporated evergreen content to keep users interested.
User Customizations – Another update that many users enjoy is the greater control over what they see. Look at the bottom of each card and there will be a Control icon that users can tap to tell Google if they want to see more or less of that particular content.
Location – Google Discover is now available on the Homepage, instead of only being available on Google's mobile apps. With Discover being available on all Google mobile browsers, users can easily interact with fun topics on their feed.
Why Is Google Discover Important To SEO?
While most people know that content creation is a critical component of SEO, many businesses are not placing as much focus on Google Discover as they should. Since Google Discover provides users with the ability to keep up-to-date on topics that matter to them, this creates additional opportunities for businesses to appear in front of target audiences consistently, therefore making Google Discover a key focal point for SEO.
Users have the opportunity to explore new data available in a variety of content types, such as blogs and videos. Discover also does not limit its capabilities to only showing new content but allows posting of any article regardless of publish date. Due to the heavy emphasis placed on showing relevant and informational content, Google Discover should become a key factor within any content marketing strategy.
Google Discover Content Eligibility & Policies
All content that is indexed by Google and adheres to Discover's content policies is eligible to appear within Google Discover feeds. However, it is important to note that content eligibility does not guarantee content appearance. Similar to Google Search's method of selecting content within SERPs, Discover also favors sites which demonstrate expertise, authoritativeness, and trustworthiness (E-A-T).
Content which violates Google Search's and Discover's following content policies will be deemed ineligible to appear within SERPs and feeds.
Dangerous content
Deceptive practices
Harassing content
Hateful content
Manipulated media
Medical content
Sexually explicit content
Terrorist content
Violence & gore
Vulgar language & profanity
Unlike Google Search, which displays content relative to the particular search query itself, Google Discover feeds aim to provide users with content based on their own historical interests and searches. Google Search Central explains that content such as articles or videos are more likely to be shown, rather than content void of context (i.e. job applications, code repositories, etc.).
How To Optimize For Google Discover
Google Discover has been found to be a highly valuable source of web traffic for marketers. However, it is important to know how to optimize content for Google Discover using SEO and other practices that allow businesses to achieve greater visibility and build brand authority faster.
Here are some of the best ways to optimize for Google Discover:
Create Content Which Follows The Principles Of E-A-T
In order to improve the accuracy of search results based on the given search query, Google has stated that Page Quality Rating has become an important ranking factor. Essentially, indexed URLs are assigned a rating based on the page's ability to achieve its overall purpose, providing helpful information to users. Once a page has been identified as helpful, Google factors in the content's expertise, authority, and trustworthiness (E-A-T).
E – Expertise of the author of the content
A – Authoritativeness of the author, the content, and the website
T – Trustworthiness of the author, the content, and the website
Google's primary goal is to provide users with the most relevant and useful information as it relates to their search query. Your primary goal is to provide Google with unique and informational content that will best help Google achieve their goal. When reviewing your existing content or strategizing new content, Google has provided sets of questions to ask yourself when determining the overall quality of the content.
Utilize The Follow Feature
Google Discover provides users with the ability "follow" websites and receive updates (such as news posts or blogs) from these websites within their discover feed. Google automatically generates RSS or Atom feeds on your website, and these feeds are based upon how Google views your website. For those who have a specific content feed or various content feeds you wish to differentiate, there are snippets of code that can be inserted into the [head] section of each page.

Figure 5.2 shows examples of snippets of code you would insert into pages of your website you would like to show feeds for. Note that both the RSS and Atom versions of these scripts work, RSS is just a simplified version only providing plain text or escaped HTML as payloads.
Ultimately the follow feature can help boost engagement and attract new readers to your content. The more users add your website to their Discover interests, the more that Google knows that the content is relevant to similar audiences.
Follow Feed Guidelines
To ensure Google is able to find and decipher your website's RSS or Atom feed, follow the guidelines below:
Continuously update your feed.
If you update the location of your feed, use a 3xx redirect HTTP status code to inform Google of the new location.
Make sure your feed title is descriptive, yet concise.
Don't block your feed within your robots.txt file.
Descriptive & Straight-Forward Content Titles
Although it may sound obvious that the title of your content should describe the information within the content itself, it's important to do so in a manner in which Google doesn't consider the title as "click-bait". Any content title that can be construed as misleading or exaggerated in relation to the content can result in being ineligible to appear within Google Discover feeds. Google recommends using page titles that reflect the essence of the content but without using clickbait or other tactics designed to achieve false engagement or mislead users.
Include High-Quality Visuals Within Content
One of the biggest differences between Google Discover and previous designs like Feed is the use of high-quality visual materials. The quality of visuals within content plays a major role in the ability to appear within Discover feeds, meaning images and videos should be crisp and clearly reflect the content that is being portrayed. Google states that large images should be a minimum of 1,200 px wide and enabled through the use of AMP or the setting "max-image-preview:large". In addition, Google also recommends websites should avoid using their site logo as the featured image.
Consider using a variety of visuals to enhance blog posts, such as infographics, GIFs, screenshots, memes, quotes and data-driven visuals. Fortunately, there are hundreds of stock photography services available that make it easy to find high-quality images for nearly any topic imaginable.
Additional Optimization Practices For Both Google Search & Google Discover
The aforementioned optimization methods outlined above are explicitly stated by Google as factors which influence the potential of appearing within Google Discover feeds. However, there are additional optimization practices websites should follow that can improve not only Discover feed visibility, but visibility and rankings within Google's Search results.
Optimize For AMPs
Speed is a driving factor in Google rankings and a great way to achieve more speed is by optimizing the website for Google Accelerated Mobile Pages (AMPs). With AMPs, users can expect nearly instant loading which results in a more enjoyable user experience that can be accessed from any device, including desktops, laptops, tablets and smartphones.
The faster that a page loads, the more satisfaction that users experience on the website. In comparison, web pages that load slow can cause users to click away and go to a competitor's website. Slow loading websites will reduce a website's chance of ranking in the SERPs and being published on Google Discover. The Discover report feature provides comparison options to show both AMP and non-AMP performances. In short, optimizing for AMPs can provide users with a better customer experience and increase the odds of appearing within Discover feeds and ranking higher in SERPs.
Ensure Pages Are Crawlable
If Google is not unable to locate a web page, they certainly cannot publish it to a Discover feed or consider the page as a potential result for a search query. Ensure that all web pages that you want searchable to users are crawlable in order for Google to be able to locate and index said pages.
There are several things that businesses can do to encourage Google to index their web pages faster. Start by creating an XML sitemap for all website pages. A sitemap provides valuable data, new page updates and other information that enables Google to crawl and index the website faster. Businesses can also use other tools to ensure that their web pages are crawlable, such as Yoast or Google Search Console.
Review Google's Publishing Policy
Google has revealed that complying with their content publishing policy is essential for websites that wish to appear within Google Discover feeds and SERPs. This means that all blog posts, news posts and other types of content must follow Google News Guidelines, as well as Google Webmaster Guidelines. Webmasters must carefully review these guidelines and ensure that each piece of content that they create meets compliance for a chance to appear on a feed.
The reason for creating these stringent guidelines is to once again improve user experience. Content that meets Google's publishing policy is more likely to help searchers find the content that they are looking for quickly and efficiently. To meet these guidelines, content must be original, purposeful, fresh, and answer the user's query. If a business is republishing old content, they must remember to update it with new ideas.
Get On GMB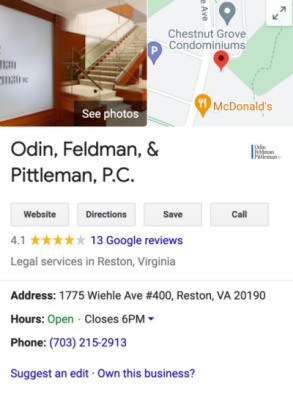 Figure 6.4
If a business has yet to create a Google My Business (GMB) page, there is no better time than now to complete this essential task. Google My Business is a directory created by Google that presents results based on user queries. Many people rely on the internet to find goods or services and GMB can connect them with local businesses that offer these services. It also provides a description of the business, as well as contact information like addresses, phone numbers and websites.
Google looks at a wide range of data when deciding what content should appear on Discover feeds and within SERPs, such as rich snippets, knowledge graph panels and image carousels.
Figure 6.4 demonstrates the profile that appears after optimizing Google My Business. Odin, Feldman, & Pittleman, P.C., one of 321 Web Marketing's clients, has received 13 client reviews through their Google My Business account, increasing their brand reputation, and thus, the likelihood their content may be featured within Google Discover feeds and SERPs.
Publish Evergreen Content
Anyone who has been involved in SEO has likely heard the term 'evergreen' content. Evergreen content refers to SEO content that remains fresh and continuously relevant for readers. What makes evergreen content so valuable is that it is considered sustainable and long-lasting. It will continue to be relevant in days, weeks, months and possibly years down the line.
Creating and publishing evergreen content is essential for websites that wish to gain a spot on Google Discover. This is because Discover is always providing users with a mix of new and evergreen content based on the user's search history and preferences. Publishing evergreen content has also been found to engage readers, drive traffic and boost user experience. Once a post lands on Discover, it will continue to show up on the feed and drive organic traffic back to the website.
Boost Social Engagement
The next way to improve online visibility involves increasing social media feed engagement. As previously mentioned, social signals can have a positive influence on SEO. When businesses take the necessary steps to improve their social feed engagement, they can drastically increase their chance of appearing within Discover Feeds and search results.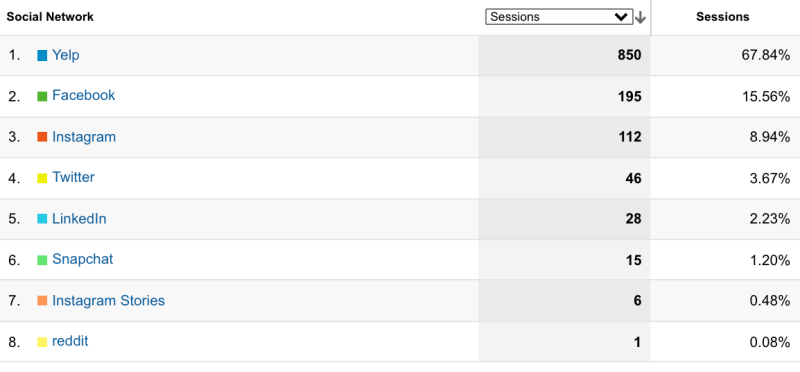 The more likes, comments and shares that a blog receives, the higher it will rank as the level of engagement increases. One of the best ways to increase social engagement is to create and publish helpful content on a regular basis. Relevant, evergreen blogs have been found to drive consistent traffic. Posts should be shared across various channels to attract more visitors back to the website. Businesses should also tell their followers to share the content with their friends around the web and encourage them to leave comments.
Figure 6.6 shows the social account traffic for one of 321 Web Marketing clients. Their social media posts are funneling direct traffic to their website.
Pose Questions In Headlines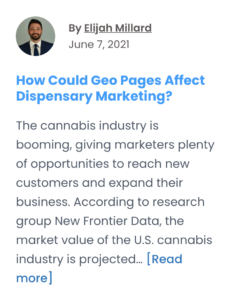 Figure 6.7
Another way that websites can increase their odds of gaining a spot on Discover is by incorporating questions into their headlines. Adding questions to headlines has been found to drive high click-through-rates (CTRs) in Discover. Marketers have been publishing content with questions posed in the headlines for years and for good reason. These types of headlines encourage people to click or scroll to find answers to important questions.
Posing questions in headlines can also benefit SEO as many search engine queries are actually questions. When a user goes to a search engine to find information, they often write the query as a question, such as "Why do cats meow?" When a business creates a piece of content with a matching query, it is more likely to rank higher in the search engines and possibly on Discover.
Figure 6.7 provides an example of a blog previously posted by 321 Web Marketing with a question in the headline.
Write On Niche Topics
When searching for content to show within Discover feeds, Google looks for a variety of things, such as a website's ability to create content that accurately targets the users' interests. This refers to specific, niche interests that an audience may be searching for that is highly specific.
Niche content refers to content that was created for a specific audience to drive strong results. The development of niche posts can act as an effective tool for building long-lasting connections with clients or customers. Niche content can also improve SEO efforts, validate leads and help businesses stand out amongst the competition.
When creating content on niche topics, it is important to know the audience and what they are looking for online. Create content that is easy to read, engaging and encourages the reader to return for more information.
Start Appearing Within Google Discover Feeds With 321 Web Marketing
Appearing in Google Discover is a great way to increase a business's page visibility and generate more organic traffic to a website. With millions of monthly users, businesses will have the opportunity to get their brand out there and share relevant information that pertains to their unique industry.
For businesses that want to appear within Google Discover feeds and rank high in SERPs, consider working with an experienced web marketing agency. For more information about Google Discover, and improve visibility with a local SEO or national SEO campaign, reach out to the web marketing professionals at 321 Web Marketing today.
Updated: January 4th, 2023
Related Articles: