Want to learn how to better manage your online presence? Google My Business (GMB) is a completely free tool that allows businesses to better control how they publicly appear on Google Maps and Search. With GMB, a business can publish their business name, hours, and location, while also posting photos and monitoring and replying to customer reviews.
Your GMB listing can also be optimized to boost your local SEO efforts. Google My Business is essentially a combination of a social media profile and an online directory. Creating a GMB listing is easy and requires just a few simple steps.
How To Create A Google My Business Listing
If there is currently no listing of your business online, you will need to create a new listing from scratch. If there is already a listing, you will simply need to claim it.
Creating Or Claiming Your Account
To add your business information to Google Search, Maps, and other Google-based properties, you will need to create a GMB listing. Navigate to the Google My Business page and click "Sign In" on the top-right corner. If you do not have a Google account, create one. Ideally, you want to sign up with your business email domain.


Location Details
Next, you will need to enter some important information about your business. This includes the name of your business and your business' address. You will also need to mark the location of the business on a map. If your business does not have a specific location but instead services a service area, you will need to list the area instead.
You can then choose whether or not to have your business appear on Google Maps. If you do not serve your customers at your business address, you can click the option that says that you deliver goods or products to your customers. You can then choose a business category, your phone number and website URL.
Verifying Your GMB Account
Once you have completed your GMB listing, you can select a verification option. Verification can be completed through mail, phone, email, or Search Console.
To verify by mail, Google will send a postcard to your business address with a verification code
To verify by phone, click the 'Verify Now' button and answer your phone when it rings to receive your verification code
To verify by email, wait until the email arrives to your inbox and enter the code from the email into your GMB dashboard. Not all businesses may be eligible to verify their listing with email
To verify by Google Search Console, you will first need to verify your business website with Google Search Console. This option is only available to select businesses

If a listing for your business has already been created but remains unverified, you can simply claim the listing through Maps. To do this, open Google Maps and enter your business name in the search bar. Then click on "Claim this business" and then "I own or manage this business." You will then need to verify your ownership in one of the same ways previously mentioned.
Does My Business Need A Google My Business Listing?
You may be wondering if your business really needs a GMB listing or if you can get by without one. Businesses that verify their business information with a GMB listing are two times as likely to be considered reputable by customers, according to Google. As Google My Business is easy to use and completely free, there is really no reason not to create a listing for your business.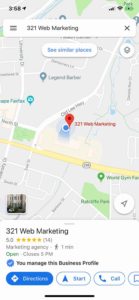 How Does My Business Show Up On Google Maps?
When you create a GMB listing, you will have the option to add your business' location to Google Maps. If you choose to have your business show up in Maps, customers will be able to see it when they perform a Google Maps search. If your business is not showing up on Maps, it may be because your listing has yet to be claimed, your GMB profile is incomplete, your listing is suspended, or you recently updated your listing. It can take up to one to three days for updates to appear.
How Do I Optimize My GMB Listing?
Once you have created your listing, you will need to optimize your Google My Business listing. This process involves choosing relevant and specific categories that best fit your business and industry, as well as publishing quality, high-resolution images that put your business in a professional light. Also make sure that your website and all content is well optimized for search.
Importance Of Creating A GMB Listing
Creating a GMB Listing is just a small step to becoming more visible online and achieving better rankings in the search engines. You will also need to boost your SEO efforts and create a campaign that encourages greater search-ability and visibility. For more information about Google My Business or for helping starting your SEO campaign, contact 321 Web Marketing.
Related Articles: