The market value of the cannabis industry in the United States is projected to reach upwards of $30 billion annually by 2025, according to research group New Frontier Data. In the coming year, the cannabis industry is expected to expand into several new markets as more states take the steps to legalize cannabis. As the cannabis industry continues to grow at an exponential rate, dispensary owners and operators must find new and improved ways to market their business. In an age of advanced technology, many cannabis dispensary businesses are leveraging online resources to reach a wider audience.
Steps To Effectively Marketing Your Dispensary In 2022
Like all entrepreneurs, cannabis dispensary owners have the challenging task of promoting and marketing their business. Despite medical cannabis being legal in nearly all states, it is still illegal under federal law. This means that most major media properties will not allow businesses in the cannabis industry to advertise on their websites. Therefore, these businesses must look elsewhere for marketing opportunities. Fortunately, there are several steps that a dispensary owner can take to effectively market their dispensary in 2022.
Digital marketing provides business owners with multiple channels to attract new customers using social media, search engines, display advertising, directories and other marketing tactics. Follow these steps for effectively marketing a cannabis dispensary.
Determine Who Your Target Audience Is
One of the first steps in marketing a dispensary involves identifying the customer base. It is important for business owners to understand what interests their customers have and what types of products the customers tend to gravitate to when shopping.
For most cannabis dispensaries that offer medicinal cannabis, their target audience is people who have received a prescription from their physician due to having a qualifying illness or health condition. When a business knows who they are marketing for, they are better able to cater to prospects and their current customers.
Perform Competitor Research
It is not enough for a dispensary to know their customer base; they also need to know their competitors. Businesses who want to maintain a competitive advantage need to know what their competitors are offering that makes them unique in the eyes of customers. This involves performing competitor research or conducting a competitive analysis.
A competitive analysis is the process of identifying and evaluating a business's competitors to better understand their strengths and weaknesses. Performing a competitor analysis can answer some important questions such as the top companies that a dispensary competes with, what marketing strategies they have adopted and how well the competitors are performing.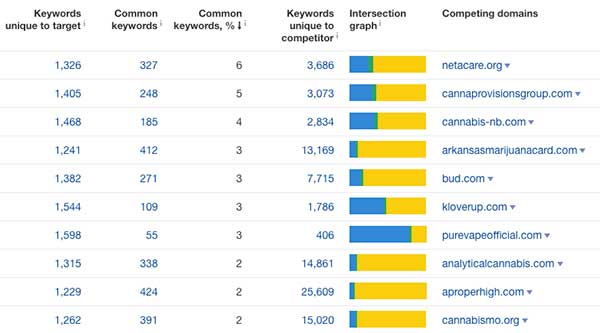 Figure 2.1 shows a list on Ahrefs of competitor research for domains targeting recreational cannabis.
Develop A Fast & User-Friendly Website
Building a fast and user-friendly website is a critical component in business marketing. Everything from the overall aesthetic of the website to the placement of call-to-actions (CTAs) can influence how long a visitor remains on the website and whether or not they perform a desired action.

Website users expect the sites they visit to load within seconds, provide in-depth information about the products and services they provide, and ensure that the site is easy to navigate and read. The site layout should be clean, not cluttered, and there should be contact information that is easy to access.
Create Informative Service Pages
Well-written service pages can help convert visitors into leads. When a visitor is interested in the services that a business offers, they are most likely to go straight to the service pages of the website. If the information that they receive is poor or non-existent, it may put the consumer off and they may go to a competitor.
An informative service page should contain a clear and concise headline, structured content that is easy to follow and factual information that can be trusted. The content should also be interesting and keep readers engaged.
Perform Extensive Keyword Research
Keyword research is the process of identifying and analyzing search terms that people enter into search engines with the aim of finding information about a particular topic. Search engine optimization (SEO) marketing can be highly effective when a business takes the time to perform extensive keyword research.
Keyword research provides businesses with valuable insight into what a target audience is actually searching for which can then be implemented on the business's own website. When performing keyword research, it is important to choose keywords that have authority, are relevant to the industry and have an acceptable monthly search volume (MSV).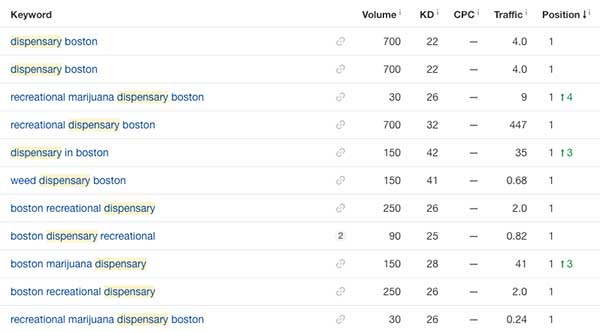 In Figure 5.1, you can see a list of valuable keywords relevant to Boston cannabis dispensaries. The above data shows the average monthly volume of traffic, the difficulty of ranking for the keyword on the front page and where our client (Pure Oasis) ranks for each keyword.
Draft A Detailed Content Marketing Plan
Developing a successful content strategy can attract new and recurrent visitors to a website. Content strategy is the management of nearly all tangible media that a person creates and owns, including visual, written and downloadable content.
When developing a content marketing plan, it is important to consider who will be reading the content, what problems the content is designed to solve, what makes the business unique and what types of content are best suited for the customer base. Also consider what channels the content will be published on, such as a service page, blog or social media platforms like Twitter or Facebook.
Ensure All Your Online Citations Are Accurate
Online directories gather and publish information online about businesses, such as a business's name, address, phone number, website, hours of operation, and similar details. This information may be pulled from a wide range of sources, such as Google My Business, Yelp, Citysearch or Merchant Circle.
When this identifying information is correct, prospects and customers are able to easily find information about the business and contact the dispensary if needed. However, when the information is incorrect or contains errors, it can cause confusion for visitors. It is vital for dispensary owners to ensure that all of their online citations are accurate.
Start Producing & Publishing Content Based On Your Plan
When producing and publishing content for a cannabis dispensary, it is important to have a plan. This plan can differ from business to business based on their unique needs, customer base, number of competitors and current online presence. Content plans should be flexible and range across many different websites and platforms to reach a wider audience.
Many businesses find success by posting content on a professional business website, as well as a blog and individual social media platforms. Together, these sites can offer a comprehensive solution for reaching prospects and customers. Content should also be created regularly to keep visitors coming back.
Share Your Content Across Social Media Platforms
Having an effective social media marketing plan is critical for businesses in this day and age. Start by considering what networks the business is currently on, such as Facebook, Instagram, Twitter or LinkedIn. Next, consider if these platforms are optimized, meaning they are equipped with content, videos, photos, a bio and a link back to the website.
Once all social media accounts have been optimized, content should be shared across these platforms on a regular basis. Ideally, a business should have a set schedule for releasing content. This helps keep the target audience engaged in the business and familiar with the services it offers.
Create & Optimize A Google My Business Account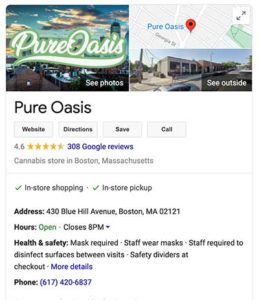 Figure 7.1
An optimized Google My Business account can be a highly effective and affordable marketing tool for both small and large businesses alike.
Having a GMB account helps to ensure that if someone is searching for a dispensary in a particular area, they are able to find the listing of the company both on Google Search and Google Maps.
Setting up a GMB account can also help a business's local SEO efforts. Google My Business listings contain identifying information about a business, such as contact information and business hours, which can be useful for prospects and customers.
Obtain Customer Emails & Start An Email Marketing Campaign
Email marketing has been around for many years and the reason why is clear. It remains one of the most effective online marketing methods for businesses in all industries. Email is a direct way for businesses to connect with their target audience and turn one-time buyers into loyal customers.
When businesses take the time to build email lists, they can continue to connect with prospects and customers in a meaningful way. Emails are also known to convert better than other marketing methods, resulting in a higher return on investment. Most people check their email at least once a day which ensures that any content being sent will likely be read by the target audience.
Continuous Data Analyzation & Improvement
Conducting continuous data analyses can help businesses make informed, strategic decisions and achieve their long-term goals. This information can also be useful in the online marketing process. Activities involved include identifying and verifying possible strategies and solutions for enhanced online branding.
Marketing a dispensary also requires extensive market research to determine where the business currently stands in the market and what steps need to be taken to continue growing in a forward direction.
Speak To The Experienced Dispensary Marketing Agency
Marketing a cannabis dispensary in 2022 requires a unique approach to ensure that all marketing efforts are both legal and effective. There are still strict guidelines in place when it comes to marketing dispensaries online and these businesses must be cautious to avoid hefty fines and dents to their reputation.
To market their business effectively, dispensaries must develop a realistic marketing plan that aligns with the business's budget and goals. However, marketing a business takes a considerable amount of time, effort and resources. That is why many dispensaries rely on an experienced dispensary marketing agency to assist with the process. For more information on how to market a dispensary in 2022 or for help with digital marketing, contact 321 Web Marketing today by calling 703.810.7557 or scheduling a consultation below.