Digital marketing is an effective solution for local dispensaries that want to attract and capture new customers while engaging with existing customers. Backlinks are an important factor affecting a business's ability to rank in the search engines and earn free traffic to their website. Quality backlinks are also a key component in any search engine optimization (SEO) strategy.
Backlink building takes time but with the right link-building strategies, cannabis retailers, cultivators and other professionals on the supply chain can build backlinks that have a positive effect on the business's online ranking position and search visibility.
What Are Backlinks And Why Are They Important?
Backlinks are links that point from one page on a website to a page on another website. Also referred to as inbound links or incoming links, backlinks are one of many metrics used by search engines to measure the value of a page.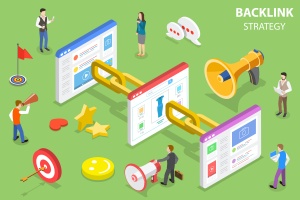 Backlinks are essential for any website that hopes to receive free visitors from search engines like Yahoo!, Google and Bing. The more quality backlinks that a business has pointed to their website, the higher the dispensary's placement will be in the rankings.
Local dispensaries can enjoy countless benefits when they create and implement an effective backlink-building strategy. Backlinks enable users to easily explore related content, thus improving the user experience. They also allow search engines to more easily discover new content on the web. With access to valuable backlinks, search engines can also enhance their search results and deliver quality, relevant results to users in search of local dispensaries. Backlinks can also improve a business's SEO.
The more high-quality and relevant a business's backlinks are, the better the business will rank in the search engines for targeted keywords. However, Google's algorithms are complex and not all backlinks offer the same level of value.
What Types Of Backlinks Offer The Most Value?
When it comes to backlinks, quality outweighs quantity. If a business wants to rank higher in the search engines, it should focus on building quality backlinks that come from trusted, authoritative websites.
The link's anchor text should include the local dispensary's target keywords, but do not go overboard creating keyword-rich anchor text as Google's algorithm may see this as a black hat link-building strategy and filter the website from the search results.
The website and page that is linking back to the business's website should be topically related to the site. For example, a backlink for a local dispensary should be related in some way to cannabis.
When creating backlinks, it is important to avoid no-follow links as Google and other search engines tend to ignore links with a "no-follow" tag. Common sources of links that are no-follow include press releases, blog comments and paid advertisements.
Ways To Get Backlinks For Your Local Dispensary
Gaining quality backlinks for a local dispensary can be highly advantageous to the business's overall marketing strategy but this process cannot be achieved overnight. Here are some of the most effective ways to build backlinks for a local dispensary.
1. Write Cannabis Content For Online Publications
Guest blogging refers to the act of writing content for another company's website. A guest blogger generally writes blogs, newspaper articles or online magazine publications for a website that is within their industry.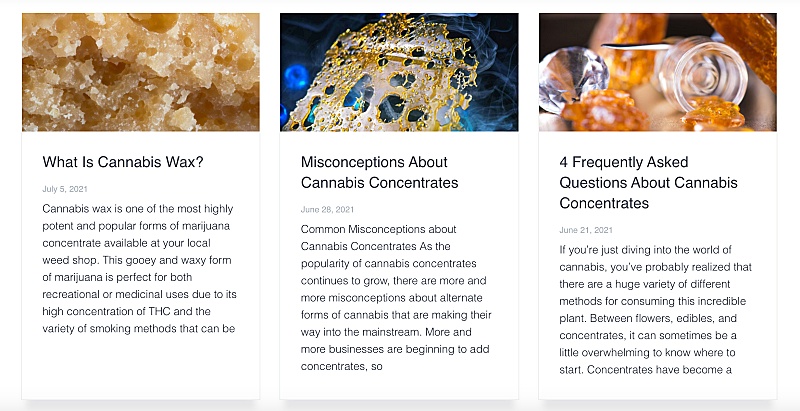 The content should contain a link back to the dispensary's website which increases traffic and boosts their domain authority. When choosing a website to offer a guest post, consider the audience that the dispensary is trying to reach.
Also, look at how long the website has been around. Ideally, dispensaries should choose a website that has been around for at least two years and has a domain authority score between 30 and 60.
Figure 3.1 shows an example of the weekly content that is produced for Pure Oasis, one of 321 Web Marketing's clients. This content is used to increase the number of organic keywords present on their site as well as inform users that discover the site about their products.
2. List With Reputable Cannabis Business Directories
Online business directories contain a wide range of data on businesses and act as a reliable source of information for buyers. These comprehensive platforms enable online users to easily identify, learn about and contact businesses that offer the products or services that they need.
Local dispensaries can benefit by listing their dispensary on reputable cannabis business directories. These listings alert search engines that a new website has been added to an authoritative resource. Not all business dispensaries are made equal with some being more reliable than others. Leafly and Weedmaps are some of the highest-rated business directories for companies involved in the cannabis industry.
3. Post On Cannabis Job Boards
Whether or not a local dispensary is currently hiring, it can be beneficial to create a company profile on cannabis-related job boards. Avoid generic job boards that tend to set links to "no-follow," such as Indeed. Instead, post on small or niche job boards that allow do-follow backlinks.
Keep track of what job boards the dispensary has a company profile on and go back and update the information as needed. When the dispensary does have a job opening, promote the job on these boards and provide a link back to the dispensary's website. Some of the most popular cannabis job boards include Growers Network, Ganjapreneur Jobs and Careers Cannabis.
4. Look For Opportunities To Build Local Citations
A local citation refers to any textual reference of a business on another website. Local citations do not necessarily need to include a link back to the business's website, but instead benefit the dispensary by mentioning the business's name, phone number, address and other contact information.
Some of the most common local citations include online mentions, local newspapers, community nonprofits and event listings. Similar to other backlinking strategies, quality is more important than quantity. When looking for chances to build local citations, opt for opportunities that will act as a quality resource for the business.
5. Land A Spot On A Cannabis Podcast
The popularity of podcasts has increased significantly over the last few years. According to the Interactive Advertising Bureau, businesses spent more than $497 million on podcast advertising in 2018. This number has only increased in more recent years.
Many podcasts have their own website where show notes and backlinks are published for guests. Consider pitching the dispensary to podcasts that the business's target audience is already listening to and speaking as a professional in the cannabis industry.
6. Participate In Contests And Events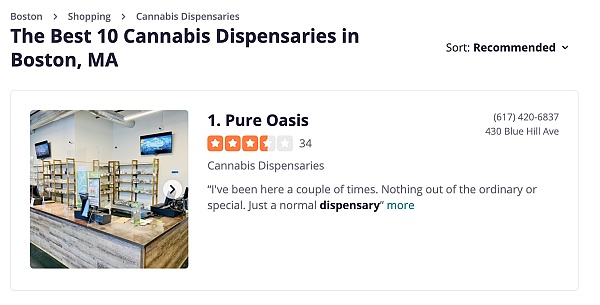 Figure 3.6
The cannabis market has received a great deal of attention over the last few years. Many publications and media outlets are sharing news and information about local dispensaries to attract attention and gain viewers. Consider participating in contests that will get the dispensary noticed.
From "Best Dispensaries" in a certain region to other nomination-based awards, local dispensaries can grow their reputation by promoting their business and asking their followers to show their support. Nominations do not necessarily have to be cannabis-related. A local dispensary may also apply for a "Best New Businesses" award or similar types of nominations.
Figure 3.6 displays a directory in which Pure Oasis is ranked number 1. By adding their name to the top sports in directories, their link-building value will increase with the help of the referring site.
7. Request That Broken Links Be Replaced
Businesses in the cannabis industry come and go, leaving a large number of broken links across the internet. When searching on cannabis-related websites, it is common to come across content that contains broken or outdated external links.
When this type of situation occurs, send an email to the website owner to bring awareness to the broken link and suggest that the link be replaced by a page on the dispensary's website. This can be a simple and effective way to build backlinks on cannabis-related websites.

Figure 3.7 displays the backlinks that were captured for Pure Oasis over 12 months. Fixing backlinks that were previously broken would help to increase the total number of backlinks.
8. Build Relationships With Cannabis Influencers
Social media influencers have built a reputation on their knowledge and expertise in a particular area. Influencers often endorse products or services from businesses as a way to earn money and share information. When local dispensaries form relationships with these influencers, they can attract a new audience.
Consider reaching out to cannabis influencers and ask if the dispensary can sponsor a post. If all goes well, the dispensary may want to maintain the relationship and continue requesting mentions in blogs or social media posts in exchange for money or products.
9. Plan And Promote A Cannabis Event
Cannabis events draw in countless people each year, making these events effective marketing tools. When a local dispensary plans and promotes a cannabis event, they have the opportunity to earn new customers and build a reliable network, along with quality backlinks.
After planning an event, publish it on an event platform or calendar with links back to the dispensary's website. There are many event websites that businesses can utilize, such as Eventbrite, Meetup, 10 Times Cannabis, Online Cannabis Events and Cannabis Business Times. Share information about the event on social media and encourage others to spread the word.
10. Publish Infographics On Social Media
Infographics are visual representations of information intended to present knowledge in a clear and concise way. Marketers often use infographics to draw website traffic, build brand awareness and increase visibility. Infographics are also useful for breaking down difficult concepts or complex information.
Look for opportunities to post infographics instead of written content as people are more likely to share pictures, tables, graphs and flowcharts. When infographics gain enough social shares, they are often featured on other websites with backlinks to the original source. Infographics also rank well in the search engines which can help a dispensary attract new visitors to its website.
Schedule A Consultation With 321 Web Marketing
Backlinks play an important role in driving organic traffic in search engines and increasing the visibility of a business online. With a sound backlinking strategy, local dispensaries can improve their website's domain authority and rank higher for targeted keywords. For more ways to gain backlinks for a local dispensary or to speak with an experienced web marketing company, contact 321 Web Marketing today.
Related Articles: