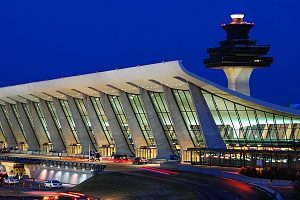 Northern Virginia is overflowing with businesses that are putting forth their best marketing strategies to compete for customers in the local market. Due to the saturation of businesses in the area, it can be difficult to rank on Google without implementing certain tactics. Search engine optimization, or SEO, is an effective way to increase traffic to your website and generate leads in the area of Northern Virginia. SEO can be especially useful when conducting marketing efforts on a tight budget or when attempting to maintain your results long-term. Having a structured, repeatable process to follow is important when implementing Northern Virginia SEO.
How to Improve Your Northern Virginia SEO
While every business wants to show up at the top of the search engine results pages (SERPs), only a select few can dominate the first page. To ensure that your business is one of them, take the time to enhance your local SEO efforts. By keeping your business at the top of the SERPs, you can help ensure that your business is the first website that web users see when they search for the Northern Virginia products or services you offer. Here is a comprehensive guide to Northern Virginia SEO:
Conduct Local Keyword Research
Take the time to perform keyword research to identify localized, Northern Virginia keywords and keyphrases that could prove useful in attracting visitors to your website. Start by making a list of important topics based on every product or service your business offers. Try putting yourself into the shoes of your consumers.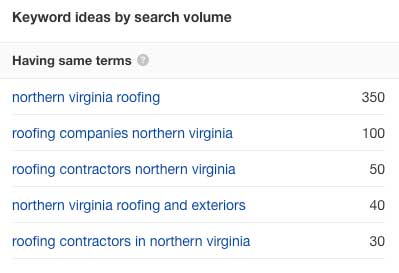 What Northern Virginia-based keywords would you type into the search engine to hopefully find a specific product or service? For example, if you are a roofing company, incorporate keywords such as "Northern Virginia Roofing" into your keyword research lists. Your keyword research should provide you with both basic and more narrowed keywords. If you start to struggle to find keywords, go to Google and search the 'related search terms' to see what other people are searching for to find the same information.
While you might have a list of great keywords, you could lose your position at the top of the search engine by not keeping pace with your local competition. Your competitors are constantly trying to grow their business. See how your competitors rank for the same Northern Virginia keywords that you have found through the marketing research process. This can tell you if you are finding success or if you need to make certain alterations. It is not uncommon for businesses in the same industry to rank for the same keywords. However, it is best to also rank for new keywords that your competitors do not target.
Learn more about local SEO here!
Publish Quality Content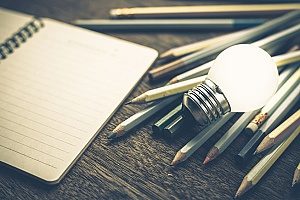 You should consider it an important responsibility to generate new industry-specific content on an ongoing basis. While you do not need to publish multiple blogs a day, having fresh content on your website will encourage visitors to come back to the site for more information. The content you publish can also be optimized using your list of Northern Virginia keywords. While placing keywords and keyphrases strategically throughout your content can be highly useful when optimizing a web page, you do not want to make the mistake of keyword stuffing.
While keyword stuffing can have short-term success, the search engines can penalize your site if your keyword density is too high too often. Publish content that appeals to your audience in Northern Virginia to generate more traffic and rank higher for local keywords. Avoid publishing the same information multiple times, however, as multiple pages on your site can overlap and compete against each other in SERPs, mostly preventing either page from ranking.
Optimize Your Meta Tags to Appear Locally in SERPs
A very critical part of Northern Virginia SEO is optimizing meta tags to best reflect the keywords used in the blog, as well as the copy of the blog in general. It is essentially your page's 'trailer' for users to understand what the page is about, and continue reading if they find it to be interesting. As seen below, the meta tags in search engines read as follows:

Meta Title
Page URL
Meta Description
When determining a meta title for your blog, you want to ensure that, based on the title, both your readers and search engines know exactly what to expect on the page. The page URL is as equally as important as it serves as a way for search engines to properly index and understand your page. For example, if your article was titled "How to Refinance a Home in Northern Virginia and the URL reads "/best-home-mortgages-fairfax/", it certainly would not make much sense to readers or search engines alike.
The meta description is essentially a brief summary of the page. While this defaults to the first few sentences in a page, it can be easily manipulated to include calls to action or a brief page summary. It is crucial to not only inform the user about the page in the meta description, but to also persuade the user. Though you are only given 156 characters to write a meta description with, you must ensure that it is well written and offers a reason for users to view the page. Use the space to inform readers as to what makes your content unique, as well as why users should click on it. However, DO NOT use false or misleading information to trick people into clicking on your page!
Update NAPs in Northern Virginia Directories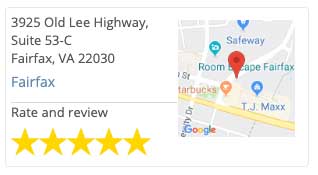 One of the best ways to enhance your Northern Virginia SEO measures is by checking the local online directories. Carefully read through the information in these directories to ensure that every piece of information listed about your business is correct and up to date. Remember that even a small error can have a negative impact on the SERP rankings of your website, which can consequently hinder your business's growth.
With nearly one-third of all mobile searches being in relation to location, having online directories with as much accurate information about your business as possible is beyond invaluable. In addition to a basic phone number and address (NAP citations), check to see if the directories have specific directions to your business and other critical information, such as hours of operation or public parking. Having correct information about your business in online directories can significantly increase the chances that a potential customer will decide to trust your business.
Fix 404 Errors on Your Website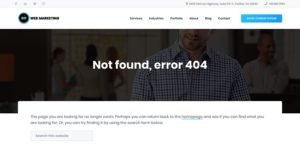 Having errors on your website is not only a major inconvenience to visitors, but can also have a negative impact on your local rankings. Among the most common of website errors is the 404, or 'Page Not Found' error. This standard response code is often triggered when the server is unable to find the information requested. A 404 error can occur for a number of reasons, such as when a person clicks on a dead or broken link, when permalinks have changed, or when the page that the person is looking for has been deleted.
Make sure you consistently monitor your website to identify 404 errors quickly and correct them so your online visitors can easily navigate your website and find the service pages they are interested in reading. Northern Virginia SEO is not all about optimizing your site content; it is also about ensuring the easiest user experience possible for website visitors so they spend less time accessing information and more time benefitting from it.
Contact a Northern Virginia SEO Agency
Ranking high in the search engines organically can be highly challenging, especially if you live in a bustling place like Northern Virginia where the competition is fierce. However, before you get started, you will want to know where you currently stand in the search engines. There are a number of convenient tools online that can help you check where a site page ranks and for what keywords. By using this information, you can help improve your site's organic search ranking and boost your site traffic.
If your business simply does not have the time or effort to employ SEO internally, it is highly recommended that you outsource your digital marketing efforts. 321 Web Marketing can serve as your marketing team, or work with your company's current marketing team, to devise and implement a custom digital marketing strategy for your business. For any questions regarding Northern Virginia SEO, or to request a digital marketing consultation, contact 321 Web Marketing today. Start seeing more business in Northern Virginia today!
Our Favorite Northern Virginia Areas To Optimize
UPDATED: April 29, 2019