As the marketplace continues to evolve at a rapid rate, insurance agencies must find new and innovative ways to reach prospects. In years past, businesses could get by with flyers, cold calling, or even door-to-door sales. Today, this is no longer a viable option. According to Global Digital 2019 report, there were an estimated 4.39 billion internet users in 2019. As more and more consumers use the internet to find goods and services, the ability to increase insurance lead generation over the web is essential.
Insurance Lead Generation Strategies & Methods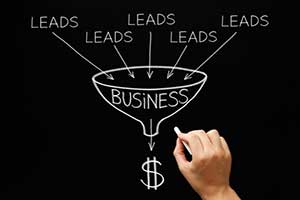 Having your business highly visible online is the best way to maintain relevance in the insurance industry. When a person is searching for insurance for themselves or for their company, you want them to be able to easily find your website with a quick internet search. Fortunately, this is easier than ever with the growth of the internet. There are a number of effective ways that insurance agencies can increase their lead generation. Here is a look at a few of these methods, as well as how to get started.
Produce High-Quality Educational Content
The content you publish on your website has more effect on prospects and customers than you might think. When you put out substandard content, or even worse, no content at all, it shows consumers that you don't know really know you're talking about, giving the impression that you are a mediocre business. Producing high quality informational content related to your services, in contrast, can boost the number of leads you receive.
Many web users will review an insurance agency's website and decide to do business with you based solely on the information they find. The better the quality of the content, the more of an expert you portray yourself to be which makes readers more likely to trust you with their insurance needs.

Figure 1.1 shows the top 4 visited pages for one of our insurance clients. All 3 pages are informational insurance related content which brings in an average of over 30,000 visitors per month.
Learn more about how to increase insurance lead generation through content marketing.
Release Monthly Newsletters
Just because you already have clients that use your services does not mean that the work is over. It is important to actively reach out to your existing client base to show them that you appreciate their business. Creating monthly newsletters is an excellent way to keep in touch with clients, and how them that you are attentive to their needs and concerns.
This can help show you clients that you care, and can be an effective way to share important information and to showcase other insurance products that your customers may be interested in.
Post Relevant & Informational Social Media Posts
These days, having a presence on social media sites like Facebook, Twitter, and LinkedIn is not only useful but absolutely necessary. Many web users look towards social media to find information about the services they need. Clients want to know that you are active on the web, and they can easily find out by looking at your social media posts. Social media posts are also an excellent way to share information about new products or updates, and explain how you can fulfill all of your customer's insurance needs.


For example, Figure 1.2 shows the average amount of website users to our insurance client through Facebook, prior to their social media marketing campaign. In Figure 1.3, you can see the significant increase in visitors from Facebook just one month after their social media campaign.
Develop A Mobile-Friendly Website
If you do not already have a website for your insurance agency, you need to get one immediately. Leads often search websites when they require insurance and are far more likely to do business with an insurance agency that has an established website that is easy to navigate and includes clear CTAs. It is not enough to just have a website, but for this website to be mobile-friendly, meaning accessible on smartphones, tablets, and other devices. Websites that are not mobile optimized appear to be outdated and are usually smaller brands, which may be untrustworthy in the eyes of customers.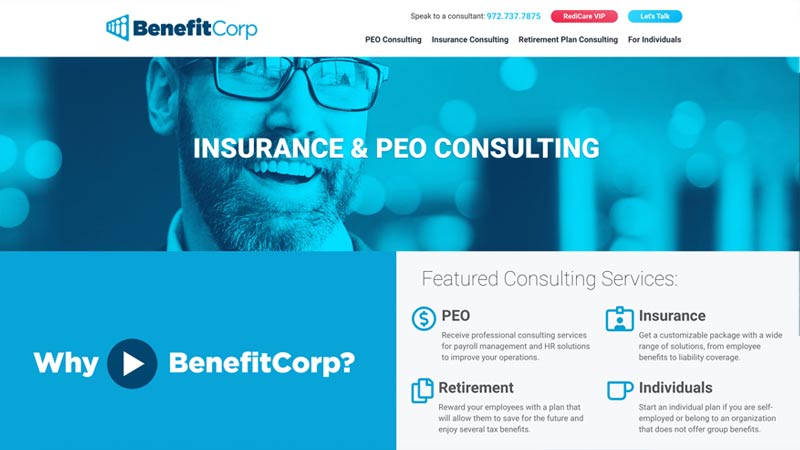 Figure 1.4
-
Desktop View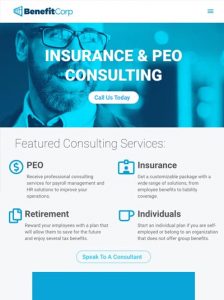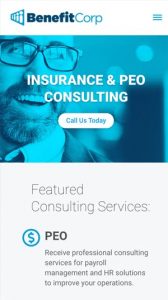 As you can see in Figure 1.5 & Figure 1.6, our clients website is mobile friendly on both tablets and phones. Not only does this increase the possibility of converting more leads, but it also easy to navigate and appears trustworthy to users.
Implement Proper Local SEO Techniques
Local search engine optimization (SEO) is the optimization of your website and other business pages to rank better for a local audience. One of the best ways to rank locally is by setting up an account on Google My Business. GMB is one of the most comprehensive and accessible directories ever made for businesses.
This free and easy-to-use tool allows businesses to more conveniently manage their online presence across Google, including Google Maps and Search. If you already have a Google My Business account, make sure that it is up-to-date and appears on the search engines when searched by local users.
Read more about the benefits of local SEO for insurance agencies!
Working With Insurance Marketing Professionals
Nearly everyone needs insurance, but many fail to acquire a policy due to lack of knowledge or failure to find the right services. This can be a great opportunity for insurance agencies, as they can generate and distribute meaningful content that educates prospects about the products and services they offer. This can then help them make informed decisions about their insurance needs, and (hopefully) choose to do business with your insurance agency.
For more information about how your insurance agency can establish a strong digital presence online, speak to the insurance marketing professionals at 321 Web Marketing today or schedule a free insurance marketing consultation.
Related Articles: