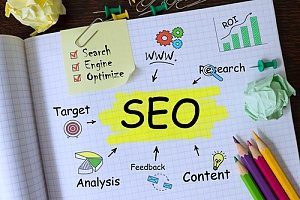 Local insurance SEO is but one of many critical components of a successful insurance digital marketing strategy. This type of search engine optimization (SEO) is geared toward helping the people in your local market find your insurance agency online and thus, consider your business for their insurance needs. A successful insurance marketing campaign involves researching popular keywords in your geographic area, creating localized content that targets the audience in that area, and promoting your business as the best local authority on insurance services.
Benefits Of A Local SEO Insurance Marketing Campaign
Local SEO insurance marketing campaigns can be helpful for both large and small insurance agencies, enabling them to attract a local clientele, engage with the local community, and set their business up for success. With that in mind, here are the top benefits your agency can see by utilizing a local SEO insurance marketing campaign.
Achieve Higher Rankings In Search Engine Results Pages
Like all SEO techniques, local insurance SEO services can increase your insurance agency's website's ranking online. Selecting keywords that relate specifically to your geographic area, such as city names, can help put your site in front of your local audience. Title tags, meta descriptions, and blog posts are all excellent places to insert local keywords, and doing so tells search engines that your website is a great (local) option for insurance services. This will dramatically increase the chances that you site shows up in the top page when a user searches for "best insurance agency in my area," significantly increasing your online exposure and (hopefully) your client base.
Increased Online Visibility Locally & Nationally
Brand recognition is another key factor in client conversion, particular for insurance agencies. When your site appears more regularly in search results, local users will become more familiar with your brand as you increase organic traffic to your website. The more familiar they are, the more likely they will do business with you (or refer you to friends and family seeking similar services). Thus, by consistently keeping your brand in front of your ideal audience, you can help your agency grow and ensure that people feel confident about doing business with your agency.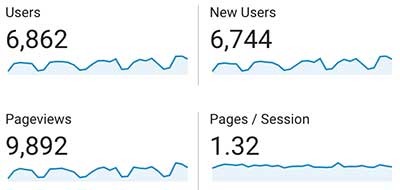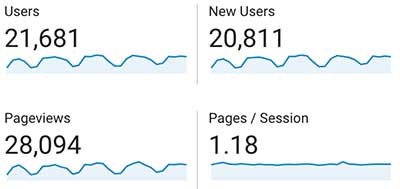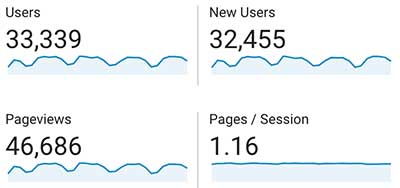 One of our insurance clients significantly increased their online visibility over the three years of their ongoing insurance marketing campaign. Figure 1.1 represents data for the average monthly users during year one. Figure 1.2 represents data for the average monthly users during year two. Figure 1.3 represents data for the average monthly users during year three.
Capturing Your Local Target Audience
Even small businesses can benefit from capturing a local audience. Marketing your company to specific geographic areas, no matter your size, can make your business appear larger than it really is. Not only that, but by demonstrating that your business cares about people–where they are located, as well as what services they need–you can compete with other agencies that might not take advantage of these techniques.
Appealing to local norms, knowledge, and activities in your insurance marketing campaign can also show residents that your company understands them. This can establish a deeper connection with your clients, providing a distinct advantage over large companies that tend to keep their distance.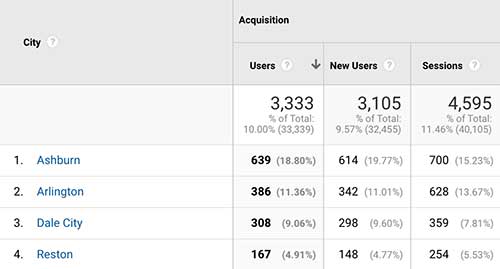 Figure 1.4 shows the average monthly local website traffic for one of our insurance clients during the first year of their insurance marketing campaign. Figure 1.5 shows the increase of average monthly local website traffic during year three of their campaign.
Converting More Qualified Leads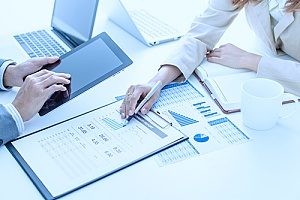 Did you know? Local insurance SEO has the highest conversion rates of all types insurance marketing. Online directories that display your insurance agency's name, phone number, and address often appear on the first page of search results when web users type in "insurance agencies near me." These directory listings are generally clicked on more frequently than any other data provided in the organic search results. Ensuring that your business is accurately listed among them can significantly increase your online exposure with as little as a few clicks.
Quality Local Backlinks To Your Insurance Website
One way to effectively drive traffic to your website and increase its search engine rankings is through backlinks. These are links on other reputable websites in your industry (not yours), such as directories and blogs that link back to your website and its content. Being featured on a website in this way constitutes as a strong recommendation from a brand or person that your business is a reliable one. Similar to getting an actual endorsement from a friend, backlinks help search engines determine that your website and content is high quality, giving it adequate reason to improve it search engine rank. Moreover, backlinks and endorsements from local businesses show that your insurance agency is a trusted member of the community, helping residents place their confidence in your agency and giving them good reason to consider you for their insurance needs.
Increased Engagement On Your Website
According to recent research, over half of people who perform a web search for a local business end up calling the business. This shows that people who are seeking local services are ready to buy. Perhaps they have already researched insurance in general and are ready to inquire about services, or they now have questions and figure a local agency will give them the right answers. In any case, catching your audience's attention at this critical stage can give your agency more opportunities to talk to potential clients and explain why they should do business with you.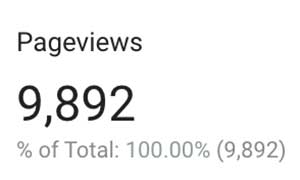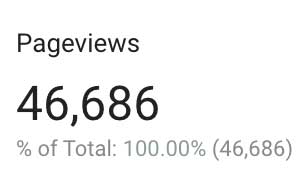 To show the effectiveness of local SEO for insurance agencies, Figure 1.6 shows the average monthly pageviews for one of our insurance clients prior to their insurance marketing campaign. Figure 1.7 shows the average monthly pageviews during their third year of their campaign.
Improving The Reputations Of Your Insurance Agency
Part of local SEO involves managing reviews. Search engines like Google use the number and quality of the reviews a business receives to determine whether the business is real, trustworthy, and relevant to searchers' needs. Encouraging clients to leave reviews for your insurance agency can increase your search engine rankings and also provide new clients with unbiased information regarding the quality of your services. What's more, if clients leave negative reviews, responding to them professionally shows that your agency is committed to getting it right and is willing to work to ensure that clients' needs are met.
Informational Insurance Related Content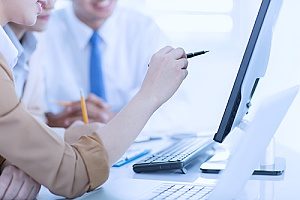 Great content is the cornerstone of a successful local insurance SEO strategy. That's because if your content is not worth reading (or sharing), it's not going to spread the word, grow your practice, or capture insurance leads, regardless of it's SEO value. Tailoring your content so that it aligns with the goals, interests, and values of your local audience shows that your agency is engaged with, and actively cares about, the local community.
Writing about the topics that locals are searching for most frequently can also show that your agency is attuned to their needs, further cementing brand loyalty. Through careful keyword research, an insurance digital marketing agency can create content based on frequently-searched keywords in your area, demonstrating that your agency is the most client-centric in town, and taking full advantage of local insurance SEO.
Reach Out To An Experienced Insurance Marketing Agency
Interested in implementing a local insurance SEO campaign for your insurance agency? Contact 321 Web Marketing for more information and to schedule a free consultation. 321 Web Marketing specializes in local marketing for businesses of all types and sizes. Each client receives a customized marketing plan based on their geographic area, local audience, search trends in their location, competition, and more. The agency is committed to providing clients with a steady stream of qualified leads within six months of launching a new campaign and continually monitors the results of each one to make updates when necessary.
Related Articles:
Updated February 21st 2020