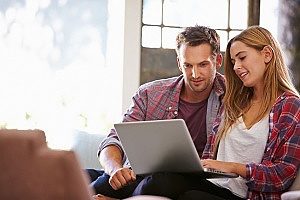 Local SEO Services are an incredibly effective way to tell your community (and Google) about your insurance agency. By placing insurance related keywords which are frequently searched, throughout your website and within the content you generate, you can begin to rank higher in search engine results pages (SERPs) for those terms.
In addition, listing your insurance agency on various online directories and placing localized insurance content on your website can help increase your number of clients by showcasing your services throughout the area.
Top Local SEO Services For Insurance Agencies
The benefits of local SEO for insurance agencies are endless, and by not engaging in local SEO your insurance agency is missing out on valuable leads right in your own backyard. Read more about the six ways a local SEO campaign can target your local audience and how it can benefit your insurance agency over time.
1. Informative Insurance Specific Content Generation
Content marketing and continuous content generation is the foundation of for all successful insurance marketing SEO campaigns. Researching, planning, writing, optimizing, and publishing insurance specific content can all be performed in house or with the assistance of an experienced insurance marketing agency. Content marketing begins by performing targeted keyword research to determine what keywords local users are searching for when seeking more information about insurance. Once proper keyword research has been performed, a strategy of what content should be created and when is planned out.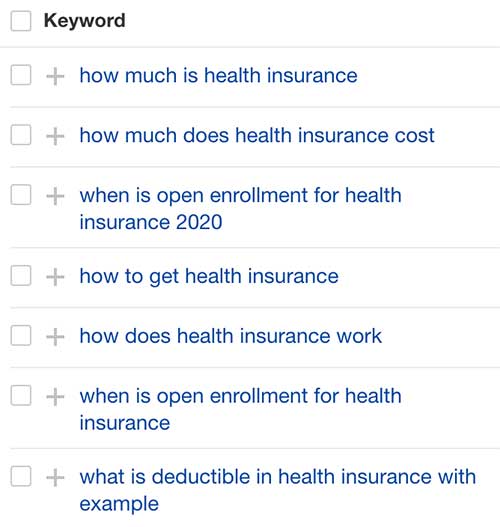 Figure 1.1 shows a list of health insurance related keywords and questions which users search for most every month. Creating content that answers these questions boosts the likelihood of ranking for "health insurance" and provides users with the answers they are seeking.
When content generation starts to take place, the keywords that were identified during the researching process need to be included within the content. After the content has been generated, it requires on-page optimization, such as internal linking, images throughout the text with keyword rich alt text and proper HTML header tags. It is important to note that continuous content generation is the key to reaching and capturing potential leads.
2. Consistent NAP Auditing & Clean-up
The consistency of your insurance agency's name, address, and phone number (NAPs) is a key contributing factor to how well your site ranks locally. Your NAP is shown in online directories, reviews, articles, and more. As such, having accurate information about your agency throughout the web can help your site appear higher in SERPs since search engines will consider multiple instances of the same information to be accurate.
In addition, it can also help customers reach your insurance agency more easily, promoting trust and potentially increasing your client base. It is therefore important to ensure that your online citations are accurate and up to date through by performing regular SEO audits.

Figure 1.2 shows an example of a NAP citation audit for an agency who has multiple errors with their existing directory submission.
3. Management of Online Reviews & Ratings
Online customer reviews on sites like Yelp and Google, can be a source of stress for many business owners. Having a substantial amount of real reviews encourages search engines to view your site – and business – as a reputable one. Search engines know that thousands of five-star reviews are unrealistic, so they factor this into their algorithm, among a plethora of other variables. In fact, having only 5-star reviews is considered a form of spam and can actually decrease your SERP ranking, so there is little reason to worry if you have a few negative ones in the mix.
In addition, encouraging clients to leave reviews regardless of their experience can help boost your rankings. By responding to these reviews, you can show customers that your agency cares about their needs and is engaged in the community, curbing the impact of any negative reviews. Local SEO services can help direct more clients to leave a review on your site or any other review site.

Figure 1.3 shows one of our insurance clients Google My Business reviews. They have a combined rating of 4.8, which appears (and is) credible to Google and other users.
4. SEO Title & Meta Description Optimization
When your insurance website appears in the SERPs, searchers will see the title of the page and a short description of the page below it in what is known as a "meta-description." Creating titles and meta descriptions that accurately reflect the content of each page on your site can help boost the SERP rank of each page. They can also increase traffic to your website by providing web users with an accurate expectation of the type of insurance-related information they can expect to find on the page once they click on it.
To increase the likelihood of catching the attention of potential local clients, include the name of the area you serve in the title or meta description. Titles and meta descriptions are the first impression potential clients see of your business; therefore, having elements that are descriptive and keyword-rich presents your insurance agency to them in the best light.

An example of a well optimized SEO title and meta description is shown in Figure 1.4 for our client, BenefitCorp.
5. Mobile Friendly Website Development
Think of how much time you spend looking up information on your phone. Your potential customers are likely spending just as much time consulting Google, pulling up web pages, and reading on their own phones. They are unlikely to trust a business with an outdated, non-responsive website, as it may be perceived as belonging to a business that is unaware of how to effectively operate in the modern world.
Fortunately, an insurance marketing agency that offers local SEO services can build a professional-grade website for your agency that fully optimized for mobile-browsing. Having a well-designed website that is easy to navigate and tailored to meet the needs of your local audience will encourage potential customers to spend more time on your website and learn about the services you can provide. Mobile websites are therefore a key way to ensure that your message reaches the surrounding community.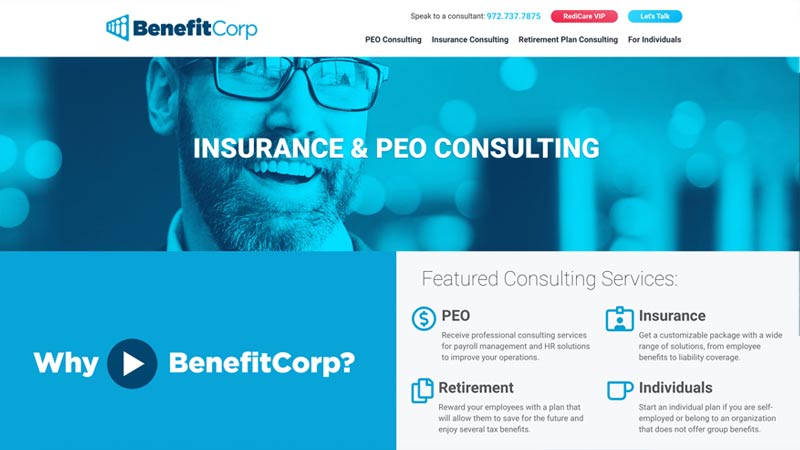 Figure 1.5
-
Desktop View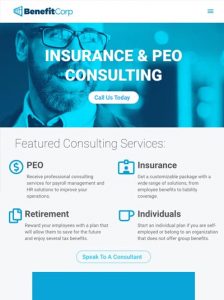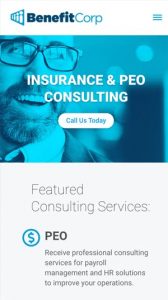 Figures 1.5, 1.6 & 1.7 shows our mobile friendly design for BenefitCorp when viewed on a desktop, tablet and phone, respectively.
6. Lead Generation & Source Tracking
Local SEO services are only as effective as their results. It is therefore important to set measurable goals and to track your insurance marketing campaign throughout its duration. For example, you may want to measure the increase in website traffic, effectiveness of various keywords, or number of new local clients signed since your marketing campaign began.
Insurance marketing agencies can also provide a wealth of information, from how many individuals have clicked on a link to how many have simply seen it in the search results. Using a wide range of relevant metrics to evaluate your marketing plan will help your insurance marketing agency determine the best ways to improve its efforts and continue and maximize your potential client reach.

Figure 1.8 shows a monthly lead generation report provided by 321 Web Marketing for one of our insurance clients.
Speak To An Experienced Insurance Marketing Agency
Speak to a professional insurance marketing agency for more information regarding your local SEO campaign! 321 Web Marketing is a Northern Virginia-based insurance marketing agency that has extensive experience in helping insurance agencies and other businesses create effective SEO campaigns. Our digital marketing experts can assist with other local SEO services such as email newsletters, outreach marketing and social media marketing to further expand your marketing reach.
321 Web Marketing can work with your existing marketing agency or develop a new insurance marketing plan from scratch to help your agency reach its goals. Call us at (703) 810-7557 or contact us online to schedule a consultation and get started on a path toward doubling your conversions today.
Further Reading:
Updated on April 22nd, 2020