More than 74,000 individual search terms are typed into Google every second, according to Internet Live Stats. Approximately 67 percent of all clicks go to the first five organic results. What does that mean for business owners? It all boils down to getting your website at the top of the search engine result pages (SERPs).
Organic search results are determined by a complex algorithm created by Google, the largest search engine in the world. While Google's exact algorithm remains a secret, the multinational technology company has confirmed several ranking factors. These include site loading speed, brand presence, on-page SEO (keywords you use on your page) and off-page SEO ("backlinks" or number of external site pages that link to a specific page on your site).
So, what exactly is SEO? It stands for search engine optimization which refers to the process of optimizing your online content to encourage search engines to show it as a top result in the SERPs. SEO has the power to increase the quality and quantity of web traffic by improving the visibility of a website or webpage to online web users.
In 2020, it is important to rethink your SEO strategies. As new trends, algorithm changes and technological advancements run rampant, business owners must take the initiative to reexamine what they know about SEO and develop a new strategy designed to dominate their competition in the search engines. Start with this SEO guide.
Think Outside the Keywords and Focus on Intent
Anyone that knows anything about search engine optimization has heard that SEO and keywords go hand-in-hand. Many people still believe that SEO content involves adding a target keyword and close variations of the keyword to an article or blog post a specific number of times. Some also believe that adding that keyword to certain places, such as the title tag and meta description, would result in a boost in the SERPs.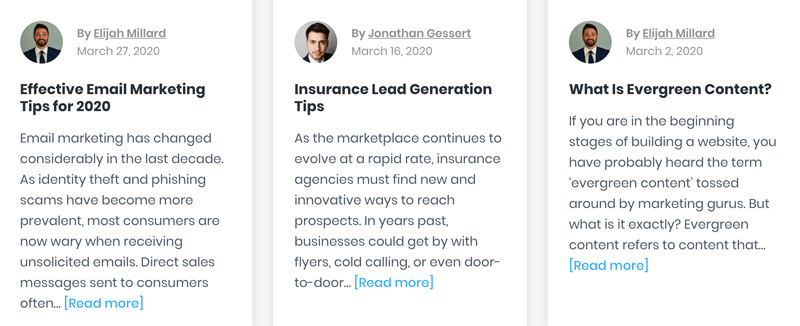 We have recently started optimizing our content for searcher intent in favor of keywords.
However, this is no longer the case. Google has modified its algorithm and while keywords still play a role in SEO, they are not the focus of good optimization. Instead, business owners should focus on intent. Searcher intent is a major component in SEO in 2020. When creating web pages and content online, it is important to focus on fulfilling the needs of customers. Without your customers, you would not have a business.
When posts lack searcher intent, the results are often lackluster. Unfortunately, many marketers continue to struggle with user intent. While this topic can be complex, it can be learned over time. Start by simply thinking about your topic and conduct a basic Google search. Look at the results and see what type of websites fall at the top of the SERPs. The intent of the keyword you typed into Google should be evident in the results. Google should return a list of websites that best meet the perceived user intent.
Optimizing Results for Voice Search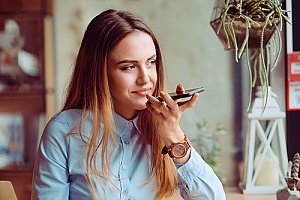 While voice search first began as a small, simple concept, it has quickly grown to become one of the most widely-used search tools in the industry. Today, voice search can be found on all types of devices ranging from smartphones to voice assistants. As the number of digital voice assistants expected to more than double over the next few years, it is critical to create content that is optimized for this technology.
You may be wondering how voice search is different than traditional typed searches. The main difference is that voice search keywords tend to be longer and more conversational in nature. For example, on a desktop you might type "banana bread recipe." However, on your voice assistant device you would probably say, "Alexa, how do I make banana bread at home?" As the voice keywords are longer than traditional keywords, you must consider how these keywords are researched for content.
When preparing keywords for voice searches, it is important to keep a few things in mind. First, question keywords should be targeted. It is important to include question words like "when, what, how, where and why." Next, do not forget to include long-tail keywords. These often complete a question and should be optimized for voice searches. Finally, it may be necessary to include some filler words. These are words that make a voice query more conversational and include words like "the, I, to, of and for."
Creating Clickable Content with Power Words
Looking to give your conversions a boost? Try adding power words to your content. Power words are defined as words used to trigger an emotional or psychological response. Their name comes from the fact that these words are so persuasive that most people cannot resist being influenced by them. While there are countless power words that you can use in your content, some of the most commonly used include "bonus, proven, exclusive, now, results and guarantee".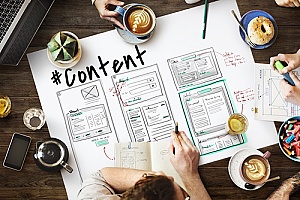 To create content that people will actually want to click on and engage with, you need to have these types of power words in the title of your content. The great thing about power words is that they are highly versatile. For example, the power word "powerful" could refer to marketing, medicine, hospitality and many other industries. There are three main types of power words that you may want to consider using to increase your CTR and boost conversions. These include:
Seductive Power Words. When you use seductive power words, your readers are drawn to take action. These words tend to override logical reason and compel users to act in a way that benefits your business. Examples of seductive power words include "new" and "free."
Emotional Power Words. As the name might suggest, emotional power words are words that evoke emotions. These words are so powerful simply because of how humans respond to emotional stimulants. Some examples of emotional power words include "scientific" and "admiration."
Sensory Power Words. Sensory words are designed to paint a picture in your reader's head. This is achieved by triggering a sensory response that helps your reader hear, see, smell, feel and even taste your words. Some examples of sensory power words include "gloomy" and "shimmer."
Every Link To Your Website Counts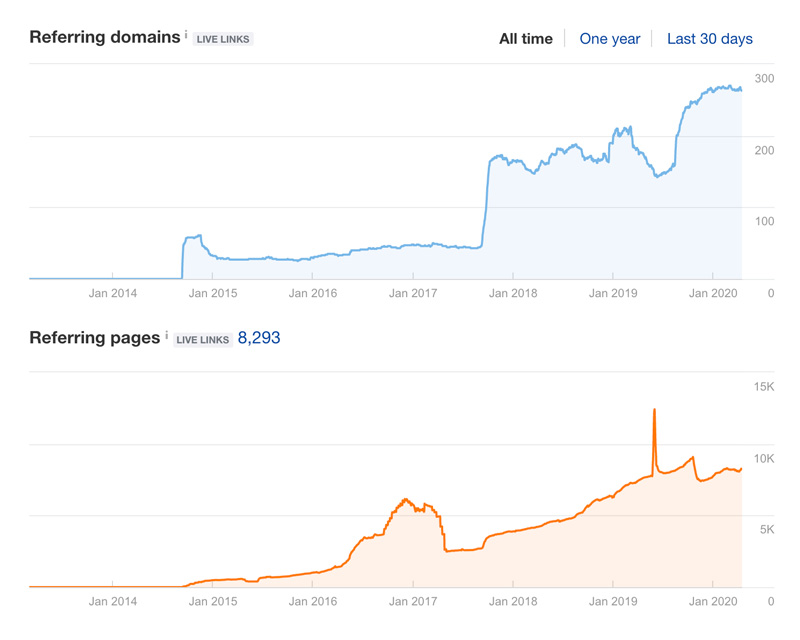 321's referring domains and referring pages (Sep 2014 – Apr 2020)
Link building remains a critical component of good SEO. This process of getting other websites to link back to your site can help drive referral traffic and increase the authority of a website. While search engine algorithms continue to change and evolve, link building remains an essential factor in how sites are ranked and for which keywords. In addition, links influence how Google views the quality of your site. Therefore, websites that have many quality backlinks tend to rank higher in the SERPs.
There are right ways and wrong ways to build backlinks to your website. If you want to maintain long-term viability to your site, it is important to only engage in natural link building. This means earning your links rather than buying them or gaining them through certain manipulative tactics, such as black-hat SEO techniques. There are many ways to get other sites to link to you, such as creating compelling content, putting your products or services in front of influencers or by asking people you know to link to your site.
While backlinks are one of the most commonly used link types and among the most important, it is not the only type of link you need to consider when building your website. Outbound links, also known as external links, are a type of link that goes to another part of your domain. Interlinking, also known as internal links, is a type of link that goes from one page to another in the same domain. Internal links are often used for navigation purposes, to reduce bounce rate and to encourage readers to stay on your website by going from one post to another.
Build It Mobile to Build It Better
Today, nearly everyone searches the web from a portable device like a cellphone or tablet. This has made it increasingly important for businesses to create and maintain a mobile-friendly website. Having a mobile site helps customers reach you more easily while they are on the go. Mobile sites can also impact your SEO efforts.
Recently, Google introduced a new feature designed to inform web users about whether or not a website is mobile-friendly. This is likely to encourage users to click on sites that are specifically labeled "mobile friendly."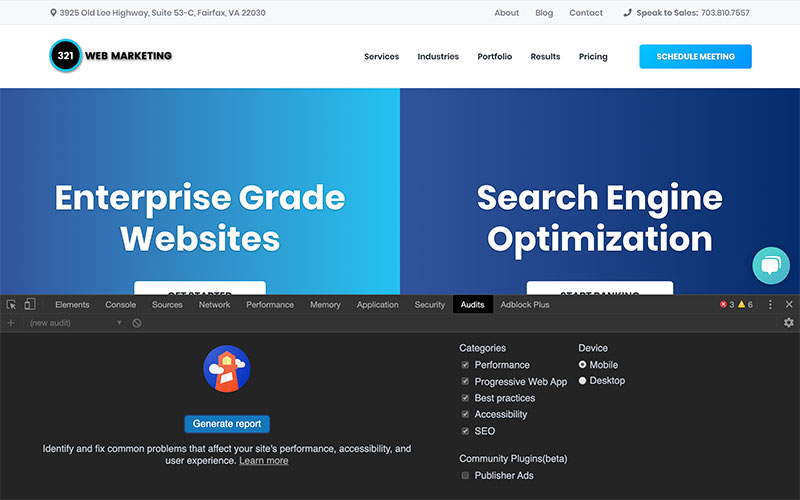 If you want your website to appear as "mobile friendly" in the SERPs, you may need to make changes to your site. First, you need to implement a responsive design that changes its layout automatically based on the type of device the person is using to read the page. Google has also published other criteria that webmasters must meet, such as using text that can be read without zooming, avoiding the use of software not commonly used on mobile devices (e.g. Flash) and putting links far enough apart that they can be easily tapped.
Consult with 321 Professionals on Achieving Your Goals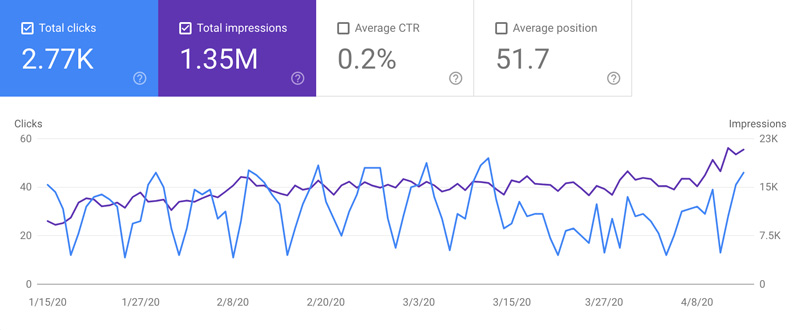 321's clicks and impressions (Jan – Apr 2020)
Each year Google and other major search engines roll out new changes that affect websites and their ability to maintain a spot at the top of the search engine result pages. This year is no different. Major SEO trends for 2020 focus on new technologies like voice search, the use of power words and the steady move towards mobile-friendly websites, among many others.
Implementing all of these changes at once can be highly difficult, especially for busy business owners. That is why many growing businesses rely on experienced web marketing agencies to help them reach their goals. To learn more about the impact of SEO or for assistance with website design or marketing, contact the SEO experts at 321 Web Marketing.
Articles To Enhance Your Knowledge Of SEO