You may be familiar with digital marketing but do you know the difference between on page SEO and off page SEO? Each works differently to help make your website appear more authoritative in the eyes of Google which in turn raises the ranking of a page in the search engines. What is off page SEO, exactly? It refers to the measures that can be taken outside of a website to improve its position in the rankings. Although many people associate off page SEO with link building, the process goes far beyond that.
On Page SEO vs Off Page SEO
The main difference between on page SEO and off page SEO is that on page search engine optimization focuses on internal (backend of website) processes while off page search engine optimization focuses on external processes. The primary goal of on page SEO is to optimize your website for search. This may include structural changes which allow search engines to crawl and index web pages more efficiently, revising code like HTML tags, and optimization of content by inserting specific keywords into blog posts and menu items.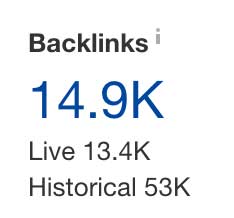 The main objective of off page SEO is to build backlinks 'back' to your website from external sources across the web. When it comes to backlinks, quality trumps quantity every time. By acquiring the backlinks from the right sources, you can make your website appear as a more authoritative source, greatly encouraging search engines like Google to rank you in the top-tier of search rankings. Off page SEO is primarily done outside of the website and focuses on promoting the site using the web. In addition to backlinking, other off page SEO strategies include search engine submissions and directory submissions which can help web crawlers more easily find your website.
What To Look For In Backlinks
There are a number of factors that can influence the quality of a backlink. As backlinks are essentially the backbone of your off-page SEO efforts, it is important to carefully build high-quality backlinks that will direct others to your website while also making your site appear trustworthy by Google.
Backlink Relevance
One of the most important characteristics of a great backlink is its relevance. When you acquire links from pages and domains that are not relevant to your business or the products/services you offer, Google will often see these links as low value. Instead, you want to build backlinks that specifically reference your products or services, or links that provide your readers with additional information.

Domain Authority Consideration
It's also important to consider a websites' 'domain authority' when building backlinks. As a general rule of thumb, the higher the domain authority, the greater the value of the backlink. Backlinks from high authority websites (high quality sites with thousands of backlinks) show to Google that your website is high value too. For example, a backlink from Business Insider shows that your website is much more valuable than a backlink from a personal business blog that gets a low amount of traffic.
Backlink Variety
Google favors websites that have a broad range of backlink types. Ideally, you want to have the best backlinks available, or at least good backlinks. Steer clear of backlinks from sources that could potentially hurt your website rankings. The three main types of backlink qualities include:
Best backlinks: This refers to webinar backlinks, editorial backlinks, and free tool backlinks, among other highly authoritative sources. Google appreciates websites that provide their users with additional resources.
Good backlinks: Examples of good backlinks include guest post backlinks, comment backlinks, and press release backlinks. Of course, the more popular and authoritative the site, the more likely you are to see results from your backlinking efforts.
Bad backlinks: Bad backlinks may include paid backlinks, forum spam backlinks, and backlinks from irrelevant directories. Be sure to avoid backlinks on these types of sites as they can make your website appear spammy in the eyes of search engines. This can also be considered a Black Hat SEO technique.
The link anchor refers to the word or words that are hyperlinked back to your website. Your link anchor should provide readers with enough value that they know what they will likely find when they click on the link. Hyperlinks placed in content should provide readers with additional information and value in the event that they want to learn more about the subject of the content.
Speak To The Off Page SEO Experts
While off page SEO is among one of the most difficult aspects of search engine optimization, it also holds the most value. Attempting to acquire high-quality backlinks yourself can be highly challenging and can take a long amount of time to acquire a decent amount. By working with a highly experienced off page SEO team, you can build quality backlinks quickly and efficiently.
For more information about off page SEO or for assistance building high-quality backlinks for your website, contact the experts at 321 Web Marketing now!