According to research from American Bar, approximately 40 percent of all law firms do not have a website. An additional 35 percent have not engaged in any type of online marketing in at least three years. Law firm SEO services are specifically tailored to attorneys and law firms looking to increase their organic search results rankings.
What Law Firms Should Be Looking For In A Law Firm SEO Company
Hiring a law firm SEO company can lead to major rewards for growing law firms. However, it is important not to rush through the process of choosing an SEO company. Not all SEO companies offer the same level of experience or professionalism.
In addition, some SEO companies make big promises or unrealistic claims that they can not back up. In other words, if it sounds too good to be true, it probably is. There are certain things that law firms can look for that may signify that an SEO company is likely to deliver quality and reliable services.
Their Experience & Current Client Base
One of the first things a law firm should look for when comparing SEO companies is experience. The length of time that a company has been running is often indicative of their experience level. SEO companies that have served many customers are more likely to deliver superior services as they have gained a solid understanding of what customers are looking for in SEO services.
In addition to experience, review the company's current client base. Experienced SEO companies are able to handle working with multiple clients at a time without sacrificing quality. It can also be helpful to read the latest testimonials from clients.
Rankings Of Their Law Firm Clients
In SEO, ranking refers to the position of a website's content in the search engine results pages (SERPs). Law firm SEO companies offer a variety of services that aim to help law firms rank higher, such as optimization of voice search, mobile design and the creation of high-quality content.
When successful, these tactics can help law firms rise to the top of the search engine results page. Determining how successful an SEO company is in ranking their law firm clients can give new law firms an idea of how well they will rank for similar keywords and phrases.


Figures 2.1 & 2.2 shows keyword data for Johnson & Masumi and KPPB LAW. Johnson & Masumi ranks #6 nationally for "IR1 Visa" and KPPB LAW ranks #5 nationally for "Construction Attorney".
Online Reviews From Past & Current Clients
In a highly digital world, it is now easier than ever to learn about a law firm and the quality of their services. When comparing law firm SEO companies, check online reviews from both past and current clients. While every law firm will experience the occasional 'disappointed' customer, an SEO company that has many negative reviews is a red flag.
Carefully read through reviews to determine the company's strengths and weaknesses, as well as their level of customer service. Online reviews from real clients can also give new law firms the chance to see how the SEO company operates and whether they are a good fit.

Figure 3.1 shows a Google review from Geddes & Company, P.C.
Law Firm Content Published & Their Expertise Given
The content published by a law firm SEO company can reveal a lot about their professionalism and level of expertise in the industry. An SEO company that claims to specialize in law firm SEO services should have content published on the subject on their blog and possibly other places, such as their social media accounts.
Read through the content that the SEO company publishes to see what knowledge they possess and the strategies they typically use when delivering services.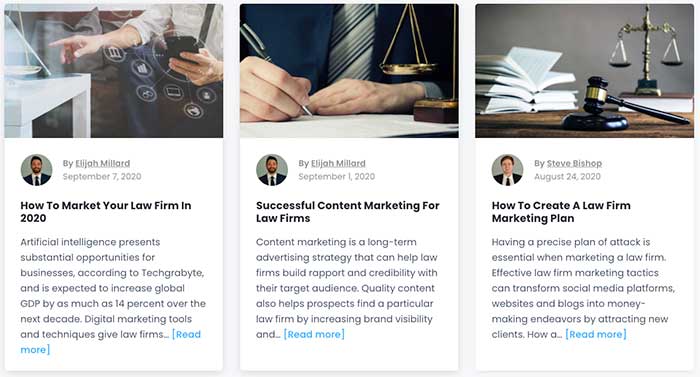 View All Law Firm Blogs
Figure 4.1 shows a few law firm blogs published by the law firm marketing experts at 321 Web Marketing.
Review Of Their Law Firm Website Portfolio
Another place that potential clients should look before hiring a law firm SEO company is at the company's website portfolio. A well-constructed law firm website portfolio should include numerous examples of work done for other law firms.
There may be photos of websites created by the SEO company and images of how these websites look on laptops, tablets and smartphones. An SEO company may also explain how the project was approached and what solutions were applied to reach a satisfactory outcome for the client. There should be a link to the example websites so that potential clients can get a feel for what they can expect when they hire the company.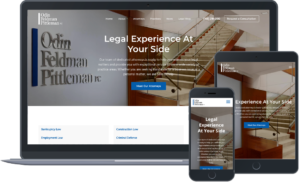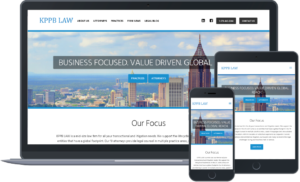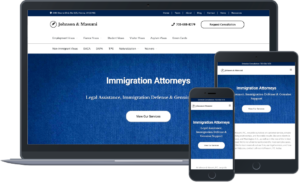 View Our Portfolio
Figures 5.1, 5.2 & 5.3 show the desktop view, tablet view and mobile view of a few of our law firm clients.
Speak To An Experienced Law Firm Marketing Agency
After choosing a law firm SEO company, it is time to schedule a consultation. During the consultation, ask questions and discuss the unique needs of the law firm. An established SEO company will have an array of SEO services available to help law firms meet their goals.
For more information about law firm SEO services or to speak with a qualified SEO specialist, contact 321 Web Marketing.
Related Articles: