The field of personal injury law is highly competitive. To remain relevant in a crowded marketplace, it is essential for law firms to stand out. The right law firm marketing ideas can help personal injury attorneys connect with their target audience and generate steady traffic to their websites.
Top Law Firm Marketing Ideas For Personal Injury Attorneys
Marketing is essential for all law firms as it helps customers understand why one firm's services may be better suited to their needs as compared to a competitor's firm. There are many ways that personal injury attorneys can market their firms.
Create Service Pages For All Personal Injury Cases
When hiring a personal injury attorney, potential clients typically want to know exactly what services a law firm offers. This information can easily be found on a website's service pages. A service page is one of the most vital pages on a website as it reveals what makes a law firm unique. Ideally, a website should contain several service pages, each with their own topic.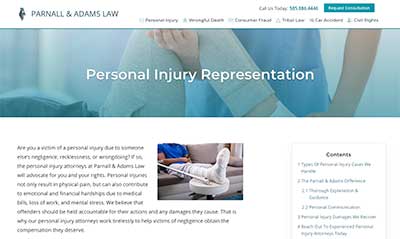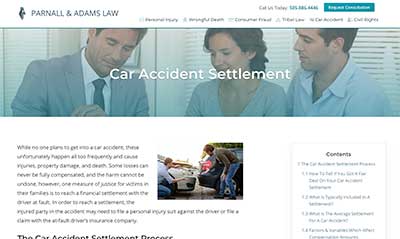 For example, a personal injury lawyer may make a service page for each practice area, such as car accidents, bike accidents, boating accidents, workplace accidents, sexual assault and pedestrian accidents. Figure 1.1 shows the personal injury service page and Figure 1.2 shows the car accident service page for Parnall & Adams Law.
Optimize Google My Business
Google My Business (GMB) is used by businesses to manage their online presence. This free and easy-to-use tool enables businesses to appear in Google Search and Google Maps on both desktop and mobile devices.
Optimizing a Google My Business account can make it easier for potential and existing clients to easily find information about the law firm, such as its address and phone number, as well as reviews from past clients.
All information on a GMB account should be up-to-date and complete with core law firm data like hours of operation, website and a description.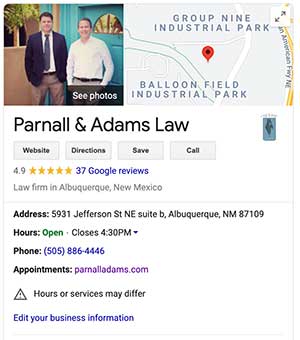 Create Clear & Actionable CTAs
A "call to action," also referred to as a CTA, is a phrase used to guide a reader to take an action. Sometimes a CTA is short and simple, such as "Call Now," while other times it is a sentence or two explaining what action to take and how, along with a clickable button or hyperlink. A strong and clear call to action encourages readers to act by providing a source of motivation. CTAs should not be distracting or too complex as this can cause readers to lose focus on the task at hand. Instead, a CTA should be highly direct and written in a concise manner that does not leave any room for confusion.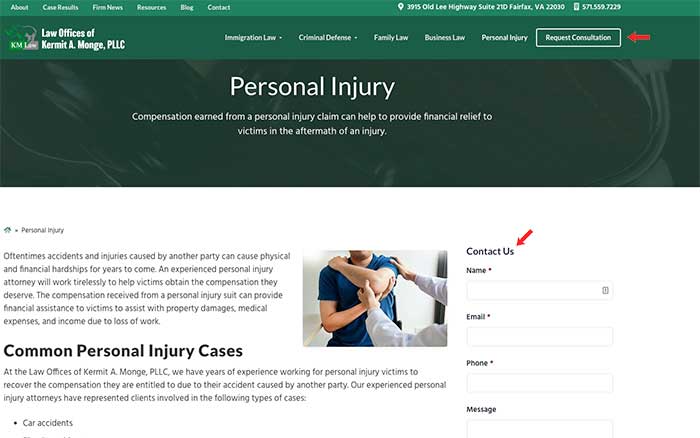 Figure 3.1 shows a screenshot of the personal injury service page for Kermit A. Monge with arrows highlighting strategically placed CTAs to promote action and conversions.
Share Content Across Social Media Platforms
Social media platforms like Facebook, Twitter and Instagram make it easy to connect with a target audience and share important information about a brand. Engaging content shared on social media platforms can help increase engagement for a law firm and boost sales. There are many different ways to leverage content marketing, such as sharing user-generated content from fans or followers, polling an audience, posting digital videos and hosting contests and giveaways. Personal injury attorneys should also share evergreen legal blog content with a direct link back to their website.
Create Geo-Pages For Areas Served
Law firms with multiple locations or that serve numerous cities can use geo-pages to increase online traffic and convert more leads. Geo-pages, or location pages, act as unique landing pages that provide potential customers with an opportunity to locate a law firm location in their area.
Geo-targeted content is often created for each individual area or city to attract potential customers in that region. Law firms can rank for several location-specific keywords at a time using a single landing page. Over time, law firms can branch out and implement specific keywords for certain locations as part of a comprehensive law firm marketing plan.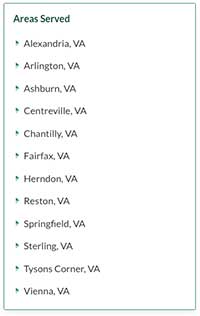 Generate Guides On The Personal Injury Settlement Process
One of the most popular types of content, guides are often considered in order to find detailed information about a particular subject. In the legal field, individuals involved in a personal injury case may seek out a guide to learn more about the personal injury settlement process and what it generally entails. Generating a complete and compelling guide on this subject can help draw in potential clients who may be interested in speaking to a personal injury attorney after becoming familiar with the settlement process.
Learn More From A Professional Law Firm Marketing Agency
Personal injury attorneys must constantly strive to reach new clients and get their brand out into the world. A well-developed marketing plan can help law firms achieve their objectives by generating interest online and optimizing websites for both humans and search engines. For more law firm marketing ideas for personal injury attorneys or to speak with a professional law firm marketing agency, reach out to the digital marketing experts at 321 Web Marketing.
Related Articles: