Running a successful law firm requires a detailed analysis of sales, finances and similar results. This is commonly achieved through the tracking of law firm metrics, otherwise known as KPIs (key performance indicators). Law firm metrics aim to show the progress of a law firm's business goals.
Law firms often turn to metrics as a way of pinpointing areas of improvement and identifying problems that may prevent a law firm from reaching its goals. Reviewing law firm metrics, measuring data and establishing KPIs can help law firms see how they are performing, improve decision-making and track wins.
Why Is It Important To Track Metrics?
Tracking metrics can help a law firm reach their organizational objectives by aligning people and business processes with specific goals. Companies can employ a wide range of metrics, such as those for safety, legal or contractual purposes. Metrics should support business strategies in all aspects of a business, including finances, competition, marketing and customer requirements.
Top Law Firm Metrics To Track
Data-driven decisions can help guide a law firm in the right direction. Analyzing and reviewing key metrics can encourage a law firm to make informed decisions that help the law firm grow and thrive.
Some of the top law firm metrics to track include the following:
Number Of Ranking Keywords & Their Positions
Strategic keywords are used to help a website appear in search engine results for specific words or phrases. The higher that a website ranks for relevant keywords, the more visibility it will gain from potential customers. To improve this metric, it is important to do research to determine which keywords users are searching for in connection with the law firm. In addition to tracking the number of ranking keywords, it is also essential to track the position of these keywords. Some keywords are more effective than others in drawing in an audience.

Figure 1.1 shows a table view of organic keyword growth and position movement of tracked keywords for Parnall & Adams.
New Users Coming To Your Site Each Month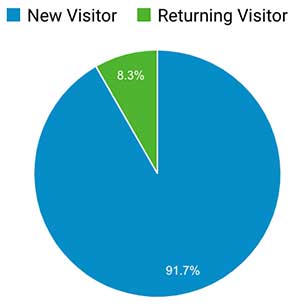 Another important metric to track relates to users on a website. Each month, a website may attract thousands or even millions of visitors. Some of these visitors will be people who have visited the site before, such as past customers. Others will be new users who may be unfamiliar with the law firm.
Tracking new users can help law firms determine the number of people who may be potentially interested in legal services. There are many user engagement metrics that can be useful for law firms to track, such as page views, bounce rate, time on page, pages per session and top exit pages.
Figure 2.1 shows monthly data for Johnson & Masumi for returning and new users to their website.
Conversions From Highly Trafficked Pages
Identifying pages on a website that receive the most traffic can tell a law firm a lot about what users are looking for when they search for a particular topic. Once a law firm understands which topics that their audience best responds to or finds most useful, they can create more content surrounding the topic which can increase traffic.
It is also important to look at the number of conversions from each page from leads, online sales, email signs, form completions and similar conversion types. Conversion rate optimization can be achieved when a law firm identifies ways to improve conversion rates by tracking and comparing metrics.
Sources Of Leads
Leads can be tracked to determine where users are coming from so that these results can be replicated. A bulk of a law firm's users may come from organic search. This refers to unpaid search results that are based on the relevance of the search terms rather than a paid advertisement. A lead may also come from a direct search, such as when a user who is familiar with a particular law firm directly enters the law firms name into the search engine. Leads could also come from referrals, competitors, former clients, social media or various other sources.

Figure 4.1 shows a graph of monthly leads filtered by source within 321 Web Marketing's lead system.
The Behavior Flow Of Users On Your Site
Business metrics are often used to better understand user behavior. The more that a law firm knows about their users, the better equipped they will be to make important decisions regarding their website, mobile applications and other investments. User behavior metrics can tell law firms a lot about users, such as what type of information users are looking at, what types of events trigger certain searches and what potential problems may be preventing users from completing a desired action.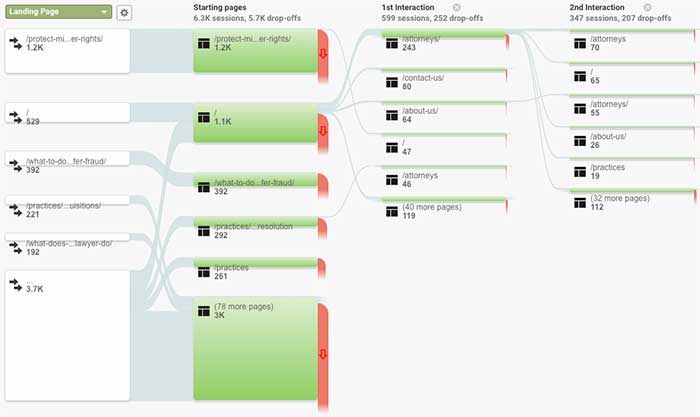 Figure 5.1 shows the monthly behavior flow of website users for KPPB LAW.
Reach Out To An Experienced Law Firm Marketing Agency
From revenue growth and fixed costs to contribution margin ratio and gross profit margin, there are many different law firm metrics that law firms can leverage for success. Choosing just one metric to track can be limiting; therefore, it is best to track multiple different metrics and work with an experienced law firm marketing agency to get a more comprehensive picture of where the law firm stands and where it can gain improvements.
For more information about important law firm metrics to track or for assistance with law firm marketing, reach out to an experienced law firm marketing professional at 321 Web Marketing.
Related Articles: