Artificial intelligence presents substantial opportunities for businesses, according to Techgrabyte, and is expected to increase global GDP by as much as 14 percent over the next decade. Digital marketing tools and techniques give law firms the results they need to gain a competitive edge in 2020. Law firm marketing involves more than just creating flashy ads. It is also about finding new strategies to attract and "wow" audiences in a way that keeps them coming back. Learn more about these strategies and how to market your law firm below.
Top Ways To Market Your Law Firm In 2020
Digital marketing has transformed the way that law firms connect with clients and prospects. Social media, email, text messaging and other communication mediums have made it possible for law firms to grow their brand and build lasting relationships with clients.
Here are just a few of the best ways to market a law firm in 2020.
Engage In Local & National Organic SEO
Search engine optimization (SEO) is a critical component of any law firm marketing campaign. Local search differs from national SEO as it focuses on specific locations and keywords, such as "law firms Chicago IL." Law firms that perform local SEO are able to rank higher for local search queries, which are often easier and more lucrative in terms of ranking. Law firms should engage in both local and national organic SEO to attract a wider audience.

Figure 1.1 shows the 1st page of search results for "Vienna immigration attorney", which our client Johnson & Masumi ranks #4 for.
Optimize & Post On Google My Business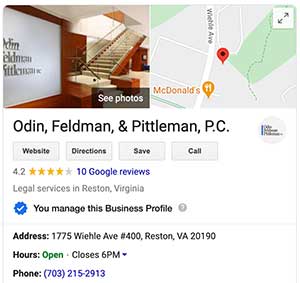 Google My Business (GMB) is a free and simple tool that businesses can use to manage their online presence across Google. When a consumer reaches a particular business on Google or searches for terms relating to the business.
A Google My Business account helps to ensure that the consumer is provided with all of the information they need to contact the company and make a purchase or acquire their services.
Figure 2.1 shows OFP Law's optimized Google My Business profile.


Submission To Local & National Online Directories
An online directory is a type of submission-based online service that allows businesses to secure their entry by "claiming" their listing. Many online directories are free and include information such as a company's name, phone number, address, website, hours of operation, social media accounts, photos and a short description of products or services offered. When marketing a law firm, it is important to submit firm information to both local and national online directories and to make any updates to current submissions if any company information has changed.
Create Informative & Quality Content
Content marketing is a useful law firm marketing strategy that focuses on writing and publishing relevant and valuable content to attract a defined audience. Content marketing can help increase client acquisition, enhance customer loyalty and improve cost savings. Quality content comes in many forms, such as a blog post on a website, a guest post on a website related to the business's brand, posts on social media or news updates via email.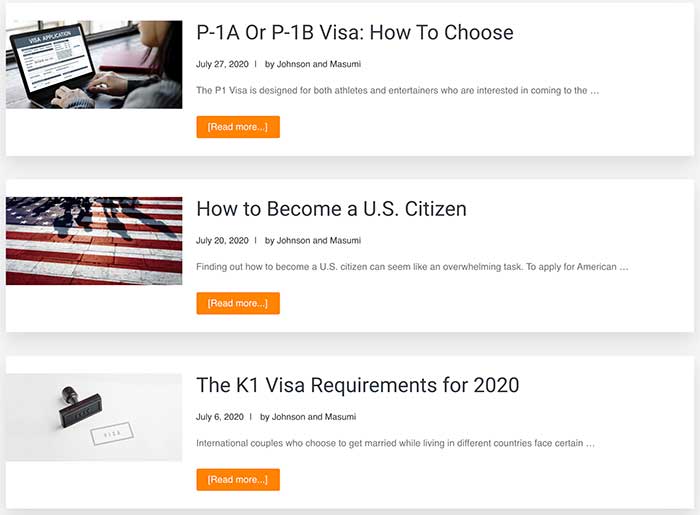 Figure 4.1 shows a list of informative and quality blogs written by Johnson & Masumi.
Be Active & Share Content On Social Media Platforms
Social media marketing has proven to be a powerful way for businesses of all sizes to reach customers and prospects. However, social media is only as effective as the effort a business puts into it. When businesses take the initiative to be active on social media, people will naturally interact with brands. Twitter, Instagram, Facebook, Pinterest and other social media platforms allow businesses to easily share content and interact directly with their audience to increase brand awareness and drive sales.



Figures 5.1, 5.2 & 5.3 show consistent social media posting and engagement from Parnall & Adams Law.
Send Out Monthly Newsletters
Newsletters are an important component of email marketing and can help brands grow by making an audience aware of the brand and the products and services they offer. Sending out a monthly newsletter is cost-effective and can lead to higher conversion rates. Email marketing can also help law firms establish themselves as an industry leader by showing their expertise and credibility in the field.
Hire An Experienced Law Firm Marketing Agency
It can be difficult to determine the best way to market a business online. However, an experienced law firm marketing agency can help businesses navigate different advertising options and build a successful campaign.
A law firm marketing agency will help to modernize an existing advertising strategy by providing services like website redesign and market research. Hiring a marketing agency will also free up time for professionals to run their firm and focus on other core business operations.
Speak To An Experienced Law Firm Marketing Agency
Marketing plays a direct role in the success of a business. Different marketing strategies are used by businesses of all sizes and in all industries to generate brand awareness, drive traffic and push sales. However, it can be challenging to market a law firm without the help of an experienced marketing agency. Seek assistance with marketing a law firm by reaching out to the professional law firm marketers at 321 Web Marketing.
Related Articles: