Digital marketing goes beyond putting together an amazing law firm marketing campaign. It's important to monitor the success of that campaign by using key performance indicators, or KPIs. These metrics help you define and reach your goals. A law firm marketing agency can help you develop goals that are well-defined, applicable to your business, and communicated effectively throughout your law firm to ensure they are met. Some KPIs, such as the number of people who need legal services each year, are ineffective because your firm has no impact over that number. Instead, a law firm marketing agency will help your firm focus on more measurable and specific goals over which your efforts could have significant impact. These include increases in web traffic, organic leads, keyword rankings, conversion or booking rates, and revenue.
Web Traffic
Increasing your web traffic is often the first step towards increasing your client list, making it a KPI worth tracking. People who visit your site are likely to gain a better understanding of your services and are also likely to be already searching for legal services similar to yours. You may choose to track how much time people spend on your website, how they are finding your website, or what search terms they are using to find your site. These numbers can help you redesign your website to include more relevant keywords or increase your efforts in driving traffic through various channels that have proven to be effective already.
Organic Leads
How many website visitors are finding your site as a result of your digital marketing techniques? Tracking leads that come to your site organically, without using paid search or other ads, can help your law firm marketing agency refine its SEO strategy to increase leads. Leads can be tracked by determining how many people sign up for email newsletters, how many unique visitors you get per month, or how many people fill out a contact form for more information. These KPIs can help you better understand what web users are seeking and what is causing them to show interest in your site, which in turn can show you which services to highlight in order to gain more customers.
Keyword Rankings
Because your site's position in search engine results could have an effect on the traffic your website receives, tracking how your rankings, click through rates, and organic traffic improve as a result of using various keywords in your content can be an especially important KPI. Ranking higher in search results also improves the perceived credibility and trustworthiness of your site, as most consumers tend to believe that the first page of results contains the most relevant links for their queries. There are several keyword ranking tools you can use to monitor your progress and understand where changes can be made to improve your rankings. Changing the keywords used on your website can be relatively simple, and updating sites more often can help your law firm keep up with new trends within your industry or current events that may be affecting your clients. Keeping up to date on the most relevant keywords should be a factor in any content marketing plan.
Conversion Rates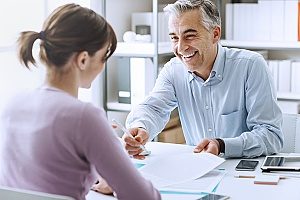 Conversion rates measure how many people either click on your links or become clients, depending on your goals. You can track how many click throughs you get from links in search results, how many comments or shares you get from social media posts, and how many people ultimately become clients after filling out a contact form. Tracking each of these metrics can give your law firm marketing agency a clearer picture when it comes to determining which marketing channels are returning the most reward on your digital marketing investment.
Revenue
The goal of nearly all forms of marketing is to spread the word about a business and increase its revenue. Tracking how much your revenue increases as the result of your marketing efforts can be a critical indicator of whether your campaign is successful. Tracking changes after your marketing plan is implemented can help give your law firm a sense of whether the plan is generally successful. In addition, you can ask new clients or people who contact your law firm for more information where they heard about your firm, providing you with more information about how they are finding your firm and which marketing channels are generating the most interest in your services.
Why Track?
Tracking your KPIs is an essential part of marketing. Understanding how each of your marketing channels is performing and whether your efforts are providing the results you desire can help your law firm marketing agency determine what strategies are working well and which ones need to be retooled. Making positive changes based on your KPIs can have significant benefits for your law firm. They may help you increase your firm's visibility and revenue, as well as the number of qualified leads and amount of revenue you receive. Tracking KPIs can therefore be the difference between a digital marketing strategy that wastes time and money or one that provides the results your firm needs in order to grow.
Working with a Law Firm Marketing Agency
Consult a law firm marketing agency regarding a complete digital marketing strategy for your firm. 321 Web Marketing can assist your law firm in tracking a wide variety of KPIs to improve your marketing strategies, increase your client list, boost revenue, and more. The agency's team of skilled marketers uses extensive research into your industry, competition, local landscape, and target customer base to develop a customized digital marketing plan and determine the best KPIs to track to help your meet your goals. 321 Web Marketing also monitors campaigns throughout their run to discover areas for improvement and make any changes necessary, ensuring that your website is always up to date and that the best and most relevant information possible is being seen by your target audience.