Google reviews provide online users with useful information that helps businesses stand out. These unpaid, voluntary online reviews are written by clients or customers who offer their opinions on a business's products and services. Google reviews appear next to a company's Business Profile in Maps and Search. While a customer review may not seem like much, it can make a big difference in how the online world views a particular business.
Google reviews are a proven way to increase the visibility of a company and can even push a business to the top of the search engine results pages (SERPs). Good reviews also influence potential customers into making a purchase. One of the greatest advantages of Google reviews is their positive impact on search engine optimization (SEO). Google reviews provide detailed descriptions of what the company is all about, essentially attracting more target audiences, driving more traffic to the website, and building trust.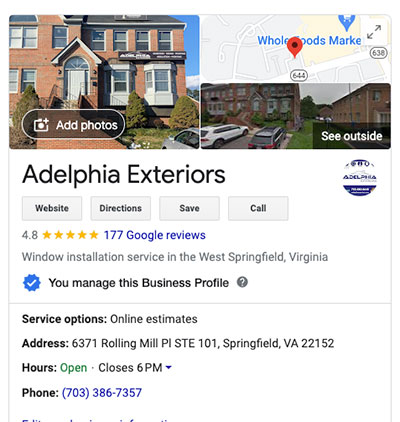 Learn more about how Google reviews affect SEO and some of the best methods of requesting and obtaining Google reviews, in order to enhance and improve SEO efforts.
Why Do Google Reviews Matter?
Google reviews give businesses credibility without a financial investment. They are just as effective for mom-and-pop operations as they are for larger retailers, which helps level the playing field. They can boost a business's online reputation and increase brand trust. In fact, 88 percent of consumers read online reviews to determine the quality of a local business, according to an annual Local Consumer Review Survey by BrightLocal.
While getting reviews from past customers has always been a beneficial exercise, it is more important now than ever before. There are three main benefits of getting customer reviews:
Widely accessible library of past client's first hand experiences
Creating brand recognition and customer loyalty
Improving internal processes and service offerings based on feedback
Increasing online visibility on Google
It is important not to underestimate the power of a Google review on potential customers. Consumers are more likely to spend their money with a business that appears to be trustworthy, transparent and offers good customer service versus a business that has little to no credibility online.
Do Google Reviews Impact SEO?

Google reviews can be useful in improving search rankings and SEO efforts. There are many factors that influence search rankings, such as page speed, mobile-friendliness, links, user experience, domain age and optimized content. Like these other factors, Google reviews send a strong signal to search engines that communicate the authority and overall trustworthiness of a website.
There are several key reasons why Google reviews impact SEO. First, Google sees reviews from customers as an endorsement of credibility. When a customer writes an online review, whether good or bad, it tells Google that the business is a bona fide and legitimate operation that real people have interacted with.
Reviews also help Google gain a better understanding of the business and the products and services it offers. Google essentially "reads" the reviews and its keywords to learn what the business does, allowing the search engine to better direct other consumers to the company. In turn, businesses with Google reviews are more likely to receive more clicks and traffic to their websites.
Google reviews directly factor into a business's review profile when calculating their position in the SERPs. Search engines want to help users find the right product or service based on their unique query and in the timeliest manner possible. Google reviews can help search engines separate highly reviewed businesses from poorly reviewed companies to ensure that consumers find the best business for their needs.
Ways To Get More Google Reviews
Building Google reviews is critical to the success of a business's customer acquisition strategy. According to ReviewTrackers data, 63.6 percent of consumers say that are likely to check Google reviews before visiting a business location. By having many positive reviews on a Google My Business (GMB) listing, businesses can boost their local search performance and generate more revenue. Here are some of the best ways to get more Google reviews to improve SEO.
1. Ask Customers Directly
One of the easiest ways to get more Google reviews is to ask customers directly. Businesses that operate locally can ask customers face-to-face when completing a transaction, while online businesses can ask for reviews via telephone or email. If a business owner does not feel comfortable asking customers directly for a review, there are more indirect ways to ask. For example, businesses can have physical cards made up that ask customers to review them on Google. Drop a card in each shopping bag.
2. Send A Follow-Up Email
Satisfied customers are more likely to leave a review when prompted by a business. After completing a job, send a follow-up email to the customer asking them to leave the business a Google review. In the email, be personable, professional and keep it brief. Thank the customer for choosing the business and say that all feedback is greatly appreciated. Tell the customer why feedback is important and provide a direct link for customers to leave a Google review.
3. Add A Review Link On The Website

Another simple way businesses can get more Google reviews is to publish a Google review link directly on their website. Google makes it easy to create a link for customers to write reviews. A short URL link can be copied from the Business Profile dashboard on a computer or mobile app. Businesses can also manually create a Google review URL for their business using Chrome. In Chrome, perform a brand search to trigger the Knowledge Panel result on the right. Click to view all reviews which will open the review box. Next, click on the "Write a review" button then copy the link.
4. Use The Google My Business Marketing Kit
With the Google My Business (GMB) marketing kit, small businesses can create social posts, posters and window stickers at no charge. The ability to create, download and print personalized marketing materials for a business can be useful for encouraging customers to leave a review after making a purchase. This marketing kit can be used to promote businesses both online and offline.
5. Update Your Business Card
One of the best ways to ensure that customers remember a company is by presenting a business card. Consider creating a business card or updating an existing one with a Google review link. Although it is possible to post a direct link to the Google review page, it is better branding to create a unique page for reviews on the business's website. This will also make it easier for customers to type the URL as business owners have more control over the length of the link. Send a business card along with each purchase or leave a stack of business cards at the front desk where customers can grab them.
6. Publish A Dedicated Landing Page
If customers frequent a business's website, it only makes sense to make it easy for them to write reviews. Consider creating a dedicated landing page designed solely to encourage customers to leave feedback about their experience. Make the page easy to interact with and avoid too much visual clutter. It can be useful to show feedback from other customers on the page to motivate visitors to add their own reviews.
7. Create A QR Code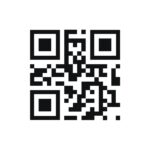 Many business owners worry that customers will not take the time to type in a website link that directs them to their Google review page. One way to bypass this concern is by creating a QR code that allows customers to scan the code with a smartphone which will then take them directly to the Google review page without having to type in a URL. Remember that the easier a business makes it to leave a Google review, the more likely a customer will be to write a review.
8. Insert Pop-Up Windows on Your Website
While too many pop-up windows can be irritating to visitors, the occasional pop-up can encourage customers to leave a Google review. Schedule a pop-up to occur approximately 15 to 30 seconds after a visitor has landed on the website. Keep the message short and simple, such as "Did you enjoy our [product] or [service]? Leave us a review!" These pop-ups should appear on both desktops and mobile devices.
9. Include Review Prompts On Receipts
Many customers take the time to read their receipts after making a purchase. Businesses can use this to their advantage by adding a small message at the bottom of the receipt about leaving a Google review. Include a short URL to the review page or add a QR code.
10. Post A Review Link On Social Media
There is no denying the effectiveness of social media when it comes to increasing brand visibility. Whether an organization is using a basic free account or has paid social ads, posting a review link to a social media account is a free way to get feedback from customers. Use a URL shortener like Bitly to create a short and convenient link, along with a short message that will make customers want to click.
11. Respond To Google Reviews
Not every Google review that a business receives will be a glowing recommendation. It is important to take the good with the bad and understand why some customers may feel a certain way about the company. Responding to Google reviews in a polite and respectful manner can reflect positively on a business and encourage other customers to share their own experiences.
12. Include A Review Button On The Website
Large, colorful buttons can make it easy for customers to see and click requests for Google reviews. Businesses can customize buttons that match their website style and colors and then attach the button to their Google review link. When a customer clicks on the button, it should take them directly to the Google review page for the business. Keep the look of the button clean, simple and easy to read. Put it toward the top of the website where it can be easily seen by visitors.
13. Leverage Review Management Tools
Some businesses may not have the time or manpower needed to handle Google reviews internally. Instead, they may rely on review management tools to help streamline these important processes. These tools help automate certain processes so that business owners can direct their attention to growing their company. When choosing a review management tool, ensure that it aligns with the business's online reputation and digital marketing goals.
14. Create Focused Email Campaigns
Email remains one of the best ways to form professional relationships with customers. However, sending out bulk emails to customers is not likely to get results as most will go unopened. Look for special occasions to send out emails to customers, such as after making a purchase, once the customer reaches a spending threshold or on the anniversary of when a person became a customer.
15. Print Or Publish Newsletters Or Flyers
Newsletters and flyers remain effective ways to get the attention of customers both offline and online. Dedicate a small portion of each newsletter or flyer to the importance of building Google reviews. Ask readers to please share their experience with the business or ask a simple question, such as "What do you love about our products or services?" Provide a link back to the Google review page to make it easy for customers to take action.
16. Ask for Google Reviews On Invoices
Businesses that offer products or services over the internet often use invoices to let customers know the details of their purchases. Similar to leaving a request for a Google review on the bottom of a receipt, business owners can add a small note to the bottom of their invoices that ask customers to please leave a review.
17. Get Employees Involved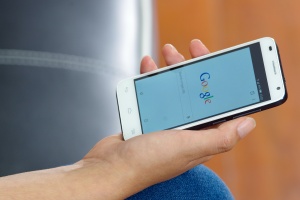 Business owners are not the only ones who can ask customers for Google reviews. Train team members to make Google review requests a part of customer interactions. Employees on the sales floor or at the checkout counter may end a conversation with a customer by asking for a Google review. Customers who take sales over the phone can also request reviews.
18. Avoid Buying Fake or Illegitimate Reviews
One of the worst things that businesses can do when trying to get more Google reviews is to buy them. There are many questionable online companies that claim to provide reviews for businesses from personal accounts; however, this is never a good idea. Non-customers cannot provide a true experience, which is likely to be evident in the contents of the review. If it is made public that the business is buying reviews, it could also have a negative impact on the business's reputation.
19. Provide Review-Worthy Products and Services
Businesses that provide excellent products and services often do not have to try hard to get Google reviews. Positive reviews often come naturally to businesses that work hard to satisfy their customers through the delivery of high-quality and affordable products and services.
20. Do Not Overlook Other Top Review Sites
While Google is one of the leading review sites for businesses online, there are also other review sites that should not be overlooked. Get the business in front of customers by placing the business on multiple review sites. Some of the leading review sites online include Facebook, Yelp and Yellow Pages. Once the business starts to generate more reviews, develop an approach on how to respond to both good and bad reviews.
Best Practices For Google Reviews & SEO
Google reviews provide readers with useful information that can help a business stand out. There are several things that business owners can do to encourage customers to spread the word about their business through Google reviews. Check out these best practices for Google reviews and SEO:
Verify a Google Business Profile – When businesses take the time to verify their Google Business Profile, they can ensure that their company shows up on Search, Maps and other Google services. In addition, a business must be verified before a business can respond to a customer review.
Build Customer Trust By Replying to Reviews – Customers are more likely to build trust with businesses that appear interested in improving their brand. Whether a review is good or bad, take the time to thank the customer for their input and respond in a friendly manner.
Embed Reviews on a Website – Potential customers are more likely to make a purchase when they can read about other customers' experiences with the business. Choose several real customer reviews to embed on the business website. A plugin or widget can make this process fast and simple.
Turn Positive Reviews into Content – Along with embedding reviews on a website for potential customers to read, consider using positive reviews as actual content. For example, choose a day of the week to share a review on social media while encouraging readers to also share their own experiences.
Measure the Business's SEO Progress – It can be difficult to determine how well a business strategy is doing without tracking its progress. Create key metrics to follow, such as the average placement on important keywords, to see where the business ranks before and after pushing reviews.
Claim All Business Listings – There are many websites that businesses can use to get their brand out there. In addition to Google My Business, consider making business profiles and listings on other websites, such as Facebook, Yelp and TripAdvisor.
Negative Review Factors That Can Impact SEO
While there are many things that businesses can do to build their Google reviews and improve their SEO, there are also actions they can take that reflect badly on their business. Here are some of the most common review practices that could negatively impact a business's rankings:
Negative Language
Every business will receive the occasional "bad" review and this does not necessarily mean that the business delivered bad products or customer service. However, just like positive reviews can help grow a business, too many negative reviews can hurt a business's position in the SERPs.
Low Ratings
When customers write a review online, they typically get to give the business a score or rating. Ideally, a business wants to get the highest score available to put its business in a better light. When a business consistently receives low ratings, it can result in lower rankings.
Fake Reviews
As previously discussed, buying fake reviews can negatively impact a business's standing online. Businesses should also not create new accounts to write their own fake reviews or have friends or family members write reviews on their behalf. Getting caught with fake reviews can result in a suspension of a business page on Google.
Review Gating
Review gating refers to the practice of asking a customer if the product or service was satisfactory before sending them to a review page. If the customer was satisfied with the service, they are sent to the review page. If they were not satisfied, they are sent to a private form where they can leave feedback. As Google wants an authentic representation of the business from all reviews, this practice can reflect poorly on companies.
Too Many Reviews
While a business cannot have too many reviews, too many reviews arriving at once can appear suspicious to Google. The search engine frowns upon mass messaging requests for reviews and if a large number of reviews occur in a short time frame, this could raise a red flag.
Building A Strong Review Response Strategy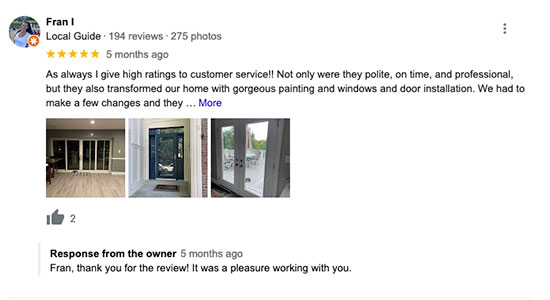 Building a strong review response strategy can help a business respond consistently to reviews in the best way possible. Here are some tips to consider when responding to Google reviews:
Thank the Customer – Business owners should thank the customer in the same way that they would in real life. Tell the customer that their review is appreciated and show gratitude that they choose to do business with the company.
Add Specifics – Customers want to know that businesses see them as a person and not just another customer. Avoid generic messages and add a personal touch to review responses.
Entice Customers to Come Back – Businesses love repeat customers and responding to reviews is a great way to draw customers back in. Tempt customers with a new product or let them know that the business would love to see them again.
Invite the Conversation Offline – When bad reviews do occur, invite the customer to continue the conversation offline. Businesses should do their best to try and rectify the situation so that the customer walks away satisfied.
Respond Professionally – Regardless of the context of a review, businesses should always respond professionally. Never argue with the customer or blame them.
Figure 6.1 demonstrates our client, Pure Oasis, responding to a review they received from a customer.
Reach Out To 321 Web Marketing
Google reviews can have a positive impact on a business's SEO. However, some businesses struggle with getting reviews and advancing their search engine optimization efforts. For more information about the best ways to get Google reviews to improve SEO or to schedule a consultation with an experienced SEO marketing company, contact 321 Web Marketing.
Related Articles: