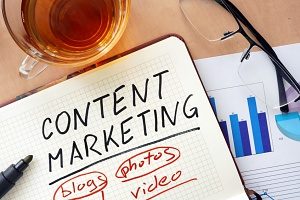 Content marketing is one of the simplest and most effective forms of marketing. A dental marketing agency can use its researching skills and writing abilities to create content that draws customers to your website and positions your dental practice as a leader in the industry. Content marketing is more than just writing interesting articles — it involves researching what keywords people use when they are seeking information about dental services on search engines, and then incorporating those works in the content of your website. This helps search engines (like Google) find your web pages and display them to users who are looking for information about the matching keywords. Read more about how content marketing can help your dental practice gain new clients and become well-known as a reputable practice.
Building Brand Awareness
People are more likely to become patients of a practice whose name they have heard before, therefore brand awareness is an important element of marketing. Content marketing is tied to helping your website rank higher in search results, which can help people become more familiar with your brand. People tend to click only on links that appear on the first page of search results, as they are often seen as more trustworthy and relevant to their query. Optimizing your content in this way can therefore get your brand name in front of more people and help them think of your dental practice first when it comes time to seek out a new provider.
You can also familiarize people with your brand by posting links to your website content on social media. People already typically spend a significant amount of time on social media, and by posting your content where there are already viewers, you can reach an entirely new network of potential patients. Followers of your social media accounts may repost your content or share it with their friends, providing them with a recommendation that may result in new patients for your practice as well. Social media is the perfect way to consistently show people what your brand is about and what your practice can do for them, generating both familiarity and trust among consumers.
Educating Potential Patients
Content marketing provides your dental practice with an opportunity to share its knowledge about the dental industry, dental health, and the services the practice provides. Not only does this show that your practice understand the latest developments in dental health, it also shows patients that you care about their well being and time. Patients may often be frustrated by vague, unhelpful posts on other websites. If your site, by contrast, contains a variety of information-rich posts, people are likely to appreciate the information and become patients themselves because they are confident in your practice's ability to help them maintain their dental health. Educating readers about dental health topics is therefore an excellent way to not only share your expertise, but to help patients feel secure in their health related decisions.
Building a Reputation
Creating content that patients will find useful helps position your practice as an industry leader that not only understands the space within which it operates, but the changing needs of its patients, as well. Writing informative posts helps make your website a valuable resource for people who are seeking help with their health decisions, and people who see your practice as a reliable source of accurate information are more likely to become your patients in the future. In addition to retaining current patients, your reputation as a trustworthy source of information may result in those patients recommending your practice to their friends and family.
A recommendation from a close friend carries more weight than an advertisement or even direct outreach from your practice, and word-of-mouth recommendations can therefore help your practice expand with minimal extra effort on your part. Clients who are happy with the information and services your practice provides are likely to remain loyal patients for years to come, so creating content that has been carefully researched is essential to using this form of marketing.
Standing Out From Other Practices
Content marketing can also help your dental practice stand out from the competition. Using content marketing techniques means that your brand is being shown to more people, that you are providing patients with information they will find useful, and that your practice has a trustworthy reputation. These factors all help patients feel good about their choice to go to your practice for their dental health needs, as opposed to your competitors. By showing that your practice cares about patients through interactions with them on social media and educational posts about topics in which they are interested, your practice will develop a strong hold in your city as one of the best dental practices available, while competitors who fail to use content marketing effectively will likely fall behind. Content marketing can therefore make the difference between your practice appearing as just another option for dental care in your area and appearing to be the best choice for dental care instead.
Hiring a Dental Marketing Agency
Content marketing can be the cornerstone of a dental marketing plan. Speak with a professional Northern Virginia dental marketing agency to get assistance with your content marketing campaign. 321 Web Marketing has years of experience in working with clients to use content for marketing purposes. The agency conducts extensive research into each client's industry, competitors, and ideal audience to develop an individualized content marketing campaign designed to help clients grow their practices. 321 Web Marketing aims to provide clients with a steady, daily stream of qualified leads within six months of launching a campaign and continually monitors the effectiveness of its marketing strategies to make the changes necessary to reach this goal. To request a consultation and move your dental practice forward, contact 321 Web Marketing today.
UPDATED: April 11, 2019