Domain authority (DA) refers to a commonly used SEO concept that dictates the "strength" of a website. As a general rule of thumb, the higher a website's domain rating, the more authoritative it is. There are approximately 1.18 billion websites in the world as of November 2021, according to Siteefy, with just 17 percent of these websites being active and 83 percent being inactive. Domain authority helps search engines dictate which websites to show first in the search engine results pages (SERPs).
Domain authority can be a complex topic to navigate for non-SEO experts but important to understand nonetheless. It offers the most accurate representation of the search engine results landscape and is critical to understanding why some websites rank higher than others.
Any business that wishes to improve its placement in the SERPs and reach a larger online audience should become familiar with domain authority. Acquiring a high DA can help organizations outrank their competitors in the search engines and become a trusted and credible source of information for online users.
Before a business can increase their domain authority, they must first understand how domain authority is calculated, what constitutes a good domain authority score and how domain authority can be implemented into an organization's overall SEO strategy. Figure 1.1 shows one way of tracking domain and URL authority, using a gauge chart to show how high a website's domain authority is.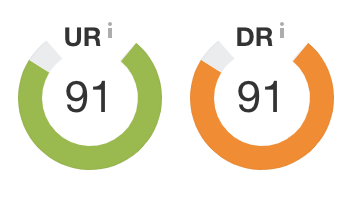 Figure 1.1
What Is Domain Authority?
Developed by Moz, Domain Authority is a search engine ranking score that is used to predict how likely a website is to rank in the SERPs. DA is based on web data and uses a wide range of factors in its calculations. A machine learning model is highly accurate at finding a "best fit" algorithm that directly correlates web data with rankings across many search engine results that are used as standards in calculating domain authority.
Domain authority also goes by other names, such as website authority or 'thought leadership'. It is often used to describe a website's relevance for a specific industry or subject area. This level of relevance has an impact on how domains rank in the search engines and directly influenced the birth of Black Hat SEO providers that continue to use unethical practices and tactics to reach higher levels of domain authority.
Although every business wants to see its website's domain authority soar, this is not always the case. Domain authority scores can move both up or down depending on a wide range of factors. These scores are relative and are regularly recalculated to ensure accuracy. When domain authority scores have improved, it is likely because the site owner has made improvements. Decreasing DA scores can be caused by poor website management, impact from a competitor or lack of overall growth.
While businesses do not have control over how domain authority is calculated, there are ways they can increase their odds of reaching a higher DA score. Organizations that wish to improve their domain authority score must first understand how these scores are calculated and develop effective strategies for increasing their scores without resorting to Black Hat SEO methods.
How Is Domain Authority Calculated?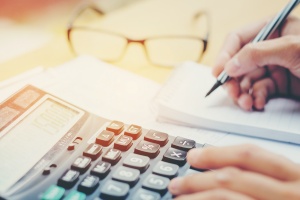 There are a total of 40 different factors that Moz uses when calculating domain authority scores. These include factors like inbound links and root domains. Domain authority works independently of Google search rankings and does not interact directly with SERPs. Instead, it takes different attributes of a website and condenses them into a single score.
Moz released a major update in 2019 in which its DA system was modified to incorporate a machine learning algorithm that accurately predicts how Google will rank certain domains in the search results. Data points are accumulated that help the DA system score domains. A DA score may fluctuate as more or less data is entered into the system. The machine learning aspect of DA is relative to other websites, meaning if a large website were to gain a large number of links, the domain authority of other sites would go down. This concept allows domains to be ranked in a fair and practical manner.
Domain authority can be a stable metric to measure against. However, it is also important to understand that DA is influenced by a variety of organic factors that will continuously fluctuate. It is considered a slow-growing score due to these organic elements and cannot be compared to other marketing tactics, such as paid search which offers almost instant results.
The authority of a domain takes many factors into account but is heavily linked-based. Domain authority considers the quality of content on a website, as well as social linking signals. There is a good reason why there is so much emphasis on link building. People tend to link and share content that they enjoy, making links a strong signal of how popular and trustworthy a website and its individual pages appear to online readers.
What Is A Good Domain Authority Score?
Every business wants to achieve a high domain authority score but this is not a task that is achieved overnight. Domain authority must be built up over time and by implementing a wide range of strategies used to create an optimized online presence.
Domain authority scores range from 1 to 100, with 1 being the lowest score and 100 being the best possible score. When determining whether or not a score is considered "good," it is important to consider how this sliding scale works. Scores between 40 and 50 may seem on the lower end of the spectrum but are actually considered average. Websites that have a domain authority of between 50 and 60 are considered good, and scores that exceed 60 are rated as excellent.
Of course, there are many external factors that can influence how well a website scores. For example, a small business with a domain authority score of 40 is considered to be very good while a large business with the same score could be considered average. This is because requirements change for larger company websites. The more work that a business puts into improving their site, the higher domain authority they can expect to achieve over time.
Why Should I Care About Domain Authority?
With so many aspects of marketing to worry about, why should businesses be concerned about their domain authority score? The main reason why DA is important is it acts as a representation of how a website ranks in the search engines. Domain authority helps businesses better understand how their website appears credible in the eyes of search engines and how their site compares to their competitors.
When businesses have the ability to see how they compare to their competitors, they become better equipped to fine-tune their marketing strategy. Knowing the DA scores of competitors can also provide businesses with peace of mind. If all competitors have scores in the 30s, then a business does not need to shoot for a score in the 80s, but rather for one that is higher than their competitors.
Today, there are many ways that businesses can improve their ranking in search engines and become more well-known on the internet. However, options like pay-per-click (PPC) can be costly and may not deliver the long-term results that most businesses seek. Improving domain authority can help organizations get their site to rank higher in the SERPs organically.
Domain authority is not technically an official ranking factor and there is no solid evidence that search engines use domain authority as a ranking factor. However, a direct correlation has been found between websites that have a high DA and their placement on the SERPs.
A domain authority score can be a good indicator of overall quality and competitiveness in the search engine result pages. It can also be helpful when assessing the strength of a domain against competitors. DA does not measure links and is not intended to show who might link to a particular site or how many links a site will build. It does; however, include a variety of factors related to the quantity and quality of inbound links that point to a particular domain.
How Does Domain Authority Differ From Other SEO Tactics?
Digital marketing is all about creating a strong online presence. This can be achieved with the use of various SEO tactics. Search Engine Optimization (SEO) plays a key role in boosting a brand's online presence as web users obtain information from search engines like Google. Developing a strong SEO strategy can lead to better rankings in the SERPs.
Scouring the web, it is easy to notice how some brands or businesses effortlessly become authorities in their respective industries. Of course, this does not happen for no reason. Oftentimes, these websites contain keywords that are naturally blended into the site's content which carry serious weight in terms of page optimization.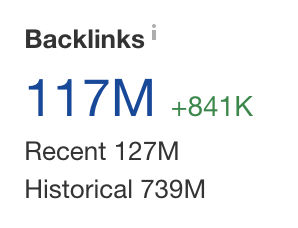 Figure 5.1
Domain authority focuses heavily on the number of backlinks that a website contains. Backlinking is also an effective strategy that many SEO experts use to help a website rank higher in the SERPs. While DA may not be one of the criteria that search engines use to determine a website's ranking, it can be useful to gauge a site's organic traffic from search engines.
Taking the necessary steps to improve domain authority can be useful but it is just one component of a comprehensive marketing strategy. Businesses should also use other effective SEO techniques to drive organic traffic and improve their online presence. SEO tactics like content optimization, improved user experience, voice search optimization and mobile design are also important elements of digital marketing.
Figure 5.1 shows a website's backlinks, which are links back to their website that provide them with content authenticity and trust.
How Can I Check My Website's Domain Authority?
After developing a website and working to build quality backlinks, a business may want to check its site's domain authority. The good news is there are many online tools that can analyze a website in real-time and calculate a domain authority score based on various scoring factors. Here are some of the top online tools used to check the DA of websites:
Figure 7.1
Figure 6.1 demonstrates the amount of referring domains that were captured by a website over the course of 8 years.
Is Domain Authority Different From Page Authority?
When learning about SEO, businesses are bound to come across two commonly used terms: domain authority and page authority (PA). Both are types of metrics that can provide valuable insight into how strong a website's SEO is and how likely a site is to rank well in Google and other search engines.
While domain authority focuses on how well a website is likely to rank in the search engines, page authority is used to forecast how well an individual page on a website will rank in the SERPs. Domain authority and page authority are essentially the same thing but PA looks at specific web pages instead of entire domains. Similar to DA, page authority is scored on a scale from 1 to 100, with higher scores meaning that the page is more likely to rank higher in the search results.
Every page starts with a page authority score of 1 and can go up or back down based on a number of factors. PA is also scored using a logarithmic scale, meaning it is more difficult to improve a score once it reaches the 80s and 90s compared to the 10s and 20s. While page authority functions much like domain authority, PA does not take on-page SEO elements such as keyword usage into account. Like DA, it places greater focus on backlinks.
Page authority is a relative measure and therefore there is no standard "good" PA score. Instead, businesses should try to achieve a page authority score that is higher than their competitors. There are also other ways that businesses can leverage PA aside from comparing their pages with similar ones of their competitors. Businesses can work towards improving their page authority by creating a link profile and building links for each specific page that they are measuring.
How Can I Raise My Domain Authority Score?
After gaining a solid understanding of what domain authority is and how it is calculated, most businesses want to know what they can do to increase their DA score. Here are some simple steps to follow to gradually raise your domain authority score:
1. Develop A Strong Link Profile
One of the most important metrics for a website is its link profile. Creating a strong link profile can help increase a site's DA and eventually its ratings. Websites are known to have a strong link profile when they have links from a variety of unique domains, have links from high authority websites, have incoming links from related sites and do not have "bad" or low-quality links. Improving a link profile is known as off-page SEO and can be achieved by removing bad links and gaining good links via natural link building or blogger outreach techniques.
2. Practice On-Page SEO
On-page SEO focuses on optimizing a page and its content. There are many ways to improve a website's on-page SEO, such as by using optimized titles and descriptions, using keywords naturally in the content, formatting content properly, using headers, and optimizing images, videos and other types of media.
3. Ensure That The Site Is Mobile-Friendly
Today, having a mobile-friendly website is not a recommendation but a necessity. Mobile friendliness is a leading ranking factor and not having a mobile site can have a negative impact on a site's DA score. With the majority of people now using their smartphones or other mobile devices to search online, having a mobile site allows businesses to connect with a larger audience and appear more credible in the eyes of search engines.
4. Boost Page Speed
Page speed is a well-known component of Google's ranking algorithm. Websites that load fast have a clear advantage over slow sites that take too long to load. Businesses that take the necessary steps to improve their page speed can not only improve their rankings in the SERPs but also their domain authority. Users that encounter fast-loading websites are more likely to have a good user experience which naturally translates to more leads, signups and sales.
5. Increase Social Signals
Google has reported in the past that social signals do not directly influence how well a website ranks in the search engines. However, there is a direct coloration between social signals and how well a website ranks in the SERPs. Websites that are popular tend to receive more likes, tweets and shares. To increase domain authority, businesses should aim to improve their Facebook page and its number of followers. Maintain a strong social media presence and add social media buttons to each page to make it easy for readers to share content.
How Often Should I Check My Domain Authority?
Online tools make it fast and simple to check a website's domain authority score. It is possible to check this score as often as a business sees fit; however, website owners are not likely to see changes on a day-to-day basis. Instead, it is best to check DA about once a month. Link analysis data is derived from the Moz Mozscape index which is only updated approximately every three to four weeks.
Maintaining metrics is a major undertaking that requires a lot of time and resources, meaning Moz is fairly slow to update. Some information may even take several updates to show, especially links which are a critical component in ranking. This means that domain authority should not be used as a real-time analytic for determining page quality. Instead, businesses should check their DA periodically and watch for other signs that they are moving up in the SERPs.
How Can I Integrate My Domain Authority Into My SEO Strategy?
Once a business has determined its DA score and has a solid understanding of the various factors that influence this score, it is time to integrate DA into a comprehensive SEO strategy. A great place to start is with backlinks. Businesses want to create a website that other websites will want to link to. Consider what makes the business stand out from competitors and use it as an advantage. Offer a new product or service, or work towards providing readers with better information than competitors currently offer.
Explore existing content and look for opportunities to add links. Some websites may choose to return the favor and link back. However, it is important to focus on only adding quality links instead of a large number of weak links that provide little to no value. Many businesses find it beneficial to reach out directly to other businesses in an attempt to form a mutually beneficial arrangement in which they support each other's online presence. There are many tactics businesses can use, such as swapping testimonials.
Guest posting on other websites can also prove beneficial for businesses that want to get their brand more widely recognized. When searching online for blogs to guest post for, see if their links are "follow" or "nofollow" as this can impact the value of a link. Also, consider how long their posts are, whether they have the same goals and who their audience is to determine if guest posting is a good use of the business's time.
Speak With The SEO Marketing Experts
Third-party SEO metrics make up just some indicators of a website's authority. Domain authority can be useful to learn how well a website should rank based on its unique score. However, understanding and leveraging domain authority can prove more advantageous with help from a digital marketing professional. To learn more about domain authority or to schedule a consultation with an experienced web marketing agency that specializes in SEO and inbound marketing, contact the experts at 321 Web Marketing today.
Related Articles: