Approximately 3.25 billion people worldwide currently use voice-activated search and assistants, according to Statista. Some reports predict that number could hit 8 billion by 2023. Voice search refers to the action of using speech to give commands or ask questions to compatible devices, such as smart speakers or smartphones. With voice-enabled devices, users can give a voice command to search the internet, a website or an app without having to manually type into a search engine.
Voice recognition technology has quickly gained traction over the last decade with the release of Siri, Cortana, Google Assistance, Alexa and similar voice-activated assistants. This technology is used for a wide range of purposes, such as making phone calls, sending text messages, opening apps, setting appointments, creating lists and acquiring directions. Voice search also plays a direct role in marketing. According to Narvar, up to 43 percent of voice-enabled device owners use their device for shopping. Due to the versatility and popularity of voice search, it only makes sense for businesses to leverage this technology in 2021. Companies looking to elevate their SEO strategy and rank higher in search engines should begin optimizing their brand for voice search.
Evolution Of Voice Search Technology
There has been a lot of buzz surrounding the topic of voice search as voice assistant technology gets smarter and more capable. There are several main reasons that voice search has gained rapid popularity.
First, voice search is considerably faster than typing, as much as 3.7 times faster according to Bing. The average person types just 38 to 40 words per minute (wpm), compared to speaking 110 to 150 wpm. Faster searches also equate to faster answers. Consumers want to find the information they need quickly and efficiently.
Voice search is also ideal for mobile searches. A recent ComScore report stated that more than half of all smartphone users engaged with voice search technology in 2020. The reasons people gave for using this technology are similar. Most users enjoy the convenience and speed of voice search, while others report that they do not have time to type. Voice search has also been boasted for its accuracy and ability to reach back and confirm information.
Impact On SEO & Ranking
There are some distinct differences between the way that users traditionally perform searches and the way they use voice search technology.
First, voice searches tend to be significantly longer than text-based searches. Google has reported that 70 percent of searches on Google Assistant use "natural language," meaning the words are more conversational in nature. For example, when conducting a text-based search the user may type "sugar cookie recipe." However, when using a voice assistant, the user may utilize more natural language, such as "Hey Google, how do I make sugar cookies at home?"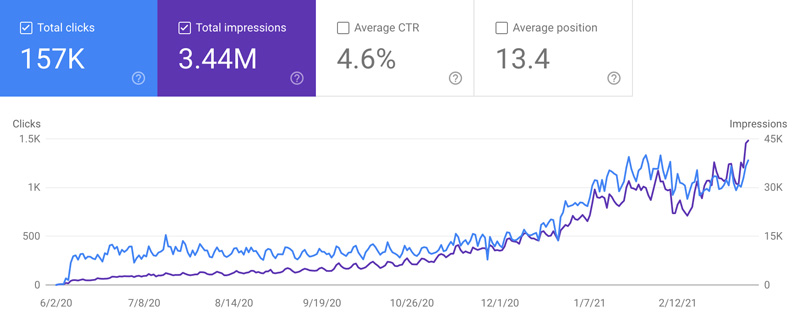 Voice search has also changed where people perform searches. Google has reported that "____ near me now" searches have increased by 150 percent over the last two years. People are using voice search while on-the-go to find the nearest grocery store, café, bank or other local business. With all of this said, it makes sense that voice search has changed the way that businesses use SEO. More robotic keywords are being replaced by natural language that is more conversational in tone and wording. Natural-sounding keywords will continue to experience a major boost in search volume as the use of voice search grows. Question-based keywords are also becoming more widely used in marketing.
Figure 2.1 demonstrates the impressions and clicks of a client increasing over a year with 321 Web Marketing's efforts. These clicks and impressions are coming from users who discovered the client's website through Google.
Importance Of Voice Search
Developing a strong voice search optimization strategy is critical for modern businesses. Approximately 58 percent of consumers use voice search to find local businesses online, according to Forbes, and 28 percent of users perform these types of searches at least once per week.
Voice searches have been found to drive sales as people use their voice-enabled devices to find businesses locally and online. Companies that are not optimized for voice search could be missing out on revenue. Investing in voice search optimization can lead to an increase in leads and enhanced brand awareness.
More than 1 billion voice searches are conducted each month, according to SEMRush. People use voice search to find information, shop products, seek out services and complete a variety of other tasks quickly and conveniently. With more people using voice search over traditional text-based search, the need for an excellent voice search optimization strategy is crucial for long-term growth and success.
Strategies For Voice Search Optimization
Voice search technology is more than a fad. It has quickly become a staple in the lives of countless people around the world. According to Statista, approximately 44 percent of users use voice search daily.
The technical details behind voice search technology are complex. The technology has the capability to process and transcribe human text into speech and analyze text to detect commands and questions. Voice search devices can also connect to external data sources, such as search engines, to locate relevant information that meets the search query. Voice search technology then translates information into a simple and digestible format that aims to fulfill the user's intent.
Most smart speakers and voice assistants pull their information from a variety of sources, such as major websites and search engines. Different types of voice search assistants rely on specific sources to draw information. For example, Amazon Alexa uses many third-party sources, such as AccuWeather, Wikipedia and Yelp, to acquire information. Google pulls information from its indexed pages from Google Search. Today, organizations have access to a wide variety of strategies that have been proven to help optimize businesses for voice search. Below are some effective strategies for optimizing for voice search in 2021.
Gain Consumer Insights
Optimizing for voice search requires businesses to have a solid understanding of their customer base and their behavior. Customer insights can provide businesses with a wealth of information needed to determine consumer buying preferences and purchase patterns.
Modern customers expect a seamless experience when seeking out products or services. Businesses need to be proactive in their attempt to meet customer demands and anticipate their needs to better serve them across all platforms.
According to a State of the Connected Customer Report published by SalesForce Research, 39 percent of baby boomers, 50 percent of Gen Xers and 67 percent of millennials use voice-activated personal assistants when communicating with companies. Real-time data and customer research can give businesses greater insight as to how different people use voice search and the types of voice-enabled devices they use for search purposes.
Research Questions Being Asked
When using voice search, the majority of users structure their sentences in the form of a question. Voice search optimization focuses on creating content that answers questions people are asking.
Businesses can start the process by finding questions that they already rank for. Google generally pulls voice search answers from top-ranking pages in the search engine. Conduct a basic search for organic keywords and filter the results based on words like "what," "who," "when," "why" and "how."
An organization may find that while they rank for certain questions, they are not ranking for others. Instead, their competitors are ranking for these questions. This usually means that the business has not answered the question being asked or has answered it incompletely. When Google provides voice search results, it chooses the most complete and relevant answer available. Also research questions that have not yet been answered by any business. Take advantage of this opportunity to reach out to a more targeted consumer group asking questions relating to the site's topic that has not been answered.
Target Long Tail Keyword Phrases
Long tail keywords refer to keywords that are grouped together to create a phrase. These keywords add a level of intent that is more difficult to achieve with shorter keywords. Optimizing business content with long tail keyword phrases can help search engines deliver more relevant, accurate results. This strategy can be especially useful for local businesses, helping them rise above the competition.
The use of long tail keywords has become even more common since the introduction of voice search. Humans are naturally more likely to speak in longer sentences compared to how they type, which is often in short and simple words or phrases. Businesses must pay attention to how consumers are using long tail keywords in their search queries and should optimize for keyword phrases relevant to their industry. Using long tail keywords can often be easier during content creation. Instead of cramming a blog with a lot of separate keywords that can feel unnatural, businesses can build high-quality content around a conversational phrase. When a consumer searches for that phrase, the content containing the phrase may be returned to the user.

Figure 7.1 shows the organic keywords that were gained for a client over a year of working with 321 Web Marketing. Our efforts led to our client gaining 4,204 unique keywords as of March 15, 2021, with nearly 400 keywords ranking in positions 1-3 on Google.
Use Conversational Language
One of the biggest mistakes that a business can make when optimizing for voice search is to misread intent. With the growth of voice search technology, there has been a major increase in conversational search. In fact, the ability to use natural language to search is one of the biggest perks of voice search. When most people use a voice-enabled device to conduct a search, they use conversational language. This means that the searcher speaks to the search device in a similar way that they would ask a question to another person. This differs significantly from the way that most people interact with text-based search.
Creating content with conversational language can sometimes be tricky. Most people are taught the formal rules of English grammar such as "always write in full sentences" and "do not use contractions." However, it is sometimes necessary to break these rules when writing conversationally as this is how many people speak naturally. Using a conversational style of language not only helps users connect with businesses in voice search, but can also help people feel like they are being addressed personally.
Build A FAQ Section
One of the simplest ways to add natural language content to a business website is to create a page of frequently asked questions and answers. Voice search users often ask questions that start with words like "what," "who," "when," "where," "why" and "how." When building an FAQ page, include questions in the same way that a user would ask a voice-enabled device.
Again, the question should be conversational in style and include common questions that are relevant to the business and industry. There are several ways that businesses can find out what types of questions are being asked. Start by combing through customer emails and phone calls to see what the most asked questions are about.
There are also countless tools on the web that can help businesses find out what people are searching for based on keywords, topics, industry and similar filter options. This research can also help businesses find related keywords and long-tail keyword phrases that may be useful when creating the FAQ content.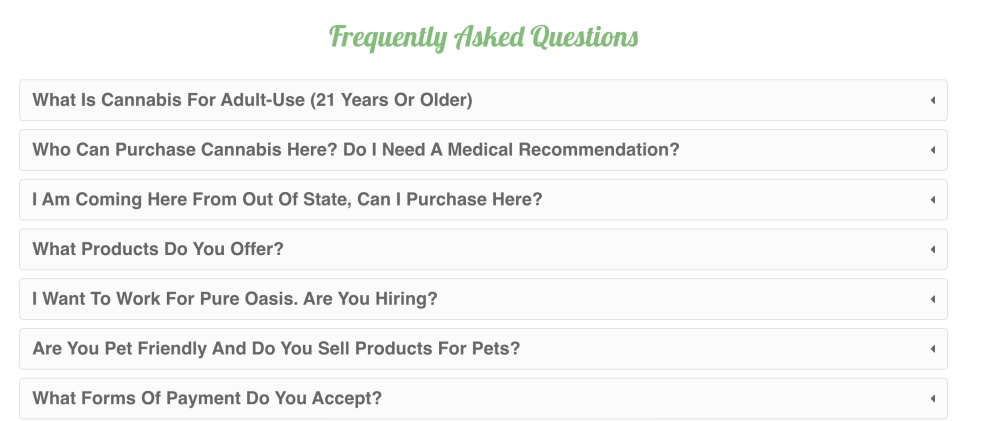 Figure 9.1 shows one of 321 Web Marketing's client's FAQ page that is used often used for customers to find out information about the business using voice search. Our client, Pure Oasis, has drawn the attention of customers who have several questions about both their brand and products in general.
Get A Google My Business Profile
Google My Business (GMB) is a simple-to-use tool that businesses can use to manage their online presence on Google, including Maps and Search. This free tool makes it easy for customers to find a business online, including contact information, hours of operation, address, products and services offered, website URL and similar information. Creating a GMB profile can be highly beneficial for voice search purposes. When a customer uses voice search to look for information about a business, such as where it is located, their phone number or the hours of operation, Google pulls this information from the business's GMB page. GMB provides other advantages in addition to delivering information for searches directly related to the business. It can also aid a voice search user looking for generic queries, such as "Mexican restaurants near me." If a Google My Business profile contains information that matches this search query, the voice-enabled device may provide the user with the business's name and contact information.
Another important component of GMB is the review section. Previous clients or customers can leave reviews based on their experience with the business. Voice search can read these reviews and the consumer can decide whether to visit the business or choose a competitor.
Acquire High-Quality Backlinks
Backlinks, also referred to as incoming links or inbound links, are links that point from one website to a page on a different website. Building backlinks provides businesses with many key benefits. They help to guide potential customers to a website where they may perform a desirable action, such as make a purchase. Backlinks also tell search engines that the content being linked to is credible, valuable and useful. Businesses with a lot of high-quality backlinks are more likely to rank higher in the search engines. This means that the business is more likely to be given as a query result when voice search users request information.
When building backlinks, it is important to remember that not all types of backlinks are made equal. Businesses should focus only on building quality backlinks as just one high-quality backlink is worth more than dozens of low-quality backlinks. Quality backlinks are those that come from trusted, authoritative websites. The site and page that is providing the backlink should be related to the business in some way.
Boost Page Load Speed
Page load speed appears to play a direct role in voice search SEO, according to Backlinko, with the average voice search result loading in just 4.6 seconds. Compare this to the page load speed of an average website which is 8.8 seconds. When users conduct a voice search, they expect to receive an answer back almost immediately. Having a fast-loading website helps boost it to the top of the search engine results. Page speed is a ranking factor for both mobile and desktop search results. It influences many components, including user experience and bounce rates. However, many factors can cause a website to run slowly, minimizing the business's chance of claiming a voice search result.
Unoptimized images, JavaScript issues, too much flash content, excessive HTTP requests, unclean code, failure to use gZIP compression, too many ads and bad hosting are just a few reasons why a business may have a slow website. Resolving these issues can help increase page load speed and improve the website's ranking in the search engines.
Create Compelling Content
When voice search users ask a question, they expect to receive an accurate and compelling answer that fully satisfies the question. Creating rich and compelling content is critical to ensure that users are happy with the answer they receive and that the information given solves their problem or curiosity. Businesses should create content that is detailed and answers questions in a simple and concise way that does not leave room for confusion or misunderstandings. Companies use a variety of strategies to help deliver the proper content to web searchers.
One of the most popular strategies involves making the headline a common question and then answering that question in detail in the body of the webpage. Do not overlook the importance of creating great content for a business, whether it is a blog post, service page or other piece of content. Quality content generation appeals to Google's ranking algorithm and can help improve brand awareness and credibility in the eyes of consumers.
Focus On Mobile Users
Mobile beats out all devices when it comes to voice search queries. People often turn to voice search when on-the-go, such as while driving in the car, shopping in the store or walking down the street. Voice search makes it easy to receive information without having to stop and type a query into a text box. Businesses can make it easy for consumers to acquire the information they are looking for by focusing on mobile search. The first step involves building a mobile-responsive website. A responsive web design uses adaptable layouts that appear nearly the same across desktops, tablets and mobile devices. The website design and content adapt themselves to the user's device automatically for a seamless and consistent user experience.
Before launching a mobile website, run a mobile-friendly test to ensure that the site is optimized appropriately. The website should also be crawlable to allow the search engines to add the site to the rankings and to ensure exposure on the web. In 2021, a mobile website is not just a recommendation but a necessity. According to Statista, mobile web traffic accounts for 52.6 percent of global web traffic.
Review Website Traffic Analytics
A business's website traffic analytics can say a lot about the brand's target customer base and the type of information they are looking for online. An organization can gain access to useful metrics in easy-to-understand graphic formats that showcase data like the number of users to the website, the location of website visitors and the bounce rate. Review this information when optimizing a website for voice search. Take the time to learn more about the business's target audience, their location and what exactly they are looking for when they reach the website. Website traffic analytics can also help with SEO by providing a list of keywords and queries that users are searching for before reaching the site.
There are many great content analytics tools on the website, including many that are free to use. Google Analytics is one of the most well-known options. It is completely free and includes many useful features that marketers can use to improve their rankings in search engines.

Figure 15.1 displays the traffic results of one of 321 Web Marketing clients. These results are being pulled from Google Search Console and looking at the different traffic coming into the website from 3 different devices – mobile, desktop, and tablet. At 321 Web Marketing, we know that people are searching from their phones and computers so we focus our SEO efforts on both views.
Add Schema Markup
Schema markup refers to code that search engines use to better understand online content. While not all voice search results use schema, a study from Backlinko shows that schema markup appears in approximately 36.4 percent of voice search results.
The use of schema markup is important for optimizing certain types of content on the web, such as recipes. The voice-enabled device pulls relevant information, such as a list of ingredients or instructions, from the recipe markup on the page. It can also be useful when asking about specific events, such as the location of Lollapalooza.
Schema markup is important as it powers rich snippets that generally have a higher clickthrough rate than regular search results. This results in more traffic to a website. Schema markup also offers other key benefits, such as more relevant search results for users. Businesses should mostly consider schema if their pages already rank well and the content is eligible for rich results.
How To Get Started Optimize For Voice Search Today
When building a website, few businesses give much thought to voice search optimization. However, countless reports and studies have shown voice search to be the technology of the future. More people are becoming comfortable with voice-enabled tools like Amazon Alexa, Google Home and Siri due to their convenience and ease-of-use. If businesses do not keep pace with the steady growth of voice search, they may lose out on profitable opportunities.
Optimizing for voice search can be a complex endeavor, but businesses do not need to go it alone. Working with an experienced web marketing agency that specializes in areas like local SEO, website design and inbound marketing campaigns can help businesses reach their online market faster and more efficiently. For more information on how to optimize for voice search in 2021, or to speak with a web marketing expert on how to optimize for voice search and about getting started with the optimization process, contact 321 Web Marketing today.
Related Articles