Northern Virginia's business sector is booming. The region caters to both U.S. and foreign commerce and has an educated and skilled talent pool of more than four million. Northern VA is densely populated with over 3.149 million people spread out over five counties: Arlington, Fauquier, Fairfax, Prince William, and Loudoun. There are more residents in Northern Virginia than the entire state of Rhode Island.
Due to the high volume of businesses, it is challenging for local businesses to rank for their service offerings. If you reside in Northern VA, you may need to take extra steps to get your business at the top of the search engine results pages (SERPs).
Northern Virginia Local SEO & Why It Matters
The implementation of local SEO techniques can be invaluable for businesses that are competing with a large volume of local competition. Local SEO (search engine optimization) is a strategy that businesses can use to optimize their website and rank better for local audiences. With local SEO, businesses not only make their brand more familiar among residents that live nearby but also put their products or services in front of potential customers. What makes local SEO different than standard SEO is that the former focuses on optimizing a business' online presence so that its website will be displayed when users enter local searches for products or services.

Local SEO Techniques For Northern Virginia
There are many useful local SEO techniques that companies can use to help their businesses rank higher for local search terms. Some of these local search engine optimization strategies include:
Local Online Citations
A local citation is the mention of a local business' name, address, or phone number (NAP) online. Citations can often be found in directories, but may also be published on apps, websites, or social media platforms. What makes citations so useful for local SEO is that they help web users discover local businesses. They can also impact local search engine rankings. Review existing citations to ensure that your business information is correct and add your business to Northern Virginia business directories. The more citations that are based in Northern VA, the more likely Google is to rank the website higher when web users search for the service in the Northern VA area.

Creating & Optimizing Google My Business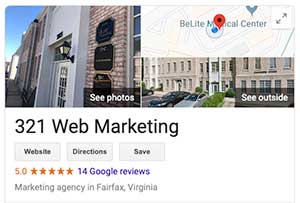 Creating and optimizing your Google My Business page can do wonders for your local SEO efforts. If you do not yet have a GMB page, create one by entering some basic information about your business. If you already have a page, review it to ensure that it is correct and check the location marker to make sure it is in the right location. Also take the time to add specific service areas, such as Vienna, Fairfax, Ashburn, or Alexandria. Be detailed in your business description and include Northern Virginia or the specific Northern VA city you are located.
Reviews, Reviews, Reviews

Reviews published by past customers can help boost your local SEO. When customers or clients based out of Northern Virginia leave reviews, it sends increased signals to Google as to where your service is being provided. According to a 2017 Local SEO Ranking Factors study, Google My Business reviews that included the searched-for keyword were found to be one of the biggest influencing factors when examining a local business's performance.
High Quality Backlinks

It is important to find ways for Google to better understand the services you offer and where you offer them. Backlinks can be highly useful for this purpose. When you acquire backlinks from other Northern Virginia websites, your website may rank higher for users searching for your specific service in a Northern VA area.
If you are trying to rank for a certain city in Northern Virginia, make sure that the backlink has the city name in the linked text. The more external backlinks that you have for your website, the better you will rank.
Northern Virginia Service Pages (Geo Pages)
Another local SEO strategy involves creating Northern Virginia geo service pages, in addition to creating a page for the primary services that you offer. However, you want to create pages for these services that are specific to the Northern Virginia areas that you want to target. For example, if you have a catering business in Northern Virginia you may want to make individual service pages for each city, such as Alexandria, Fairfax, etc. These types of focused pages tend to rank higher in the SERPs as they are more geared towards web users searching in specific areas.

Start Ranking In Northern Virginia Today!
Ranking locally in the search engines is not always easy. Fortunately, the right Northern Virginia SEO company can help you get the results you want. Contact 321 Web Marketing today for assistance ranking your Northern VA business at the top of the search engines. The experts at 321 Web Marketing have many years of experience in local SEO and can help you implement strategies to better market your local business online.