Due to tight restrictions surrounding businesses in the cannabis industry, it can be challenging to efficiently market products that contain marijuana. Cannabis dispensary owners must be creative when marketing their goods to consumers to ensure that their methods are legal under both federal and state law. So, what is the best way to market your cannabis dispensary and what are the most effective cannabis marketing ideas?
Proven Cannabis Marketing Ideas
By 2023, the cannabis market is expected to grow to $39.4 billion. This means big business for companies that are able to maintain a competitive edge. There is no shortage of effective marketing ideas that can be engineered to fit the cannabis industry.
From building a mobile-friendly website to leveraging the power of social media, it is important to try a variety of marketing ideas to see which best suits your budget, time commitment and unique needs. Here is a closer look at some of the most effective cannabis marketing ideas.
Building a Mobile-Friendly Website
In this day and age, having a mobile-friendly website is not just a suggestion, but a necessity. Most web users rely on their mobile devices rather than a desktop and if your website does not load properly, you can guarantee that these consumers will not be returning. When building a responsive website, be sure to pay attention to button and font size so that your site is easy to see and use. Your content should also be available on all platforms and devices. As mobile-friendly websites tend to be highly simplified, it is important to give the user an excellent experience. This means using high-resolution images, utilizing video media and creating simple navigation.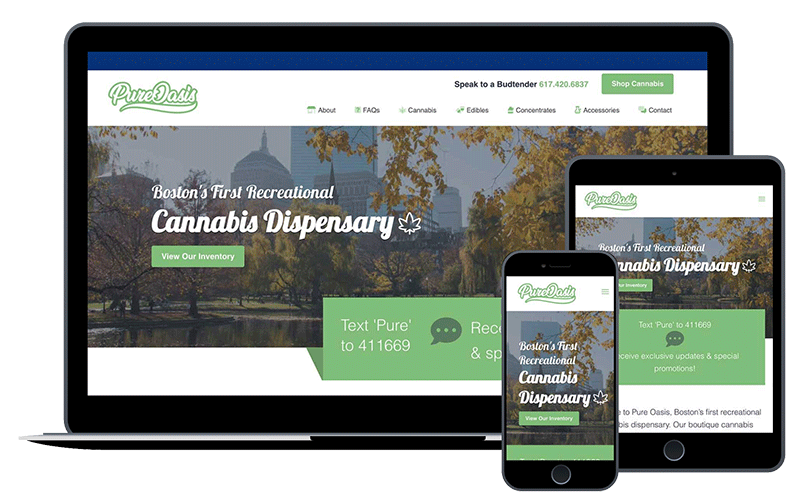 Figure 1.1 shows the Pure Oasis homepage on desktop, tablet and on mobile.
Engage In Content Marketing
Running out of ideas for your cannabis marketing campaign? There are many creative ways to use content to reach a large audience. Content marketing focuses on creating content that will turn visitors into customers. One of the most common examples of content marketing is blogging. With a blog, you can publish new content frequently and if your content is interesting, people will come back to your site to read what you write. Content can also be found in other forms, such as e-books, social media posts and videos. Content marketing can be an affordable option for businesses that want to grow and sustain their audience.
Performing Search Engine Optimization
Search engine optimization (SEO) is a highly effective marketing strategy that can be leveraged by businesses in all sizes. SEO is especially useful for small businesses on a budget as it is an affordable marketing option. In simple terms, SEO is the practice of increasing the quality and quantity of the traffic to your website through organic search engine results. This requires making simple changes to your website design and content to appear more attractive to the search engines. While you might not realize it, search engines crawl pages on your website on a regular basis. By adding targeted keywords and phrases, you can help the search engines easily determine what type of products or services you are offering so that it can display your page higher in relevant search results.

Figure 1.2 shows keyword research for the keyword "cannabis dispensary". This keyword has a difficulty of 51, monthly search volume of 13,000 and Cost Per Click of $1.30.
Build a Client Base With Email Marketing
While email marketing has been around nearly as long as the internet, it continues to be an effective digital marketing option for businesses. Email marketing is one of the most direct and effective ways to connect with leads and convert them into customers. Many people check their email at least once a day, meaning they will see your message and have the chance to respond quickly and efficiently. Over time, you can build an email list of existing and potential customers, which you can continue to use to grow your business. Email marketing has an impressive return on investment (ROI) if properly utilized which can be highly valuable for your cannabis dispensary.
Raise Brand Awareness Through Social Media Marketing
Digital marketing is all about building your brand, which in turn can drive website traffic and increase sales. Social media has become one of the best ways to connect with existing customers and prospects. Facebook, Twitter, Instagram, Pinterest and many other social media platforms have millions of users from all over the world. By targeting people in your area that are interested in what you are trying to sell, you can build a larger audience. To be successful on social media, you need to continually communicate with your audience, answer questions, address concerns and share new information and products to keep people engaged.
Speak To a Cannabis Marketing Agency
Do you own a cannabis dispensary and are not sure of the best ways to attract new customers? By implementing some proven cannabis marketing ideas, you can draw in consumers and continue building a targeted audience who is likely to return to your business again and again. For more assistance with cannabis marketing ideas or for help creating and implementing a marketing plan, contact 321 Web Marketing.