Today, the buying process has transformed. Customers are equipped with more information, control, and power. It's not about pushing sales anymore. Instead, it's about understanding and aligning with the buyer's journey using the inbound sales methodology.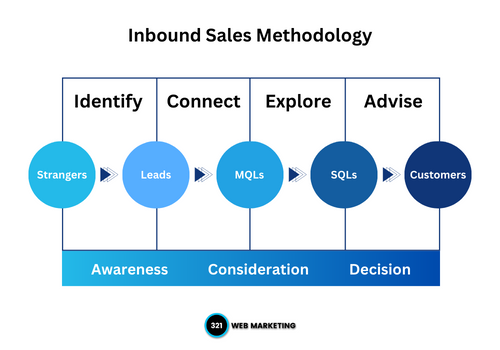 More often than not, the first salesperson to properly engage a lead wins the deal. By establishing a relationship early in the buyer's journey and offering valuable insights, you're better positioned when they're ready to purchase.
Inbound sales is about being there for the buyer, focusing on how you can help. We believe in the motto: "Always Be Helping." It's about identifying the buyer's problems and offering tailored solutions.
The Role of Marketing in Inbound Sales
Marketing's job is primarily to attract and nurture potential customers. This begins with creating Marketing Qualified Leads (MQLs)—leads deemed worthy of further attention based on their interaction with marketing content. As these leads move through the funnel and demonstrate a deeper interest or intent to purchase, they transition into Sales Qualified Leads (SQLs), signaling they're ready for direct sales engagement.
Inbound marketing techniques like content creation, social media, paid campaigns, and SEO play a pivotal role in attracting potential customers. These tools draw leads to your website, offering resources that cater to their needs.
Understanding The Buyer's Journey
Leads typically don't transition instantly from awareness to purchase; they go through various stages.
Stranger: Someone who recognizes a need or problem but hasn't actively sought a solution yet.
Lead: A stranger who has identified themselves as showing interest in a solution, often by connecting through some form with contact information or engaging with content.
Marketing Qualified Lead (MQL): A lead that, based on specific criteria or behavior, is deemed to have potential to become a customer. The marketing team believes they're a good fit to connect with for further engagement.
Sales Qualified Lead (SQL): An MQL who, after further evaluation by the sales team, is considered ready for a direct sales approach to explore a vendor-client relationship.
Customer: An SQL who has been advised with the right solution or product and decides to make a purchase.
It's essential for both marketing and sales teams to recognize these stages and tailor their approach accordingly. While marketing focuses on attracting and nurturing, sales aim to close the deal. The handover from marketing to sales is a critical moment; understanding the difference between MQLs and SQLs ensures that this transition is seamless and timely.
The Four Key Stages of Inbound Sales
Inbound sales is all about the buyer. It emphasizes understanding individual buyer needs, challenges, and interests. Rather than rushing to make a sale, it's about meeting buyers where they are and guiding them through their decision-making. Here are the four key stages of inbound sales:
Identify: Spot leads who engage with your content or website. This means analyzing their online interactions to determine their interests.
Connect: Reach out to these leads with tailored messages that address their unique needs, aiming to initiate a conversation.
Explore: Engage deeply, understanding their goals, challenges, and needs. It's about gathering insights to serve them better.
Advise: Offer a solution based on the information from the exploration stage. Present your product or service as the best fit for their needs.
How to categorize MQLs and SQLs
A pivotal part of the inbound sales strategy lies in the ability to properly categorize and nurture leads based on their readiness to buy. This breakdown offers a straightforward guide for differentiating between MQLs and SQLs.
MQL
Lead has shown interest in your product/service.
Typically has interacted with marketing materials, like filling out a form or downloading content.
Not yet ready for a direct sales approach.
An MQL is a lead who has engaged with your marketing efforts but isn't ready to receive a sales call. Their interaction suggests interest, but they may still be in the early phases of the buyer's journey. MQLs often download content, sign up for newsletters, or attend webinars. They're looking for information, education, and might be evaluating their options. Marketing teams continue nurturing these leads through targeted content, email campaigns, and other inbound techniques to move them further down the sales funnel.
SQL
Lead has shown a deeper level of interest or buying intent.
Often has taken actions that indicate readiness for a direct sales conversation.
Might request a demo, pricing information, or show other buying signals.
An SQL is a lead who has shown clear buying intent and is ready for direct sales engagement. They've progressed past the exploratory stage and are considering solutions. SQLs might request product demos, pricing information, or consultations. Their interactions suggest they're evaluating potential vendors or products for a likely purchase. Sales teams take the lead on SQLs, engaging them in deeper discussions, demonstrations, and negotiations.
Conclusion
In an era where the buyer is empowered and informed, sales methodologies must evolve. By emphasizing an inbound approach, businesses can effectively meet potential customers where they are, forging meaningful relationships and, ultimately, driving successful sales outcomes.