The insurance industry is becoming saturated, making it tough for smaller insurance agencies to get the attention of consumers. Traditional broad insurance marketing strategies, such as plastering your name on a billboard or bus bench, is no longer as effective as it used to be.
Effective Insurance Marketing Strategies
The industry is changing and if you want to maintain a spot at the top, you must adopt to the new ways of marketing. The three following insurance marketing strategies have been proven highly successful.
1. Local SEO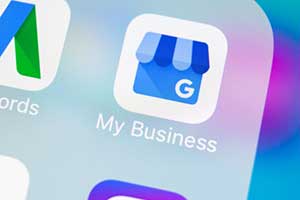 Local search engine optimization (SEO) is the strategy of increasing the online presence of brick-and-mortar businesses. With local SEO, insurance agencies are able to optimize their website and improve their ranking for organic series queries. If you operate an insurance agency, implementing local SEO can help consumers find your agency when they search for insurance agencies in their local area. There are a variety of local SEO techniques that can be used when running an insurance marketing campaign.
Target Locally Specific Keywords
Identify keywords that relate to your insurance products and are locally specific. For example in Figure 1.1, "car insurance Fairfax" is searched for an average of 80 times per month and agencies are paying $85.00 per click via ads.

By ranking for local keywords, your insurance agency will begin to appear in more local searches. In time, this will help your agency rank for national keywords, such as "car insurance."
Build A Strong Local Backlink Portfolio
Building a strong backlink portfolio is essential for any SEO campaign, but building a backlink portfolio with local backlinks from domains that are local and relevant to the insurance industry can be a key factor in a successful local SEO campaign. When searching for websites to obtain backlinks from, it is important to look at their Domain Authority (DA) and their overall amount of backlinks to their own site.
Google My Business Optimization & Local Directory Submissions
Optimize your Google My Business account, provide detailed information about your business and location, add photos, and respond quickly to reviews. Frequently adding posts regarding a new service offering or news about your agency can increase user interaction and will signal to Google that your website should rank higher for local search queries. It is also vitally important to submit your agency into all of the local directories and business listings online. The more frequently Google sees your agency in well known directories, the more likely Google will recognize and rank you higher in local search results.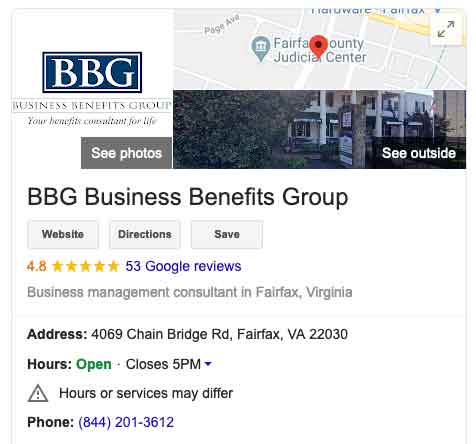 In Figure 1.2 you can see a fully optimized and flushed out Google My Business account by BBG Broker.
Local Geo Service Page Generation
Create local geo service pages that are specific to the area in which you are targeting, along with your insurance product. For example, you may create a page titled "Fairfax, VA Benefits Consulting". Then optimize your local geo service pages, with on-page SEO techniques, and build backlinks to these pages which will help boost their local rankings.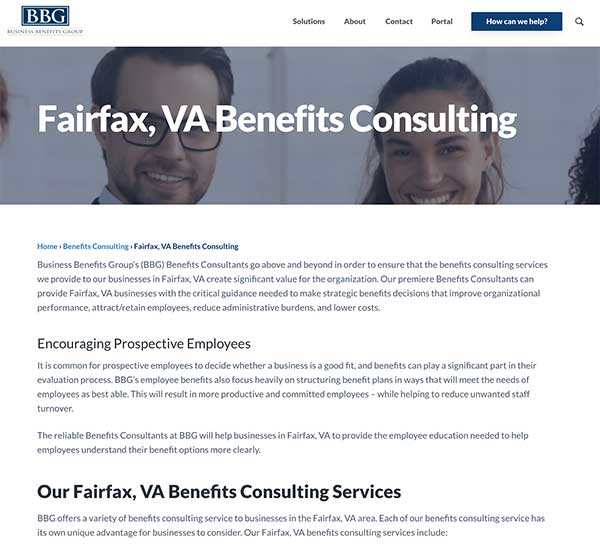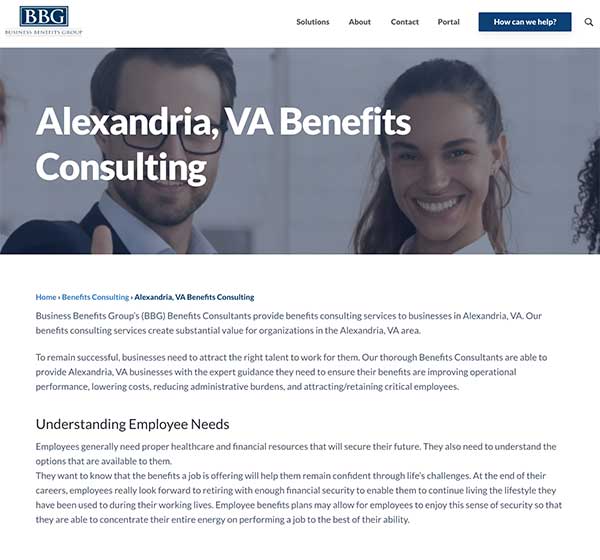 Figure 1.3 and Figure 1.4 are examples of local geo pages for "benefits consulting" by The Business Benefits Group.
2. PPC
Pay-per-click (PPC), also referred to as cost-per-click (CPC) is a type of advertising model that is used to drive traffic to websites. With the PPC model, advertisers pay publishers when ads are clicked. The bid amount may impact placement, but the advertiser will only pay when the ad is clicked on by an online user. Web users will most commonly see PPC ad formats on search engine results pages. Insurance agencies can use PPC strategies for their marketing campaigns in a variety of ways.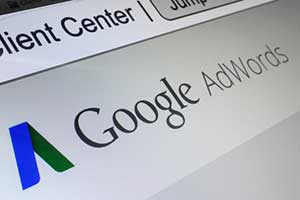 First, you will want to determine what your key performance indicators (KPIs) are for your PPC campaign to ensure that you are only spending money on the best options available. For example, if you are a newer agency you may want to set up a campaign that focuses on increasing impressions which will help you boost visibility. If you are an older agency you may want to run a campaign that focuses on clicks since your brand is already established online and you are aiming to convert leads.
You will also want to take the time to identify your target insurance product and perform research on the average cost per click on keywords that relate to your targeted product. This will help you maximize visibility and boost conversions while minimizing your spending. To achieve this, you will need to identify keywords that are not searched as often, but may yield similar results at a fraction of the cost. In addition, regularly check and add negative keywords to your campaign. This will help present your ad to the right searchers which increases the odds of conversion.
3. Combination
The third strategy is actually a combination of the previous two strategies. Using components of both types of campaigns can be highly advantageous if you have the right budget to accommodate both. However, you want to be sure that your PPC campaign matches the targets and goals of your local SEO campaign. For example, if your local SEO campaign focuses on Fairfax car insurance, your PPC campaign should also focus on this.
Speak to a Professional Insurance Marketing Agency
No matter how long you have been in business, it is important to continually market your insurance agency to attract new customers and maintain old ones. The insurance industry is growing at a rapid rate and as more agencies join the community, the need to differentiate your agency from the countless others is critical if you wish to remain in business for years to come.
The right insurance marketing strategies can make all the difference in your ability to increase brand visibility and improve your rate of conversions. There are a number of strategies that have been deemed fruitful for insurance agencies. However, none have been proven more effective than the use of local SEO for insurance agencies. For more information about insurance marketing strategies or to schedule a free insurance marketing consultation, contact the insurance marketing professionals at 321 Web Marketing.
Further Reading:
Updated on April 22nd, 2020