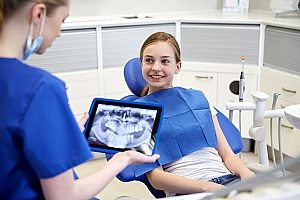 Most marketing focuses on spreading a business's message to as many people as possible over wide areas. Dental practices, however, know that their ideal client base is right in their backyards. Search engine optimization, or SEO, helps search engines and potential patients find your website more easily. With the help of a dental marketing agency, your practice can use local SEO to increase business and revenue, promote brand awareness, and become more visible in your area to show potential patients that your dental practice is the best in the area. Local SEO for dentists is an effective, affordable, and long-term marketing solution that can quickly begin paying dividends for your practice.
How To Employ Local SEO For Dentists
A dental marketing agency will conduct research into which keywords people typically use when seeking information about dental health online. The agency can then create content using those keywords in strategic places to ensure that your site appears as high up in search results as possible when web users type in those keywords. Local SEO uses those same principles to tailor your website's content, URLs, meta tags, and more to what people in your designated service area are seeking. This targeting helps showcase your website more specifically to your area, helping you gain visibility in the demographic most likely to become patients. Learn how to perform local SEO for dentists to significantly grow your practice.
Publish Educational Content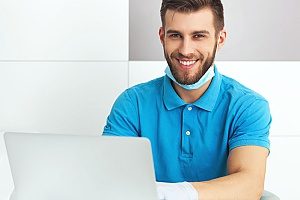 Content is the forefront of local SEO for dentists. Well-researched, written, and optimized content can allow your practice to become easily discoverable by potential patients who are browsing the internet to find the services you offer. Utilizing keywords based on frequently-searched terms will allow search engines to find your page to be relevant to searcher intent, and therefore rank your page higher in search engine results pages (SERPs)
While creating the content, it is essential to use keywords and topics that are searched the most when individuals are seeking dental information or services. For example, a blog topic of "How Often Should I Brush My Teeth?" will be more likely to convert potential customers into patients than "How Much Does a Dentist Make?" Having quality, shareable content on your website makes it easier for users to find your site when they are in need of dental services.
Perform Outreach Through Email & Social Media
Once you have created and published your informative dental content, it is important to attract real visitors to the site in order to view the content. Since search engines do not instantly direct traffic to your page after it is published, sending it to subscribers of your email newsletter and posting it to social media can give your content its initial boost in traffic. Therefore, your page can build organic traffic and allow your local SEO efforts to grow.
You can also use these outlets to interact with existing and potential patients on a more personal level. Replying to questions about your services on social media can build brand trust with a specific audience. Likewise, informing individuals about company events can drive them to your website to learn more about the event. Even something as simple as wishing your patients a 'happy birthday' through a yearly email can help your practice retain long-term customers and potentially encourage them to recommend your practice to friends and family.
Improve Website Design & Navigation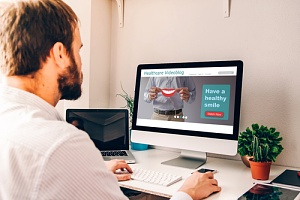 There is much more to local SEO for dentists than just creating and distributing content. Believe it or not, website design has a huge impact on whether your SEO campaign performs well or not. SERPs generally only display websites that are easy to navigate and provide quick access to information. If your page takes too long to load, searchers are most likely going to click back in favor of a faster dental website. In addition, if you have many broken links on your site, or pages that return 404 'Page Not Found' errors, search engines will decrease your dental website's overall rank in the SERPs. Websites that are easy to load and navigate on both desktop and mobile (and contain relevant information) are the websites that will most likely win the top rankings in the SERPs for searches pertaining to the dental industry.
Implement Calls To Action
Calls to action (CTAs) are the driving forces that propel individuals to 'take the next step.' Whether that be to sign up for a consultation, schedule a monthly cleaning, or submit a form to receive braces, CTAs are used to encourage individuals to perform these actions. CTAs can be something as simple as a button that says "Sign Up For Free!" or a landing page that leads to a services form. Since CTAs are essentially the gateway between potential customer and patient, it is important to include them in areas of the site that they are most likely to visit, such as a blog.
Learn More About Local SEO For Dentists
When the time comes that you are ready to begin using local SEO for your dental practice, speak to 321 Web Marketing for more information. Our digital marketing experts can serve your practice as its marketing team, as well as work alongside your current marketing staff, to create a custom local SEO campaign tailored to your practice's specific needs. Let us handle your marketing needs so you can continue running your practice without worrying about whether new clients will come in. For more information about local SEO for dentists, or to schedule a consultation, contact 321 Web Marketing to evolve your practice today.
UPDATED: May 1, 2019